Pumpkin Pie Smoothie Recipe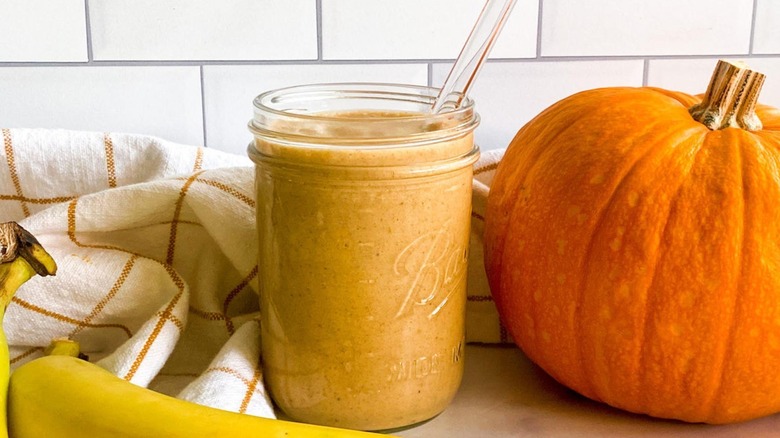 Miriam Hahn/Mashed
Fall should also be called "the season of everything pumpkin-flavored" because that's truly what it is. This recipe for a pumpkin pie smoothie tastes like heaven on earth, and if you love pumpkin pie as much as we do, then this is a must-try. This yummy drink is great for kids and adults alike, and it is undoubtedly a crowd-pleaser. You could serve it for breakfast, lunch, or dinner, and no matter what, it always hits the spot. Another great part is about this drink is that it's really filling, and you could even replace a meal with it.
Recipe developer Miriam Hahn has come up with plenty of great smoothie recipes in her day, and this one is no exception! "I love how it [tastes like] 'fall in a glass!' It is so festive, creamy, and sweet! A perfect treat for a mid-morning snack!" Hahn raves. We would have to agree! 
Keep reading to find out how to make this delightful smoothie that is sure to put a smile on your face.
Gather the ingredients for your smoothie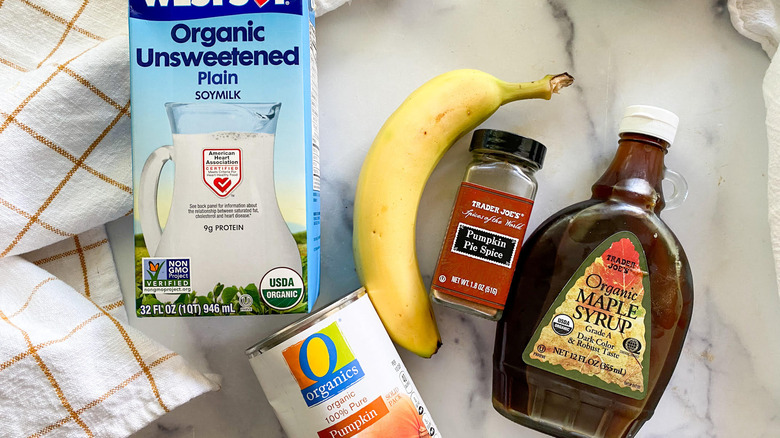 Miriam Hahn/Mashed
Are you ready to make one of the best fall smoothies on the planet? The first thing you need to do is gather the ingredients. For starters, you will need some milk, which can be found in your store's dairy section. In addition, make your way over to the canned goods and pick up some pumpkin puree. The recipe also calls for a banana, which can either be at room temperature or frozen (depending on how icy you want the smoothie to be). To add a little bit of sweetness, get some maple syrup and pumpkin pie spice.
This recipe also calls for a few optional ingredients, including whipped cream, cinnamon, and mini chocolate chips.
Benefits of pumpkin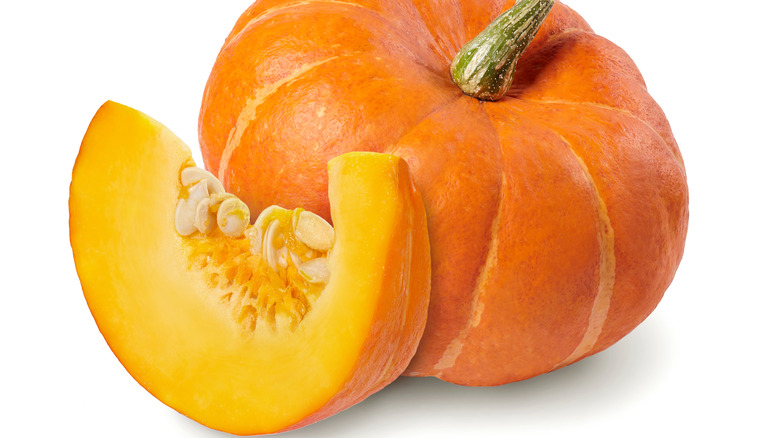 Happy Author/Shutterstock
Before we get down to business, we're going to point out some of the great benefits of pumpkin. Hahn herself explains it best: "There are so many health benefits to eating pumpkin. It is in the squash family, and fall is our time to take advantage of pumpkin. It is very high in Vitamin A, which I love because it is great for the skin and great for immunity," she shares. "[It's] also high in Vitamin C, another huge immunity builder. Another great thing about pumpkin is it is packed with fiber. Only 3% of the population gets enough fiber, as we are currently in a huge protein craze. Fiber is so good for our gut health!"
So now that you know it's healthy and delicious, nothing should stop you from enjoying this smoothie as much as you want.
Add the ingredients to a blender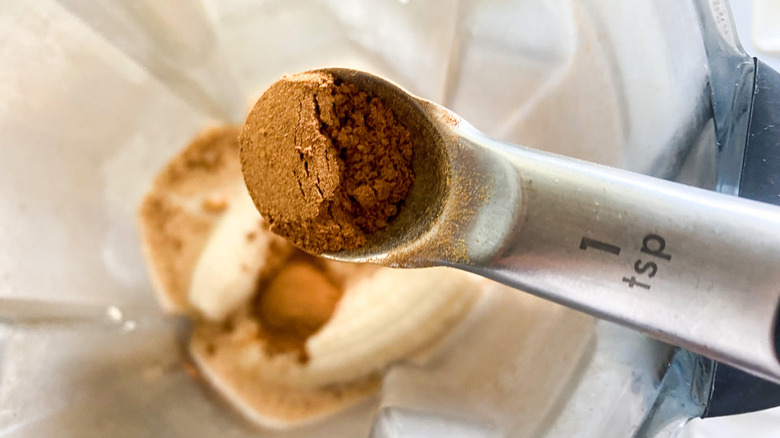 Miriam Hahn/Mashed
The first thing that you need to do is bust out your blender. It's one of the best tools in the kitchen, especially when it comes to making smoothies. Go ahead and put it on your counter in a safe place where it won't get bumped or moved. You will also want to be sure the surface is flat and there's nothing underneath the blender.
Take the lid off and dump in the milk, pumpkin puree, and banana. Next, add the maple syrup and the pumpkin pie spice.
Blend the smoothie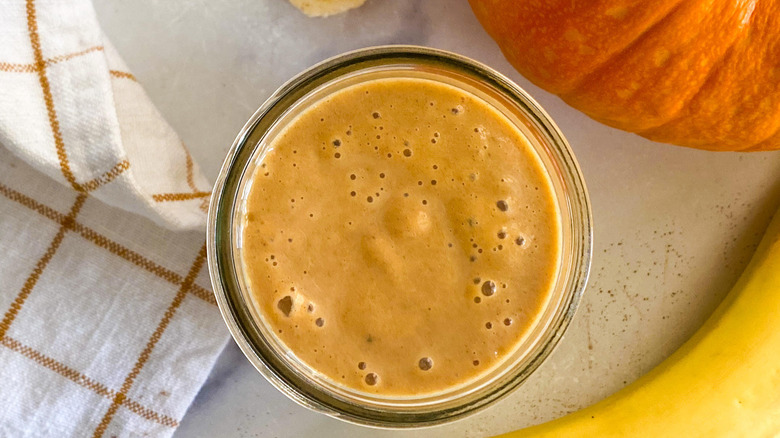 Miriam Hahn/Mashed
Once you have all of the items loaded in the blender, put the lid back on and blend at a medium speed. It should only take about a minute, so you can set your timer or keep an eye on it. Hahn says a blender is a better option than a food processor. "The ingredients are not solid enough to use a food processor," Hahn shares. "It will leak all over the place. A small NutriBullet works really well for the single serving. You can double it easily if you want to serve two, and for this, I would use a larger blender."
Serve and enjoy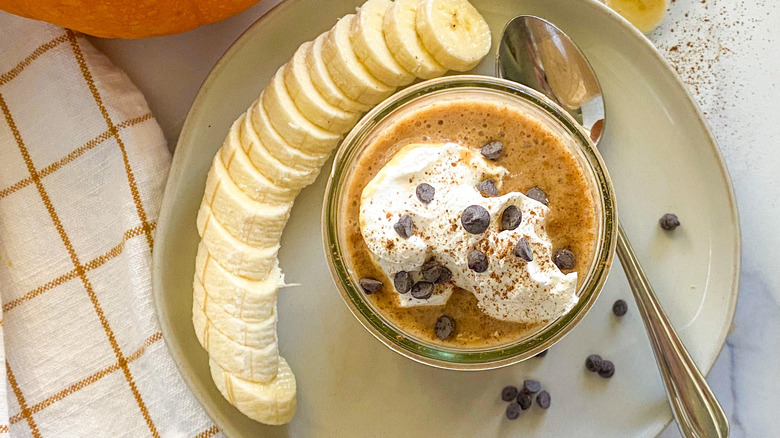 Miriam Hahn/Mashed
After about a minute, you can remove the lid once again and pour your delicious smoothie into a glass. Several toppings would go well with this smoothie, including whipped cream, cinnamon, and chocolate chips.
"The smoothie is great for a light breakfast, or having it with some whole grain toast and almond butter is an awesome combination. If you don't mind the color altering a bit, you can easily throw in a handful of raw spinach without any change in taste," Hahn shares. "For topping, you can use whipped cream or coco whip for a healthier option. I love using Ceylon cinnamon because of the high antioxidant count, and it is so delicious in this!"
It's best to enjoy the smoothie immediately! We hope you love it.
Pumpkin Pie Smoothie Recipe
This recipe for a pumpkin pie smoothie tastes like heaven on earth, and if you love pumpkin pie as much as we do, then this is a must-try.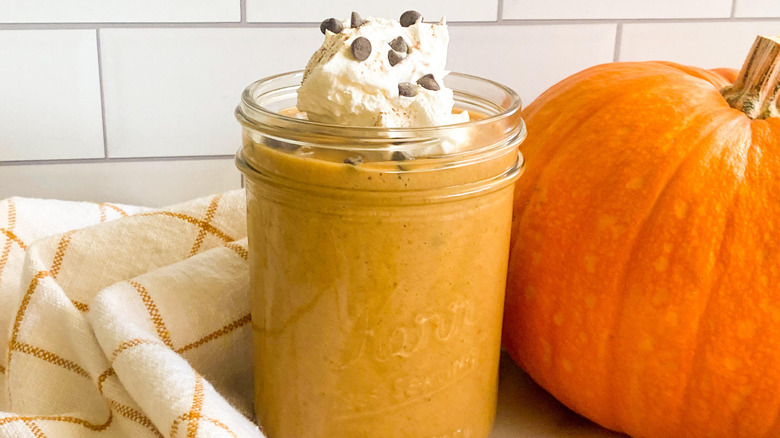 Ingredients
1 cup milk
¼ cup pumpkin puree
1 banana (frozen if you want the smoothie icy)
2 tablespoons maple syrup
1 teaspoon pumpkin pie spice
Optional Ingredients
Whipped cream
Cinnamon
Mini chocolate chip
Directions
Add the milk, puree, banana, maple syrup, and pumpkin pie spice to a blender. Blend on medium speed for about a minute.
Serve, topped with whipped cream, cinnamon, and chocolate chips if desired.
Nutrition
| | |
| --- | --- |
| Calories per Serving | 382 |
| Total Fat | 8.7 g |
| Saturated Fat | 4.9 g |
| Trans Fat | 0.0 |
| Cholesterol | 24.4 mg |
| | |
| --- | --- |
| Total Carbohydrates | 71.1 g |
| Dietary Fiber | 5.0 g |
| Total Sugars | 52.8 g |
| Sodium | 114.8 mg |
| Protein | 9.7 g |