12 Frozen Foods From Restaurants That Are Definitely Worth Your Money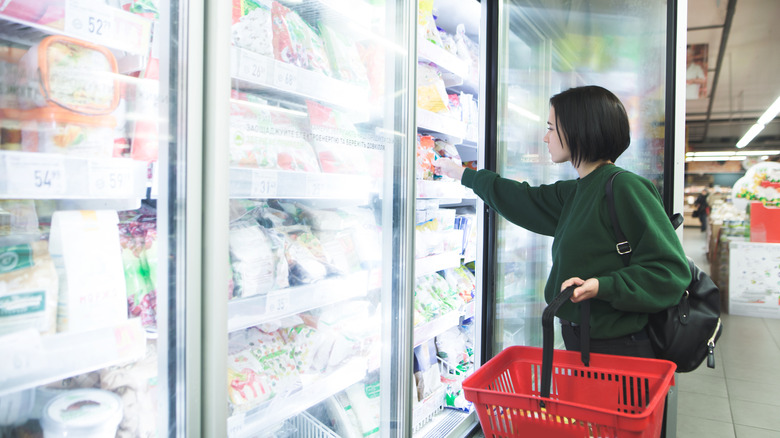 bodnar.photo/Shutterstock
There's nothing quite like visiting your favorite restaurant with some friends and enjoying a spread of tasty dishes and drinks carried out to your table. While the atmosphere is always nice, the real reason we eat out is for the food. Restaurants are able to create delicious appetizers, entrees, and desserts that make our mouths water just thinking about them. 
But we can't always get to our favorite restaurants, whether we live far away from one or we're on a budget and simply can't eat out every day. Fortunately, many restaurants have capitalized on the popularity of some of their most well-known menu items by offering frozen varieties in grocery stores. 
Now, these aren't always a hit, as some things just can't be recreated properly in a home kitchen's oven or microwave. But a few restaurants have really nailed the ability to enjoy some of their tastiest foods at home. From onion rings to apple pie to dumplings, here are some frozen foods from restaurants that deserve a place in your freezer and are definitely worth the money.
Marie Callender's Dutch Apple Pie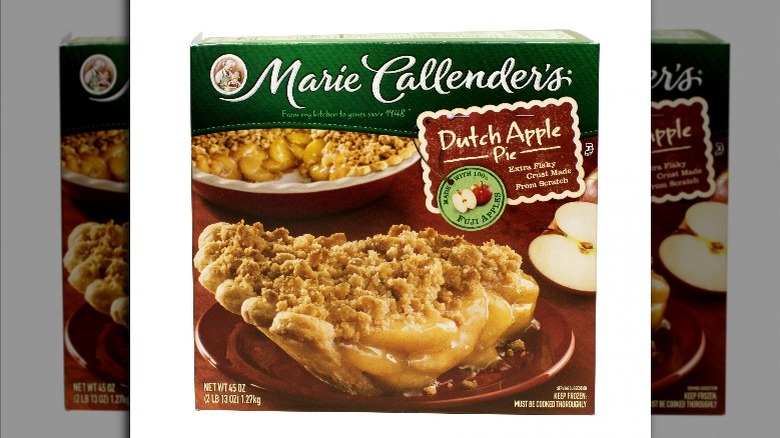 digitalreflections/Shutterstock
Marie Callender's is already pretty well known for its variety of tasty pies. Our favorite frozen item of this restaurant has to be this sweet Dutch apple pie. If you're craving the taste of a homemade piping hot apple pie but don't have the time or patience to make one on your own, then this is quite possibly your next best bet. For a premade frozen item, it tastes shockingly similar to the apple pie your grandma perhaps used to make for you growing up.
Instead of a traditional full pie crust on top, this pie features a cinnamon brown sugar crumble, which adds texture and even more sweetness to the already delicious dessert. The filling is creamy, sweet, and slightly tart with just enough cinnamon flavor to pull all the flavors together nicely. The crust is not soggy or overly oily, either, though you may expect that from a boxed, frozen product. Instead, it's crisp and has a nice buttery taste. Every time we try this pie we have a hard time believing it isn't homemade.
"It's always something to look forward to when this is sitting out defrosting after dinner. Top it with some butter pecan ice cream and you got yourself a food coma," one reviewer wrote on Influenster. We recommend having this in your freezer at all times so you can pull it out for any occasion
TGI Fridays Cream Cheese Stuffed Jalapeños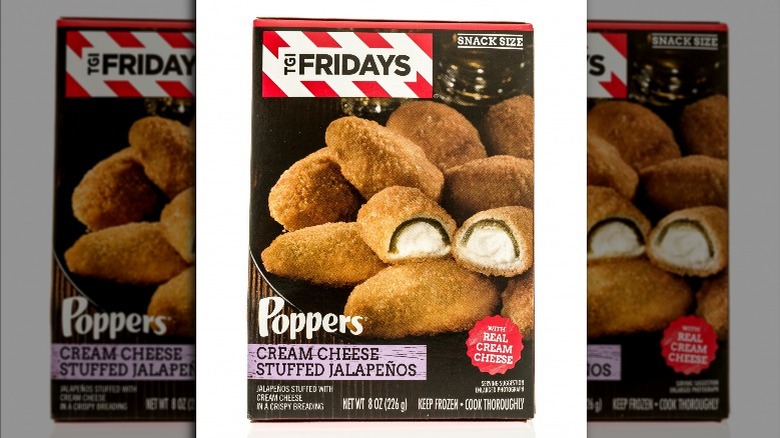 Keith Homan/Shutterstock
TGI Fridays is oftentimes well-reviewed for its good food, good vibes, and a good time all around. This restaurant chain is particularly well known for its appetizers, which promise indulgent satisfaction every time. One of our favorites is their cream cheese stuffed jalapeños. TGI Fridays is able to capture a remarkable amount of flavor in these tasty treats, and so we find ourselves craving them all the time.
Fortunately, the restaurant has released a frozen variety, so now we can eat them at home whenever we want. These snacks consist of a breaded jalapeño stuffed with a savory cream cheese mixture. The result is crunchy, creamy, and spicy — which is otherwise known as a perfect appetizer.
That said, these definitely need to be baked in the oven or deep-fried for the best result. Microwaving them will warm them up fast, but you'll be left with a soggy appetizer that has no real texture other than "soft." For the utmost perfection, we recommend that you stick these in the air fryer to cook. Moreover, they don't need any sauce for extra seasoning, as these jalapeño poppers are delicious as-is. Just another reason to throw a bag in your freezer to have on hand for parties or hungry kids.
White Castle Original Sliders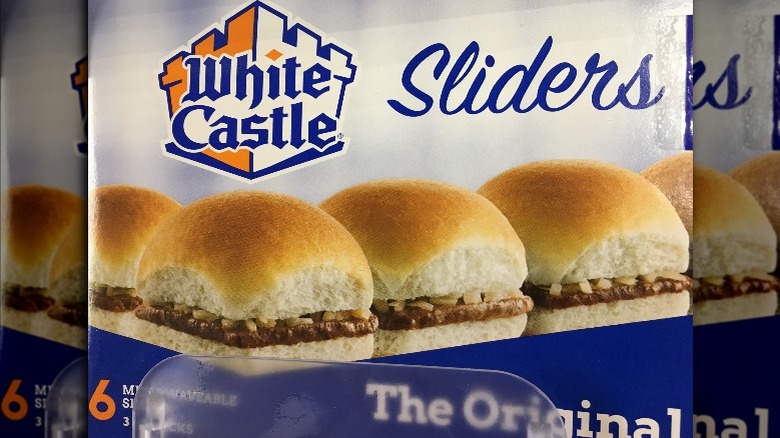 M Outdoors/Shutterstock
It's hard to believe that a frozen burger bun can turn into anything appetizing after it's been iced and defrosted during the cooking process, but these burgers seem to defy all odds. If you like White Castle's classic menu item to begin with — which about half of all American seems to love and half seem to despise, in our estimation — you'll be extremely happy with these. Somehow a microwave can turn these frozen patties into the simple burger White Castle fans are downright obsessed with.
"I don't have a white castle where I'm from, so this is about as close as I can get. The flavor is good, and these are perfect for when you need a quick bite," one Influenster reviewer wrote. "I think everyone has tried these at some point! They are so good and quite addictive. And are so easy to just pop in the microwave for a small lunch or if you just get hungry," another said.
These simple burgers come with a bun, a 100% beef patty, and a layer of chopped grilled onions, just how the restaurant serves them. They're tasty enough to eat plain or easy to customize with some condiments from your own fridge if you so desire, like ketchup, mustard, cheese, and pickles.
Cheesecake Factory Cheesecakes
Frozen cheesecake is nothing new. After all, plenty of brands have been offering these tangy cakes in frozen form for years. However, few come close to the flavor and texture of what's on offer from the Cheesecake Factory. Known for its tome of a menu, eclectic decor, and, of course, gourmet cheesecakes, this restaurant did exactly what fans were asking for and started selling frozen versions of its goods in most grocery stores across the country.
If you're worried about whether or not these taste like the cheesecake you can get in the restaurant, never fear. The texture and flavor are both spot on. To be fair, the cheesecake flavor selection is definitely larger in restaurants. But if you can't make it to a Cheesecake Factory location in person, then this is your next best bet. Even the crust stays remarkably intact, which we find especially impressive.
"Yummy, yummy, yummy. The best cheesecake ever. The flavors melt in your mouth. I now have my whole family liking this product," wrote one Influenster reviewer. Overall, we feel like these are some of the best cheesecakes you can snag from the grocery store cold case. They're perfect for any birthday party, romantic dinner, or to brighten up a random day of the week.
California Pizza Kitchen BBQ Chicken Pizza
California Pizza Kitchen is a restaurant chain known for its innovative pizza recipes, especially barbecue chicken pizza, with CPK being one of the first eateries to experiment with this flavor. If you can't make it to a California Pizza Kitchen in person, however, this frozen variety of their famous pie comes in a close second to what you'll find in-restaurant. It's made with seasoned chicken, red onions, cilantro, mozzarella, hickory-smoked gouda, and barbecue sauce.
"This pizza is hands down the freaking best! The flavor is mouth-watering! A perfect combination laid evenly over thin crust! YUM! California Pizza Kitchen really knows what they are doing! We always keep their pizza's stocked in our freezer. The BBQ is my absolute favorite!" One Influenster reviewer raved.
We agree, as this is a tasty pizza that we always enjoy digging into even when it comes straight out of the freezer at home. The chicken is complemented well by the tangy barbecue sauce, which adds a sweet and slightly acidic flavor to the traditional pizza experience. The onions add a nice crunch and pop of acidity, too.
P.F. Chang's Frozen Signature Pork Dumplings
If we're being perfectly honest, frozen dumplings rarely beat the flavor and quality of freshly made ones. Yet, while these pork dumplings from P.F. Chang's aren't quite as good as what you'll find in the restaurant itself, the frozen variety comes awfully close. The pork dumplings are still relatively tender, juicy, and packed with classic Asian flavors like chili and ginger. The pork inside is seasoned well and mixed with shredded cabbage and sliced scallions that add a slight crunch to every bite. What's even better is the fact that these dumplings don't have the artificial taste that often plagues many other pre-made dumpling brands. 
These can be cooked in the microwave but are best when you take the time to fry the dumplings up in a pan. This cooking method, which really only adds a little bit of extra effort, creates a crispy crust that is simply divine. Serve them with rice, steamed vegetables, and a good dumpling dipping sauce for a filling meal full of flavor.
Marie Callender's Chicken Pot Pie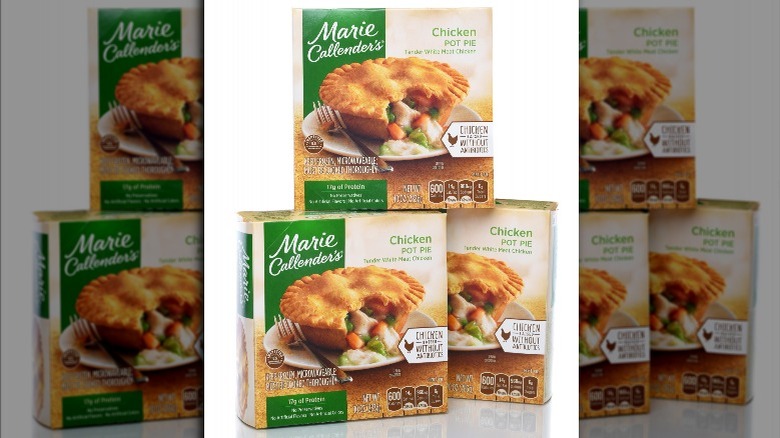 Steve Cukrov/Shutterstock
We've already mentioned how much we love Marie Callender's Dutch Apple Pie, but this list wouldn't be complete without the bakery's famous chicken pot pie as well. That said, this pie seems to be a bit of an anomaly. It definitely does not taste like a homemade chicken pot pie, as we have to admit that it's a little artificial-tasting and pretty salty.
But we still love it. There's something uniquely comforting about putting this pie in the microwave and trying to not burn your tongue while you devour it. This meal invokes a unique series of emotions in us that mom's homemade pie never could. This is the pie of college students, scrappy and broke twenty-somethings, and people who just don't feel like putting any effort into their dinner. And again, that's not really a criticism, assuming you've got a pretty wide definition of comfort food as we do.
Each pie is filled with chicken, carrots, and peas, and comes covered in a warm cream sauce. The crust stays quite crispy even in the microwave, although the bottom does get a little soggy.
Arby's Curly Fries
While there's no clear scientific explanation for this, we all know that curly fries are better than regular fries. It's just fact.
When it comes to crowning the curly fry king, surely we nearly all agree that Arby's will always come out on top. This restaurant chain is known for its curly fries perhaps just as much as it's known for its signature roast beef sandwich. But if you can't make it to a nearby Arby's or really don't wanna make the drive, you can still keep a bag of these frozen curly fries in your freezer at all times to have ready with the craving hits.
"We deep fried them and added some season salt while they were fresh out of the oil and they tasted just like the real thing from Arby's. I definitely buy these every time I go to the store because they don't last very long in my house," wrote one Influenster reviewer. These can be cooked in the oven, crisped in the air fryer, or, if you've got a bit of extra time and the right kitchen equipment, deep fried to make them extra crunchy. They really do taste like they came right off the menu, complete with Arby's signature curly fry seasoning.
Auntie Anne's Classic All Beef Pretzel Dogs
Soft pretzels are widely beloved, but have you ever had a soft pretzel that's been wrapped around a hotdog? This snack is a single signature treat of Auntie Anne's pretzel eatery and when you're craving it, simply nothing else will do. The chewy salted pretzel bun pairs wonderfully with the savory hot dog for a unique experience that will take you straight back to your local mall food court.
These are great for quickly heating and eating on the go, meaning that they're extra well-suited to a hectic day or evenings where you've got to get that indulgent snack on your plate as quickly as possible. These pretzel-wrapped hot dogs are extra good when paired with ketchup or mustard for dipping, especially if you're a fan of the classic hot dog experience. You could also go with toppings that are enshrined in other regional hot dog traditions, but these are still plenty tasty when eaten plain. 
TGI Fridays Potato Skins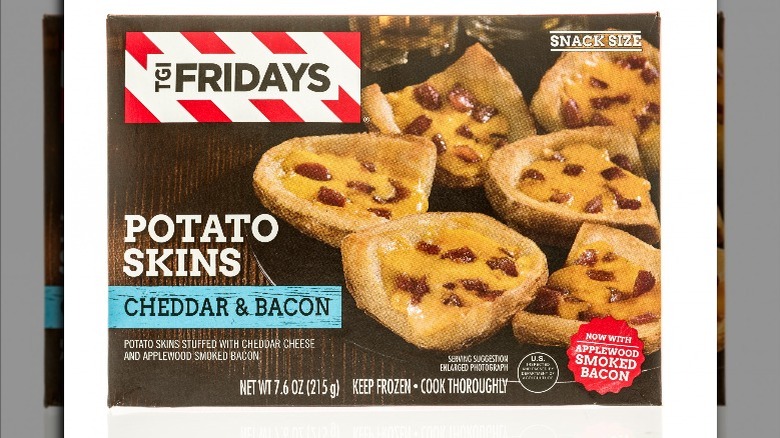 Keith Homan/Shutterstock
Not to exaggerate too much, but the potato skins from TGI Fridays are the stuff of American restaurant legend. These crispy, creamy, salty little bites are, at least to many peoples' minds, the pinnacle of a perfect appetizer. These are made by carving out a potato and stuffing the hollowed-out portion with, typically, a generous portion of cheddar cheese and bacon bits. When you pop these in the oven, each portion cooks until the peel is nice and crispy and the cheese is all melted on top.
Costcuisine noted that these potato skins may be surprisingly large, at least if you haven't tried them in the restaurant before. "When baked following the package instructions get delicious melty cheese, smoky flavored bacon on top of golden baked potato skin," they wrote.
Serve this appetizer with some sour cream for dipping or eat them on their own. Really, they're amazing either way and are fantastic to have on-hand for parties or those occasional late-night cravings.
P.F. Chang's Frozen Crispy Green Beans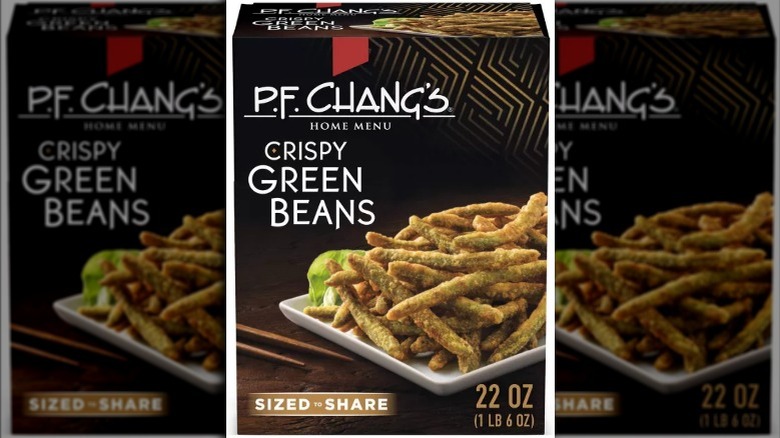 Target
If you've never had crispy green beans before, then get ready, as your life is about to change. This preparation style, where green beans are coated with a highly textured breading, can make even the pickiest eaters practically inhale their veggies with enthusiasm. In the restaurant, these green beans, one of P.F. Chang's tastiest appetizers, are lightly coated in a tempura-style batter before they are fried to golden perfection.
And, assuming you can fry them in your own kitchen, you'll get some very similar results. "The breading ends up with a lovely crispiness to it, while the green beans are earthy with just a little bit of sweetness to them. Despite being frozen, these still taste fresh, and they don't end up soggy at all," wrote Freezer Meal Frenzy.
This preparation method turns soggy soft green beans into late crispy snacks. They are nowhere near as good as french fries, of course, but they eat the same way which makes them even more fun, especially for kids. They're a perfect side dish for any meal, too, especially if you want to impress by riffing on the classic but now rather boring steamed green beans. This dish goes well with any number of dipping sauces, too, though try the green beans on their own and see if you don't want to eat them unaccompanied as well.
Red Robin Onion Rings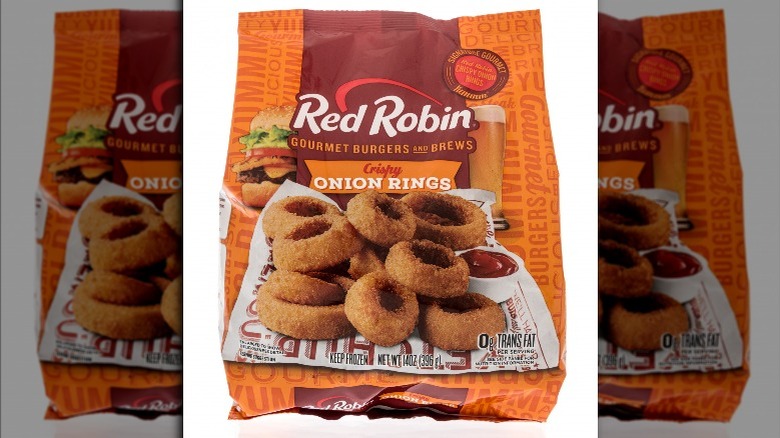 Keith Homan/Shutterstock
When an onion rings craving hits you, then nothing else will do but to address the issue at its source and get yourself one of those classic restaurant appetizers. But if you can't make it out to a restaurant, it can be devilishly tricky to find pre-made onion rings that don't taste overly processed or come out a soggy mess when made at home. Red Robin seems to have found the sweet spot with the frozen version of its onion rings. 
This restaurant chain is known for its indulgent burgers and bottomless steak fries, but Red Robin is arguably just as well known for its onion rings. If you dine in-house, they can be ordered in a towering stack to be shared amongst everyone at the table. Dipped in their signature campfire sauce, these onion rings are delicious. And who says you can't recreate that sort of experience in your own home?
The onion itself is soft and well cooked without too strong of a flavor while the breading is nicely seasoned and doesn't take away from the flavor or texture of the onion. The two primary components of batter and onion are also well-balanced even in frozen form, which you'll surely appreciate if you've ever had an off-kilter mix of the two in other restaurants.