Noodles & Company Fans Won't Want To Miss This National Noodle Day Deal
Noodles & Company makes exactly the type of food you'd expect from them: delicious noodles, tons of different ways. Whether you swear by the mac and cheese, love the stuffed noodles, or are more of a classic noodle person, there's something for every palate there, and none of the dishes disappoint. They've even started introducing gluten-sensitive options as well as cauliflower and zucchini noodle dishes for anyone with allergies, intolerances, or maybe just someone looking to add a little more veg to their life, per the menu. 
Whatever your preference may be, there's a great way to get some big noodle discounts for the upcoming National Noodle Day at Noodles & Company if you're a member of the rewards program, according to a press release sent to Mashed. And not that we're here to tell you what to do or anything, but if you're getting Noodles & Company pretty often, it's probably worth joining the rewards program, because who doesn't love free stuff and discounts, especially when it comes to food?
Discounts all October long for rewards members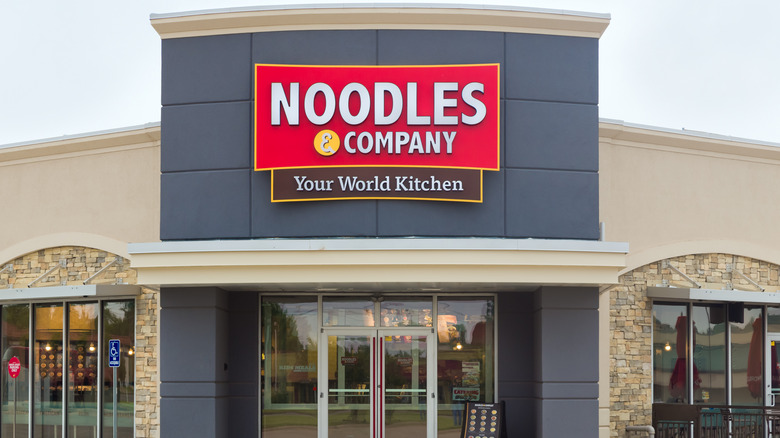 Ken Wolter/Shutterstock
Listen up, noodle-lovers: National Noodle Day falls on Wednesday, October 6 this year, so mark your calendars and prepare your bellies for a delicious, noodle-filled dish. Members of Noodles & Company's rewards program will receive 20% off all orders on National Noodle Day, plus, if a member uses the discount, they'll get 10% off all other orders placed in the month of October, according to a press release.
If you live near a Noodles & Company or find yourself always stopping there for your lunch break, this discount will add up pretty quickly, leaving you with even more money to spend on even more noodles. Win, win. If you aren't a member, you can join online or next time you visit one of the restaurants. You'll receive a bunch of rewards and freebies, plus the discounts for National Noodle Day and the rest of October!