The First Sonic Menu Will Probably Look Familiar To You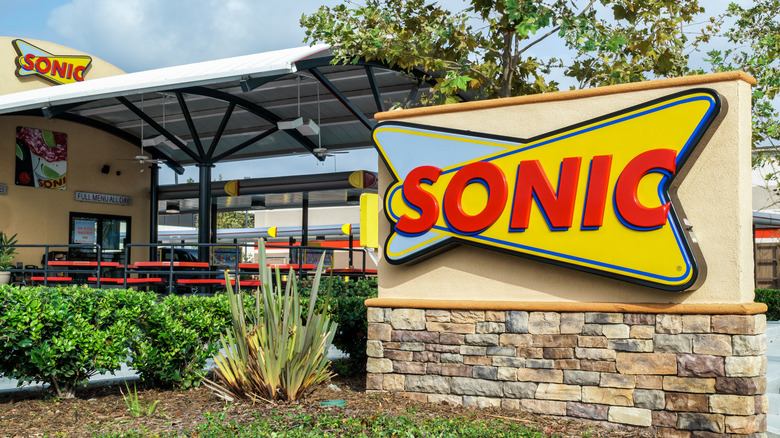 Ken Wolter/Shutterstock
At first glance, Sonic is a fast food restaurant like any other. Annoying commercials in heavy rotation? Check. Burgers and fries? Check and check. Chicken nuggets, tenders, and sandwiches? Check, check, check. Big, cheesy breakfast sandwiches, ice cream, sugary soft drinks ... all the stuff of a nutritionist's nightmare served up on the finest cardboard with bespoke plastic cutlery. One thing about Sonic that makes it a little different is the fact that they don't have a drive-thru or even a walk-in. At Sonic, you get your food by driving in, parking, and waiting for it to be delivered to your car.
Everybody's got a gimmick, huh? Actually, Sonic isn't trying to stand out in the over-crowded field of fast food purveyors. If anything, they are just really resistant to change. The chain got its start in mid-century America (mid-20th century, Gen Z kids), which was a time when, as the University of Michigan recalls, drive-in restaurants were at their peak. Faster, cheaper methods of fast food delivery soon supplanted drive-ins in most areas, but Sonic never got the memo, so they are still holding their course as the 21st century enters its third decade.
So, what was on the earliest Sonic menu, anyway? Well, they didn't quite offer 168,894 different slushies and other types of drinks as they purport to do today (and we're not going to do the math to prove them wrong, either), but an early menu discovered by SoYummy looks surprisingly familiar ... all except for the prices, of course.
Sonic offered a wide variety of options at hard-to-believe prices
While Sonic didn't offer chicken half a century before the first shot was fired in the Chicken Sandwich Wars, they did have grilled cheese and "bar-b-q" beef sandwiches, as well as a fish sandwich called "The Whopper." (While SoYummy's menu is undated, this name might predate Burger King's signature burger.) They had hamburgers and cheeseburgers, as well as Coney dogs (regular, foot-long, and cheese) and corn dogs on a stick, and sides included fries, onion rings, tater tots, and Frito chili pie. They didn't offer slushies, but they did have "frosties" made from root beer, Coke, or Dr. Pepper, as well as shakes, floats, and sodas. For dessert you could get ice cream, plain or in sundae form (chocolate, strawberry, or pineapple), or fried pies (apple, cherry, and, oddly enough, apricot).
As for those prices, they were ... something else. The cheapest items on the menu were a cup of coffee or a dish of vanilla ice cream, both priced at 10 cents. For big spenders, the most expensive order would have been a 45-cent cheeseburger. An plain hamburger would have been 35 cents, but a plain Coney dog was only 20 cents, while a cheesy one cost a quarter. The onion rings were the priciest side at 35 cents, but the others were a mere 25 cents (Frito pie included). As for those proto-Slushies, they were listed at 30 cents, same as the shakes, while floats were a nickel cheaper.