Best Candy Corn Parfait Recipe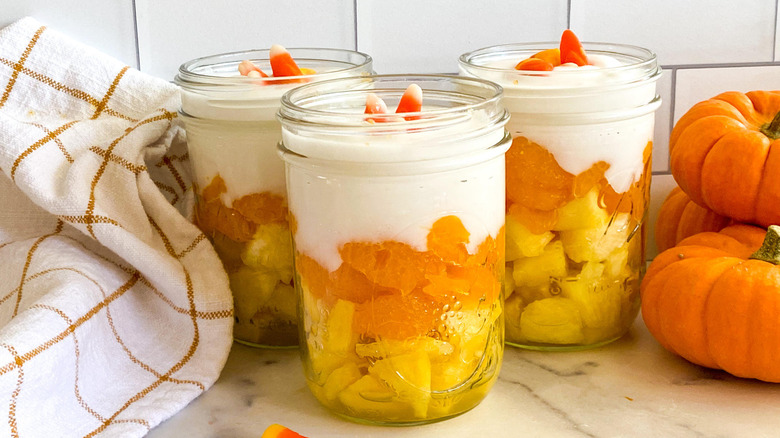 Miriam Hahn/Mashed
Are you looking to get into the fall and Halloween spirit, but still want to eat healthy? If so, we have the perfect parfait recipe for you. The great part about this recipe is that it's layered with fresh fruit and yogurt, and it will definitely help you curb any cravings you and your sweet tooth are having! This is an excellent meal to whip up for breakfast, snack time, or even for dessert. The possibilities are endless.
Recipe developer Miriam Hahn came up with this wonderful recipe that tastes just as good as it looks. "I was inspired to make this recipe because I love make-ahead breakfasts, and this is so fun and seasonal," Hahn raves. "The fruit mixed with the yogurt is so tasty, and they last all week in the fridge."
All you need is some fruit, yogurt, and mason jars. "I have several size mason jars on hand. I always buy 'wide mouth,' and then trade out the canning lids for the plastic lids," Hahn shares. "You can buy these in a box of eight on Amazon, and they make it easier to get in and out of the jars." Get into the spirit of the season, and keep reading to find out how to make this delightful treat.
Gather the ingredients to make candy corn parfaits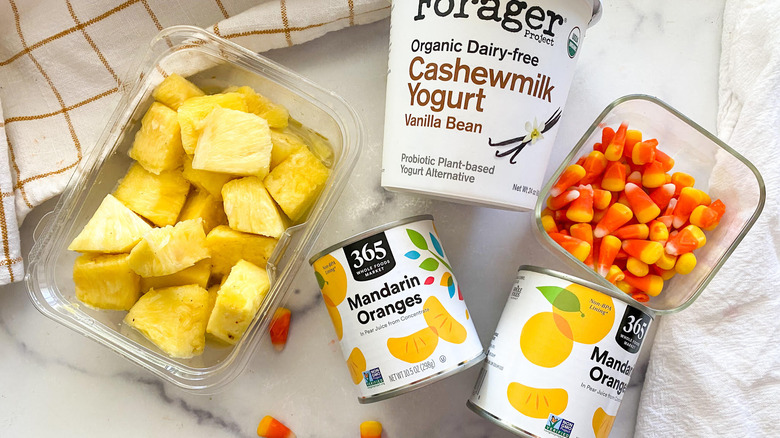 Miriam Hahn/Mashed
It's time to get started on these wonderful parfaits. As with any other recipe, the first thing you need to do is make a list for the grocery store. Double check your pantry and fridge ahead of time to see if you have any of the listed items. For starters, you will need a little bit of fruit. Add pineapple to your list, as well as mandarin oranges. Yogurt is the main ingredient of any parfait, and you will need some vanilla. In addition, grab some candy corn for garnish and three 16-ounce mason jars. Now, we can get down to business.
Start loading the mason jars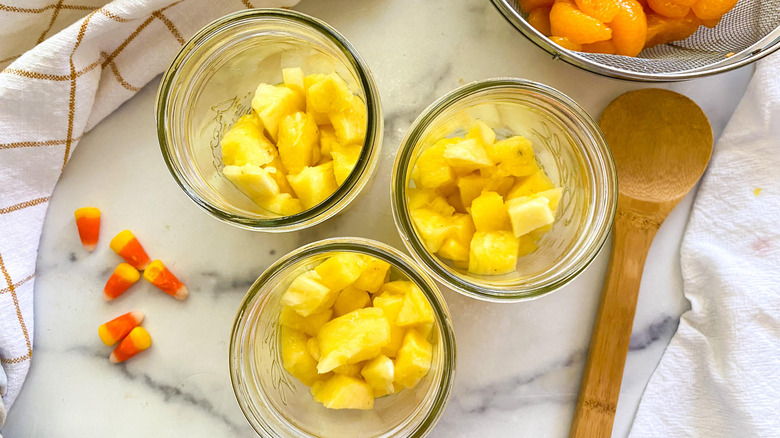 Miriam Hahn/Mashed
The first step in this process is to begin layering the mason jars. Since you want each of these parfaits to resemble a candy corn, begin at the bottom with some fruit. Place 1 cup of the chopped pineapple into each jar. 
Pineapple has a wonderful citrus taste and vibrant color, making it the perfect choice for the bottom layer. "For the pineapple, I almost always buy it pre-cut," Hahn shares. "You can get that anywhere, and then you only need to chop it a little smaller. I prefer this 100% over canned pineapple, and when you buy it cut up, it is usually the perfect ripeness vs. trying to guess when a full pineapple is ready!"
Add a layer of mandarin oranges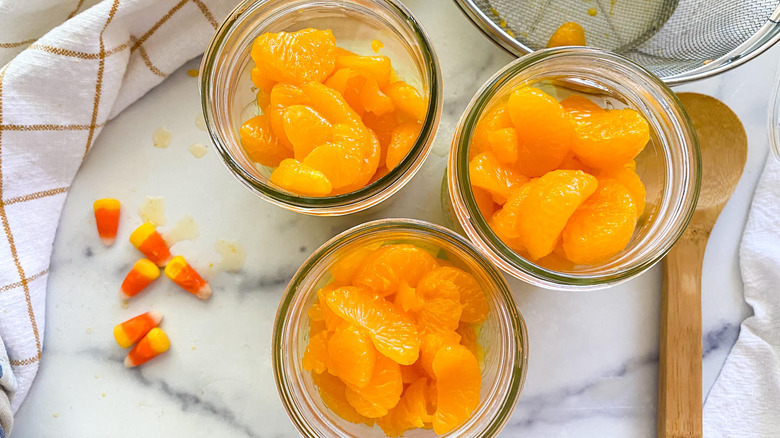 Miriam Hahn/Mashed
Orange is the next color on the candy corn wheel. This means that your next layer should be the mandarin oranges. (Remember that you should have drained these ahead of time to remove the excess liquid, so it doesn't get the other ingredients all wet.)
"Mandarin oranges are full of vitamin C, like regular oranges but work so well in this recipe because they are free of any peel or pith," Hahn says. "Plus, they are an easy pantry staple to have on hand. If you make this with regular oranges, tangerines, or clementines, you can just chop them small, and they will work just fine."
Add the yogurt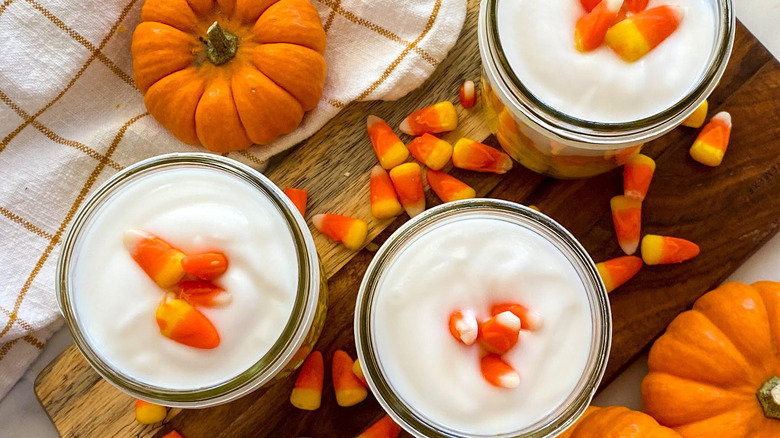 Miriam Hahn/Mashed
To complete the parfaits, it's time to add the star ingredient — your yogurt. Go ahead and scoop it on top of the fruit. Doesn't it look so beautiful and seasonally delightful? 
"I love vanilla yogurt, and cashew or coconut are my favorites. They are fortified with healthy bacteria, making them really good for the gut. They are also typically very low in sugar. The Forager Project [brand] that I used only has one gram," Hahn shares. "You can use any type of yogurt in this recipe or even trade it out for whipped cream if you are going for more of dessert." Twist the lid on each, and store the mason jars in the fridge until you are ready to enjoy.
Serving suggestions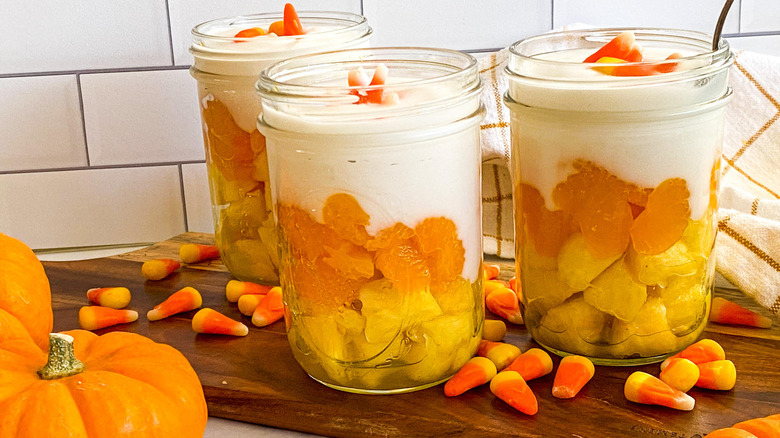 Miriam Hahn/Mashed
Another spectacular part about this parfait recipe is that you can simply eat it as-is. However, if you want to spice things up a bit, you are free to get creative with the toppings. "You can eat it as-is, or top with granola or nuts for an even more delicious breakfast," Hahn shares. "The nice thing about making these in a jar is you can eat some and save the rest. They are so nice to grab on the way out of the house also." We think some chocolate chips or cocoa nibs would be a nice touch, too.
Best Candy Corn Parfait Recipe
If you're looking to get into the fall and Halloween spirit, but still want to eat healthy, this candy corn parfait recipe is for you.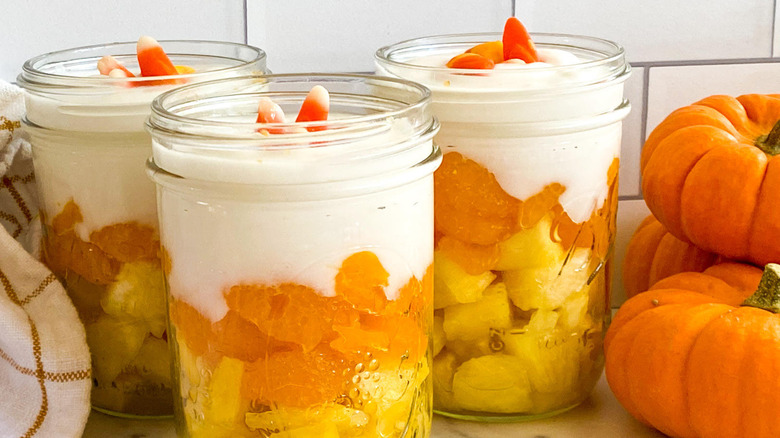 Ingredients
3 cups pineapple, chopped
2 cans (10.5 ounces) mandarin oranges, drained
2 cups vanilla yogurt
Optional Ingredients
Directions
Place 1 cup of chopped pineapple in each mason jar.
Add a layer of mandarin oranges.
Top with yogurt and a few candy corn for garnish.
Nutrition
| | |
| --- | --- |
| Calories per Serving | 274 |
| Total Fat | 2.5 g |
| Saturated Fat | 1.4 g |
| Trans Fat | 0.0 |
| Cholesterol | 8.2 mg |
| | |
| --- | --- |
| Total Carbohydrates | 57.4 g |
| Dietary Fiber | 4.1 g |
| Total Sugars | 49.3 g |
| Sodium | 111.4 mg |
| Protein | 9.7 g |