Easy Mini Jell-O Parfait Recipe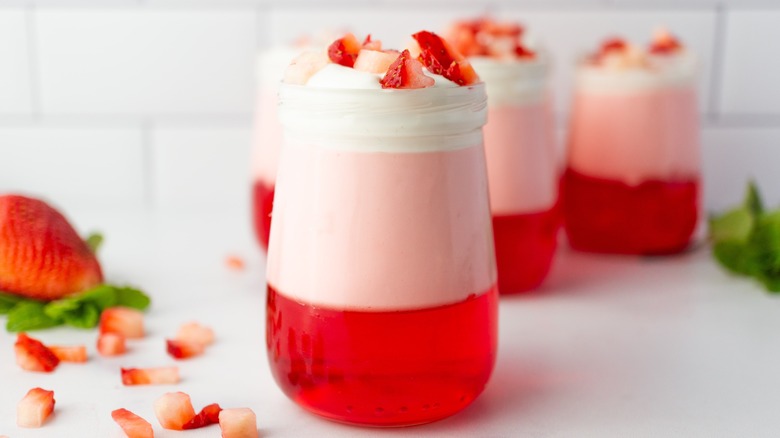 Liz Capozzoli/Mashed
There's nothing that screams summer quite like Jell-O, and the jiggly, fun-to-eat treat always delivers on sweet and refreshing flavors. Both adults and kids love Jell-O, and with so many flavors to choose from, it's no surprise that it's a go-to snack for many people. It's easy to whip up some Jell-O on its own, but what if you could enhance your favorite Jell-O by making it into a fun and fruity parfait?
Recipe developer Liz Capozzoli from OwlBBaking can help you do just that with this mini Jell-O parfait recipe. These parfaits may be tiny, but they pack in some wonderfully sweet flavors, thanks to Jell-O and Cool Whip. The best thing of all? These parfaits are incredibly easy to make and require no cooking whatsoever — with just a little time and some simple ingredients, you can make these refreshing mini Jell-O parfaits again and again all summer long. "I ended up really loving this recipe more than I thought I would," Capozzoli said, adding that "they were so easy to make, with simple ingredients." If you're looking for the ideal recipe that kids and adults will love alike, give this mini Jell-O parfait recipe a try!
Gather your simple ingredients to make mini Jell-O parfaits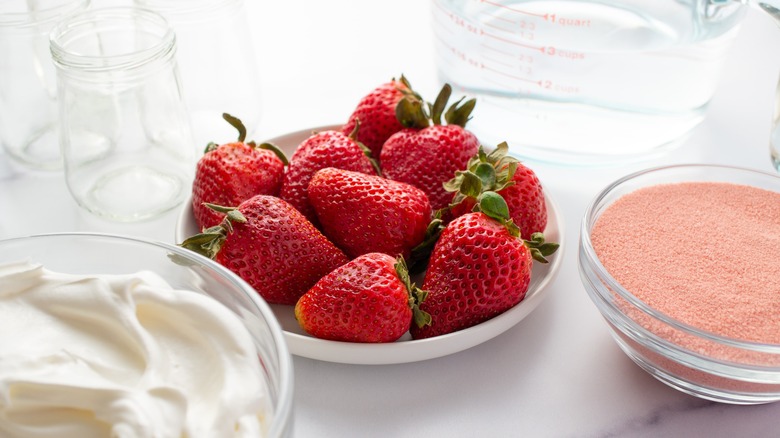 Liz Capozzoli/Mashed
To get started on your mini Jell-O parfaits, you'll need to gather your ingredients. You'll need Jell-O mix, cold water, Cool Whip, and fresh fruit for garnish. You'll also need small jars to put the parfaits in, and Capozzoli notes that cleaned out baby food jars work great in this situation. Also, you can use any flavor of Jell-O that you'd like — raspberry, cherry, lime, and even pineapple are all good options. You can also use sugar-free Jell-O or lite Cool Whip and yield the same result.
Start by making your Jell-O mixture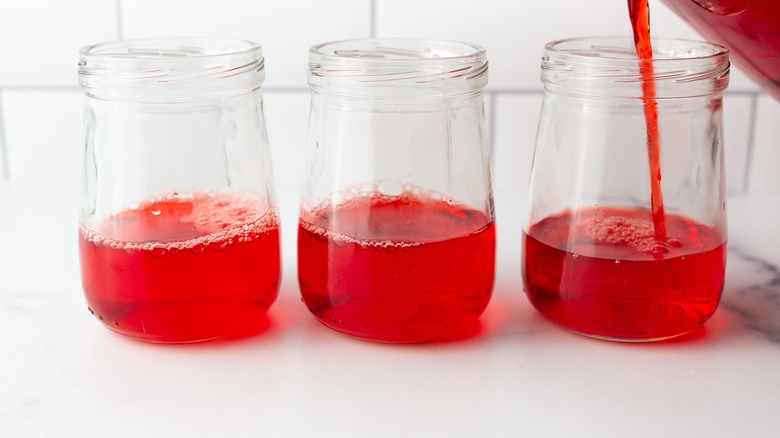 Liz Capozzoli/Mashed
Once you have your ingredients sorted, you can start by preparing the Jell-O mixture. Boil a cup of water, and once it's boiled, carefully pour it into a heat-proof bowl. Then, stir in your Jell-O packet and whisk until the powder is dissolved. From there, you'll add in a cup of cold water and stir again. Then, using your small jars, you'll fill each one with an even amount of some of the Jell-O liquid — about three tablespoons per jar. Set the remaining Jell-O liquid aside and then put your filled jars in the fridge to cool for at least two hours.
Mix the remaining Jell-O liquid with Cool Whip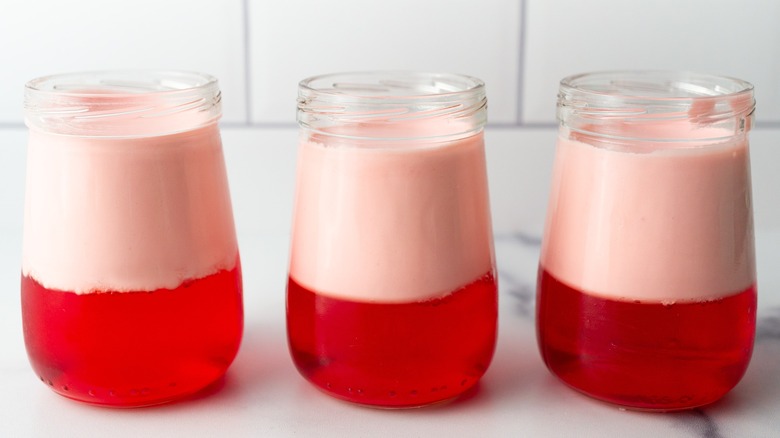 Liz Capozzoli/Mashed
As your Jell-O jars finish up cooling in the fridge, you can get started on making the Jell-O and Cool Whip mixture. Add in most of your Cool Whip — you'll want to save about six tablespoons for topping later — into the remaining Jell-O liquid. Whisk the Cool Whip and Jell-O liquid together until they're  evenly and thoroughly combined. The texture should still be somewhat thick, like a mousse. Then, grab your chilled Jell-O jars from the fridge and evenly pour the mousse on top of each one, leaving enough space for Cool Whip topping as the picture shows. Return the jars to the fridge and let them chill for at least four hours and as long as overnight. 
Top your Jell-O parfaits with the remaining Cool Whip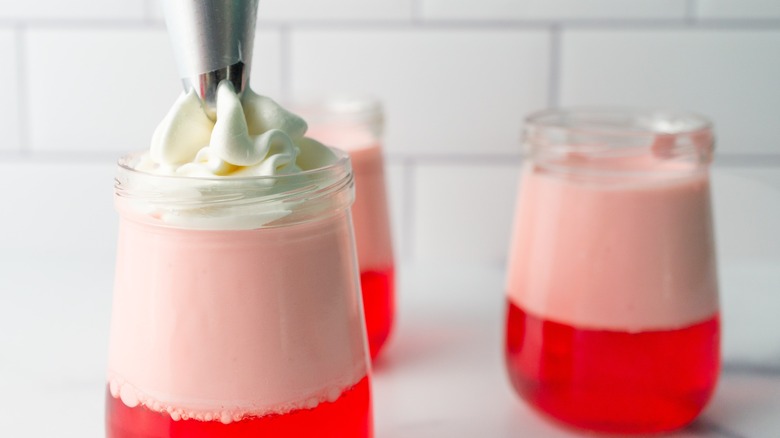 Liz Capozzoli/Mashed
After your Jell-O parfaits have cooled for at least four hours, you can take them out of the fridge once again. You'll also want to grab your remaining Cool Whip to add on top of the set mousse in your parfaits. To add the Cool Whip, you can simply use a spoon or using a piping bag as shown in the picture. Just be sure to add an even amount of Cool Whip to each parfait. 
Chop your strawberries or other fresh fruit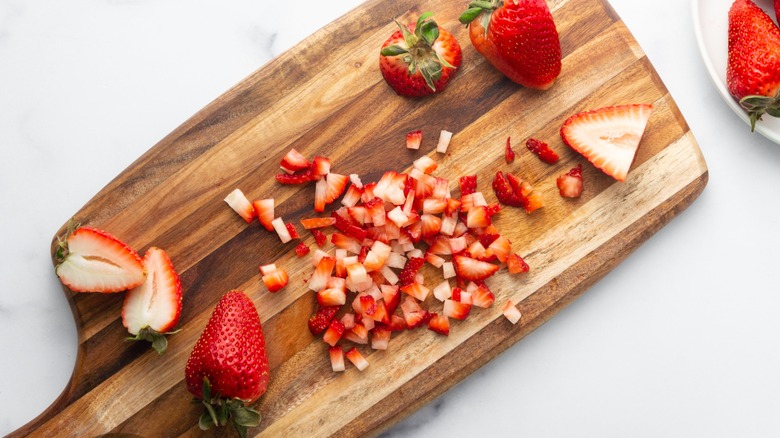 Liz Capozzoli/Mashed
Though adding a fresh fruit garnish is optional, it's also highly recommended to help elevate the parfaits. Simply chop your strawberries into tiny chunks, as shown in the picture, and then carefully sprinkle them onto the parfaits. You can use as much or as little fruit as you want, and if you used a different flavor of Jell-O, you can switch up your fruit choice to match the flavor as well.
Serve your mini Jell-O parfaits and enjoy!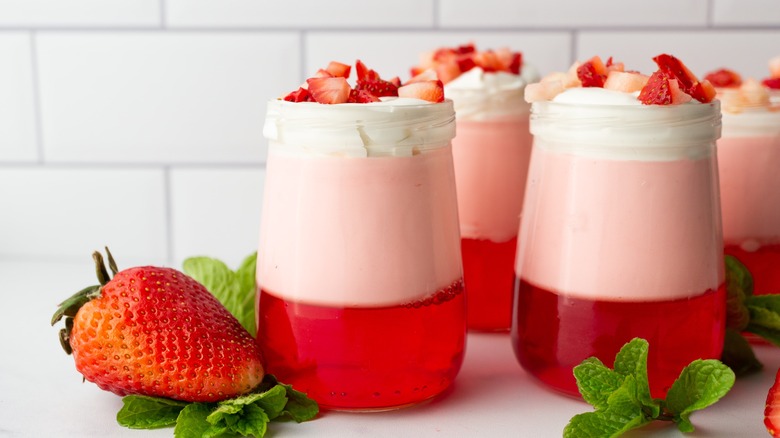 Liz Capozzoli/Mashed
Once you've added your fresh strawberry topping, you can serve and enjoy your mini Jell-O parfaits. Recipe creator Liz Capozzoli also notes that these can be stored in the fridge for up to a week, making them a great optional for a make-ahead dessert. "I love the idea of making these at the start of the week and enjoying throughout as a little treat. One jar is just enough to satisfy your sweet tooth without a lot of guilt," Capozzoli says of the parfaits. If you're looking for a simple, quick, and refreshing dessert, give these mini Jell-O parfaits a try.
Easy Mini Jell-O Parfait Recipe
Jell-O parfaits with cool whip are an easy and refreshing dessert for any occasion and for kids of all ages. Use whatever flavor you like for this recipe.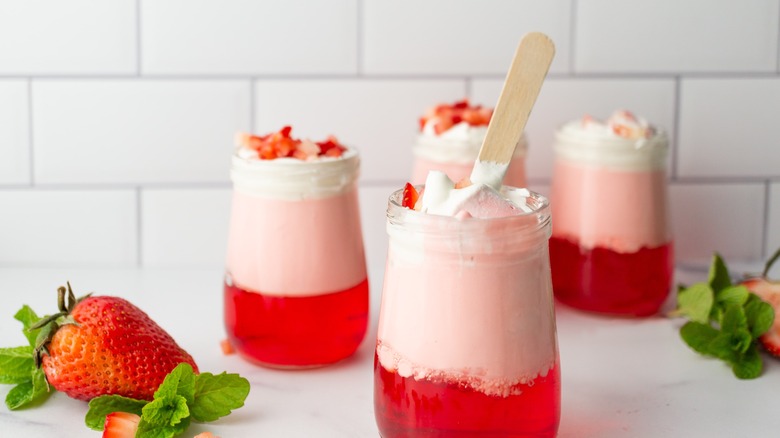 Total time: 6 hours, 10 minutes
Ingredients
2 cups cold water, divided
1 3-ounce package of Jell-O
1 8-ounce tub of Cool Whip
Optional Ingredients
You can substitute any brand of Jell-O type gelatin dessert.
A whipped topping of choice is also doable if Cool Whip isn't available.
Fresh fruit to garnish (optional)
Directions
Set aside 6 mini glass jars -- cleaned out baby food jars work great!
Boil 1 cup of the water.
In a medium, heat-proof bowl, pour in the boiling water. Add the package of Jell-O and whisk until completely dissolved.
Next, add the remaining cup of cold water and stir.
Pour some -- not all -- of the Jell-O mixture evenly among all 6 jars, filling the jar halfway, about 3 tbsp per jar.
Set the remaining Jell-O aside at room temperature and place the jars in the fridge to chill for at least 2 hours until just set.
When 2 hours is up, add nearly all of the Cool Whip to the Jell-O that wasn't chilled, leaving about 6 tbsp of Cool Whip aside for topping the jars.
Pour the Jell-O mousse into the jars on top of the set Jell-O, leaving just a bit of room on the top for the remaining whipped topping to be added later.
Place the jars back in the fridge and let set for at least 4 hours, up to overnight.
When ready to serve, add the remaining Cool Whip to the tops of the jars by dolloping on with a spoon or using a piping bag.
Garnish with fresh fruit if desired and serve.
Nutrition
| | |
| --- | --- |
| Calories per Serving | 151 |
| Total Fat | 8.4 g |
| Saturated Fat | 5.2 g |
| Trans Fat | 0.0 |
| Cholesterol | 28.7 mg |
| | |
| --- | --- |
| Total Carbohydrates | 17.5 g |
| Dietary Fiber | 0.0 g |
| Total Sugars | 15.2 g |
| Sodium | 72.2 mg |
| Protein | 2.3 g |