Cold Stone Creamery Is Bringing Back This Halloween Favorite For 2021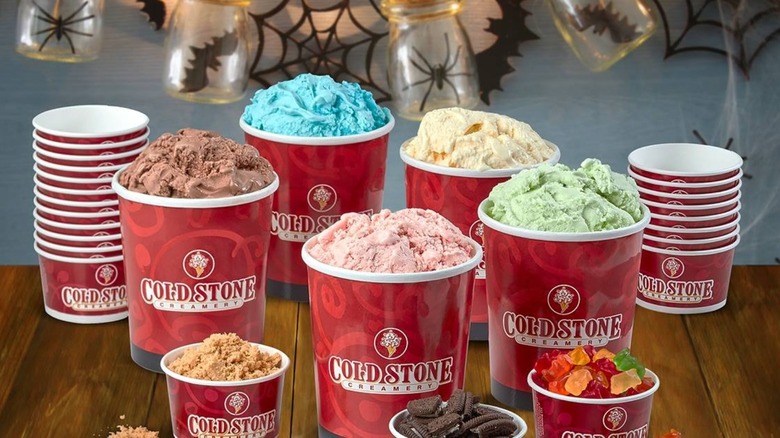 CarlyZel/Shutterstock
The temperature may be dropping now that fall is officially underway, but that doesn't mean you should scrap visiting your favorite ice cream shop for a scoop or two until the weather starts warming up once again. As Frozen Dessert Supplies points out, ice cream is a good source of vitamin D, which is a bit harder for some of us to get from the sun during this time of year. Plus, it will melt at a much slower rate during the chillier months, giving you the chance to really take your time and enjoy your creamy frozen dessert. And then there's the fact that a number of ice cream shops also have delicious seasonal flavors for you to try.
Cold Stone Creamery is one popular spot that is serving up a few fall-themed treats, including a delectable pumpkin bread batter ice cream that will only be available for a limited time. And if it's the upcoming Halloween holiday that has you giddy with anticipation, the chain has something for you too. According to PR Newswire, the Scottsdale, Arizona-based purveyor of frozen desserts has brought back its fan-favorite Boo Batter Ice Cream in celebration of the spooky season, which is the star of its tasty new Halloween-themed creation as well.
Cold Stone Creamery's Boo Batter Ice Cream is only available in October
Cold Stone Creamery's Boo Batter Ice Cream has officially made its return to locations nationwide (via PR Newswire). "We are thrilled to bring back our fan-favorite Boo Batter Ice Cream to Cold Stone Creamery for the month of October," Sara Schmillen, vice president of marketing for the chain's parent company Kahala Brands, said – a sentiment that many Cold Stone fans seem to share. "Yes! I am so happy y'all are bringing this back!" Twitter user @lowercaseletters tweeted in response to the announcement. "I started becoming a Cold Stone fan a few months ago and it's my first year. I heard about this, and I am glad it's here."
For those that haven't indulged in the Halloween treat in the past, the October exclusive sees the Cold Stone's signature Cake Batter Ice Cream "[go] dark," transforming it into a spooky, jet black dessert that will certainly get you in the mood for the upcoming night of tricks and treats at the end of the month. Enjoy a scoop of Boo Batter Ice Cream on its own in an orange waffle cone or bowl, or try it as part of the Treat or Treat Creation with Kit Kats, M&M's, and Halloween Oreos mixed in. Regardless of which concoction sounds most appealing, you might want to visit your local Cold Stone soon to pick up this spooky treat, as it will only be available until October 31.