Everything You Need To Know About Cold Stone Creamery's New Bread Batter Items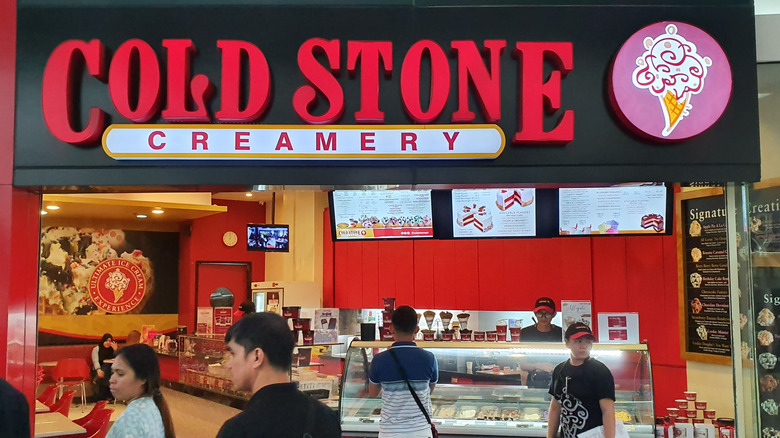 CarlyZel/Shutterstock
Even though summer hasn't officially ended, many of us are already moving full speed ahead into fall, and various brands are kicking off the onset of autumn in their own unique ways. Particularly for restaurants and food retailers, this means adding classic fall flavors and comforting cuisines to their menus to get customers in the spirit of sweater weather and spooky season. When it comes to the aromas and flavors of American fall, we think of the fragrance and sweetness of pumpkin spice, apple cider, cranberry, salted caramel, cinnamon, butternut squash, and more! Cereals, coffees, alcoholic drinks, and even turkey breast boast a dash of festiveness (via Delish) – and our indulgent desserts deserve the same treatment.
Scottsdale, Arizona-based chain Cold Stone Creamery is known for its out-of-this-world-delicious build-your-own-ice-cream-sundae creations, with all of the flavors, mix-ins, and toppings one can dream of. And to celebrate the upcoming season, the national parlor is introducing new extraordinarily tasty-sounding bread batter-themed treats!
What's new on Cold Stone Creamery's fall menu this year?
Cold Stone is whipping up a few new signature creations for its fall 2021 menu, all of which are reminiscent of traditional sweet courses that are quintessential of autumn and all of the coziness it brings!
What's more American than a hefty slice of pie? And if you always have a challenging time choosing between pumpkin pie and apple pie, there's a new sundae that was pretty much made for you. The Apple of My Pumpkin Pie is a medley of Pumpkin Bread Batter Ice Cream topped with pecans, graham cracker pie crust, apple pie filling, and a generous drizzle of caramel. And for you loyal banana bread lovers out there, meet Almost Baked Banana Bread. Far from a half-baked idea, it consists of Banana Bread Batter Ice Cream with sliced banana, pecans, and cinnamon sprinkled on top. The options became available on September 1 and will remain on offer in Cold Stone stores across the country through November 30, according to a press release (via PR Newswire).
But wait – don't forget the actual pie! The limited-edition Pumpkin Bread Batter Pie makes its debut on November 1, just in time for Thanksgiving. Feast on Pumpkin Bread Batter Ice Cream in a graham cracker pie crust and topped with cinnamon-infused frosting and chocolate leaves.