Does Johnny Rockets Have A Pet-Friendly Menu?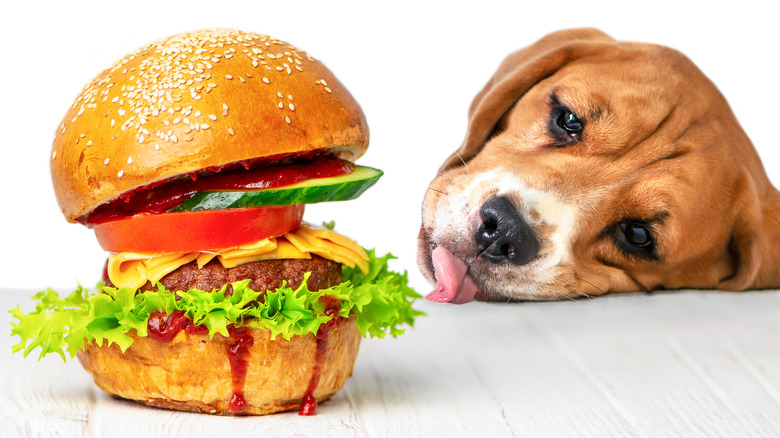 milatiger/Shutterstock
When your dog rides shotgun on your trip through the drive-thru, a spare fry from the to-go bag isn't necessarily the only suitable treat on the menu. Many fast food restaurants have a pet menu (secret or clearly marked), which means your next burger or breakfast run could become a full-on family affair. (However, just like those bacon cheddar burgers, Boston cream donuts, and chocolate shakes are a special treat for us humans, these fast food dog selections are, in general, only safe for Fido in moderation.)
And what about popular '50s-themed chain Johnny Rockets? According to The Press-Enterprise, at least two of these locations may be serving pooch-approved dog treats the next time you grab a table. If you live nowhere near a Johnny Rockets that offers dog-friendly dining options worry not, Wide Open Pets reports that all Johnny Rockets locations will happily offer their four-legged guests a fresh bowl of water. It might not be as refined as a glass of Perrier on a linen napkin, but the gesture is surely appreciated after a long day of play. So how to find out if your local Johnny Rockets is serving a snack appropriate for your pup?
How to find pet-friendly Johnny Rockets locations
If you're hoping to include man's best friend on your next milkshake adventure, you'll really need to call ahead to ask. The only verifiable account of a Johnny Rockets pet menu we could find was from 2010. The Press-Enterprise spoke to franchise owners of the Chino Hills and Victoria Gardens, California Johnny Rockets restaurants, who said they wanted their locations to be a "first class" food stop for pet families, offering dogs a similar dining experience as their owners. To make it happen, they partnered with a local dog bakery to test a special menu made with ingredients like honey and unsweetened applesauce. The proposed Johnny Rockets pet menu featured a variety of dog-safe options like hamburgers, ice cream, cupcakes, and carob ruffles.
Though never officially announced by Johnny Rockets, Wide Open Pets, Obsev, and other outlets have reported on per-friendly offerings from the chain as recently as September 2021, with Obsev even stating a dog burger is available off-menu in some locations if you ask. PetLife backs this up, describing the pup burgers as "specially cut-up for easy eating," as well as the next best thing to actual human food. Additionally, reviews on pet-friendly website BringFido praised the chain for offering a dog-approved menu. So does your local Johnny Rockets have a menu for your dog? Maybe, maybe not — but if you live in southern California, we'd say your odds are slightly improved.