What You Can Do To Elevate Your Pumpkin Spice Latte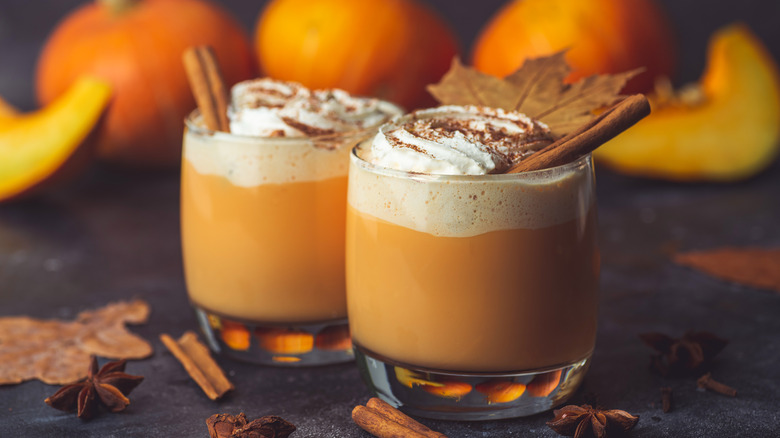 vovidzha/Shutterstock
Pumpkin spice latte season is officially here, with the seasonal beverage popping up in coffee shops around the world. However, you don't necessarily have to enjoy the beverage exactly as it's served. If you're a die-hard PSL fan who counts down to the release of the beverage in stores every year, you may want to add a bit of variety to your favorite drink with a few of these twists. Or, if you've never really been a fan of the autumnal drink, a few simple tweaks might help you find a seasonal beverage you absolutely adore. From adding in different syrups or toppings to mixing and matching elements of other beverages, the options are truly endless when it comes to elevating your pumpkin spice latte.
One suggestion from Refinery29 is to add a few pumps of hazelnut syrup, which allegedly makes the beverage taste like a pumpkin pie latte. For another pie-like twist, Bustle suggests adding cinnamon dolce syrup. You might also consider sprinkling in a bit more cinnamon or nutmeg from the coffee bar to really amp up those warm-spicy flavor notes. Or, mix up the syrups a bit — for a Charlie Brown-inspired Great Pumpkin Latte, replace two pumps of pumpkin sauce with toffee nut syrup, or for a Cinderella Latte, swap out half the pumpkin sauce with white chocolate mocha sauce. Finally, you can even play around with the flavor profile by using different milks, from coconut to soy.
Add pumpkin sauce to any drink you want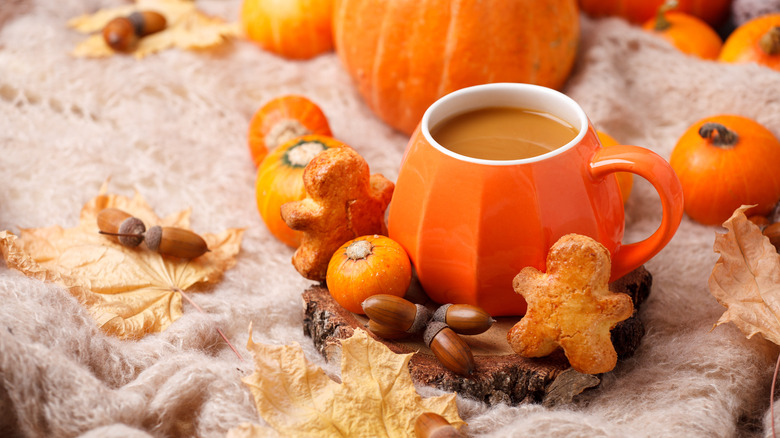 Katerina Morozova/Shutterstock
If there's something about the standard pumpkin spice latte that just doesn't appeal to you — some coffee drinkers may find it a bit sweet — but you still want those festive fall flavors, don't worry. There are many alternative options.
First of all, know that you can infuse the flavor of pumpkin spice into just about any drink by incorporating pumpkin sauce into your go-to order. If you want something a bit more subtle, simply add one or two pumps of pumpkin sauce to your regular black coffee or Americano for a drink that's far less sweet, while still featuring those pumpkin notes. As Bustle explains, a flat white has a higher espresso-to-milk ratio than a latte, so you could also consider crafting an elevated PSL by adding pumpkin to that drink for something that's more coffee-forward in its flavor profile.
If your usual drink is chai, try adding just a pump of the pumpkin sauce to your spicy latte to mix it up. Finally, if you don't enjoy the taste of coffee, you can also get steamed milk with pumpkin sauce and all the toppings (like cold foam, whipped cream, or Frappuccino chips), or, alternatively, add a pump or two of pumpkin sauce to your favorite hot chocolate or cider for a festive twist. The point is, you can enjoy PSL season no matter what your drink of choice is — you just might have to get creative by customizing something special for yourself.