The Untold Truth Of Naked Juice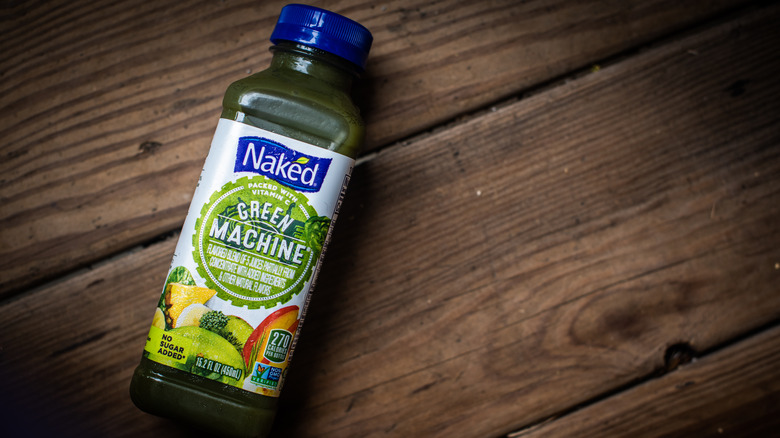 Bloomberg/Getty Images
You know Naked Juice. You've likely noticed it in the cooler at the corner convenience store near some of the "healthier" drink options. You might've seen it in the produce section of your local grocery store (because that proximity to produce means something's healthy, right?). You may have even enjoyed your fair share of Naked Juice products — smoothies or otherwise — over the years. But do you really know what's in every bottle of Naked Juice? Or where the brand comes from? Or even why it's named "Naked Juice?" (Hint: it's not because the fruits and veggies are naked.)
We're breaking down everything you need to know before you sip on your next bottle of Naked Juice, from the company's humble beginnings to its founders' big break to its handful of big controversies, as well as all the good things the brand is doing now. Here's the untold truth of Naked Juice.
Naked Juice was founded in 1983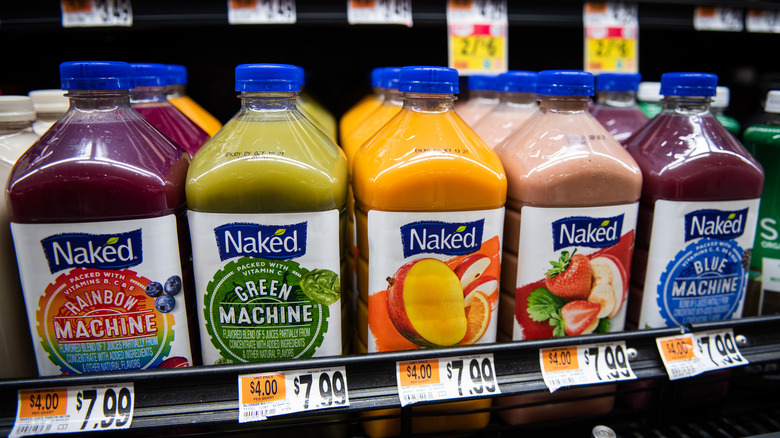 Bloomberg/Getty Images
Let's start right at the beginning, shall we? Naked Juice was founded in Santa Monica, California, in 1983 by Jimmy Rosenberg and David Bleeden (via The Acorn). The two bandmates needed a job to support their music careers and started making juice after Rosenberg's father saw an ad for a juicer. After talking to some local businesses, they found out that there was, in fact, a demand for fresh juice in their area, so they started making and selling their juices out of the back of a sub shop. 
They'd wake up at 3 a.m. each morning to purchase their oranges from the local produce purveyors and then get to work, hawking their wares not only out of the sub shop, but also along the Santa Monica beach. Soon, Bleeden and Rosenberg realized they had a success on their hands. And as for the name, well, it was a cheeky nod to the two young men's affinity for sunbathing in the nude (or so the Naked Juice lore goes).
The founders left the company early on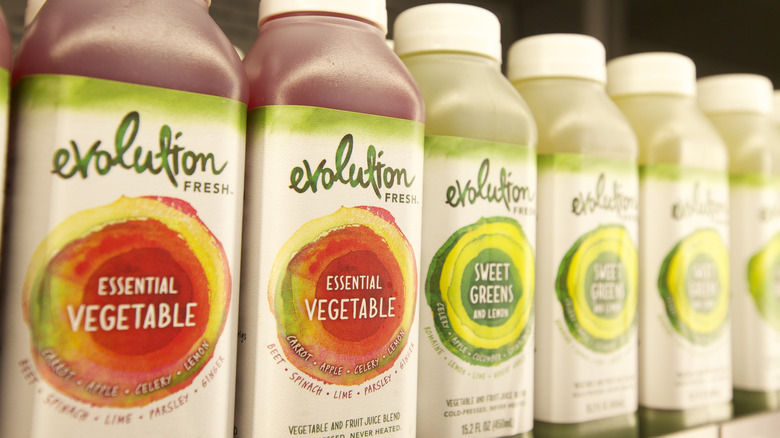 Stephen Brashear/Getty Images
Jimmy Rosenberg and David Bleeden may have started Naked Juice, but they didn't hang around the company for long. The two founders sold the company in 1988 (just five years after launching it) to Chiquita (via The Acorn). Following the sale, Bleeden went to rehab for a drug addiction. He revitalized his career in the early 2000s, turning his attention to an investment company that focused on internet products before getting into the consulting biz (via LinkedIn).
Rosenberg, meanwhile, decided to stay in the juice industry. In 1995, he founded Evolution Fresh, which specializes in cold-pressed juices and smoothies. (Goodnature referred to him as a "serial juice entrepreneur.") Evolution Fresh was more of a long-haul project for Rosenberg, who stuck with the company until it was acquired by Starbucks in 2011 (he's still considered the brand's "chief juice officer"). Though you might not be able to find Evolution Fresh products everywhere you can find Naked Juice drinks, they are available in most Starbucks and Target locations.
Naked Juice was owned by PepsiCo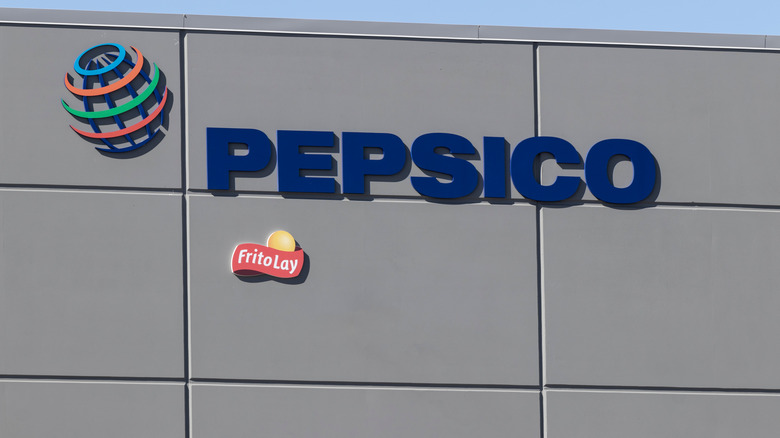 Jonathan Weiss/Shutterstock
Naked Juice's big break as a brand came in 2006, when PepsiCo agreed to purchase the company from private equity firm North Castle Partners (the sale was made official the following January). North Castle had purchased Naked Juice in 2000 from Chiquita subsidiary California Day-Fresh Foods (via Beverage Online) and gave the juice a rebrand that it said better communicated "the product's raw and witty character combined with its superior product quality and taste." After six years of the firm's ownership, Naked Juice boasted sales of $150 million-plus, a nationwide reach, and 25 different products — but PepsiCo would be able to take the brand even further.
While under North Castle's control, most of Naked Juice's marketing had been grassroots-based with the focus on health-food venues, PepsiCo had the ability to distribute Naked Juice products on a wider scale, especially since, around the same time, the company was making a conscious effort to expand its healthy snacks and drinks portfolio; it also purchased Stacy's Pita Chips and IZZE Beverages within the same year (via Reuters).
Naked Juice underwent a major rebrand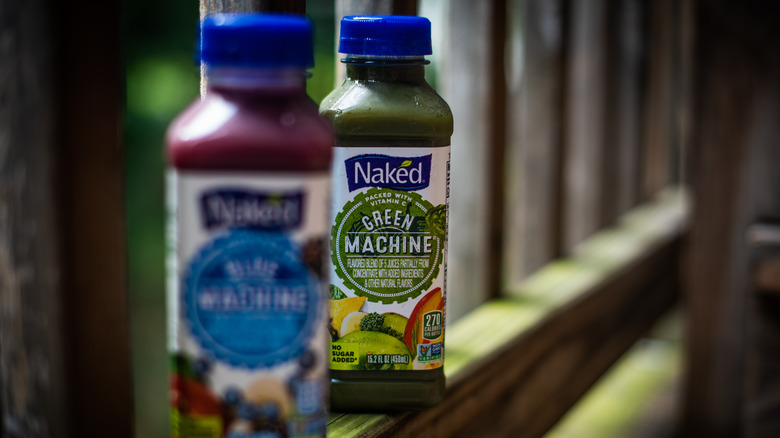 Bloomberg/Getty Images
Just prior to PepsiCo's acquisition of Naked Juice, the brand was overhauled. In 2005, leadership wanted to market the juices' health benefits even further. The brand's biggest claim was what it called "the pound promise," a guarantee that a pound of produce was included in every single bottle of Naked Juice (via BevNet). Each bottle of juice received new packaging that showed the exact amount of produce, and what types of produce, were included in the product, as well as info on ingredients that Naked Juice called "boosts" — things like extra vitamins or proteins that were added in.
"We designed our new packaging to make the buying decision easier for the consumer by listing the exact amount of fruit and boosts in each bottle," said Kimber Ward, director of marketing for Naked Juice, at the time of the reboot. "Our customers appreciate the what-you-see-is-what-you-get attitude of our brand and we wanted to extend that feeling into our packaging." Unfortunately, as we'll see in a bit, Naked Juice's marketing tactics may have made the buying decision a little too easy for consumers.
There is a wide variety of Naked Juice products
As part of the company's major rebrand, Naked Juice also began introducing some new, juice-adjacent products. Naked Juice jumped on the super-foods trend, offering a 100% pure pomegranate juice touted for its antioxidant content. They also introduced a pomegranate blueberry juice, thus combining "two power fruits" in one juice drink (via BevNet).
A few years later, Naked Juice would release a first for the industry — a smoothie that contained probiotics. Unveiled in 2008, Naked Juice Probiotic smoothies were described as 100% juice with added probiotics as well as prebiotics, to both add and assist good digestive bacteria (via Food Processing). Today, the brand is anchored by four main lines: Machine (to "replenish & recharge"), Core (to "nourish & balance"), the protein-packed Naked Plus which includes a Tropical Mango smoothie with probiotics, and the non-fruit Indulgent Protein with chocolate and vanilla flavors. Beyond the smoothies, Naked also packages its own line of coconut water.   
Naked juice was forced to remove the claim it was 'all natural'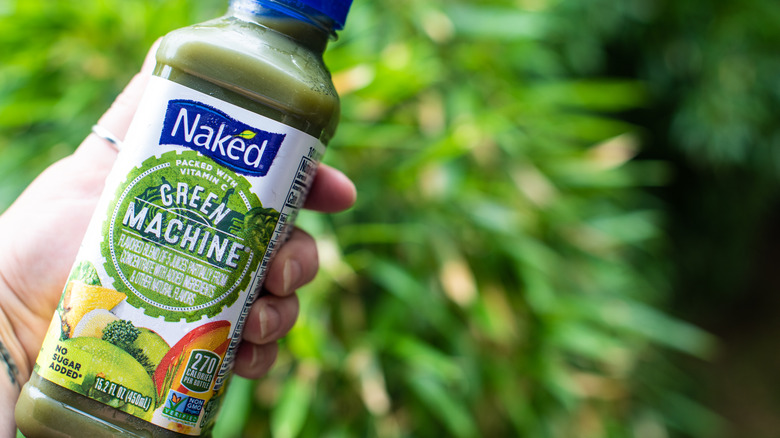 Bloomberg/Getty Images
PepsiCo was able to grow Naked Juice by leaps and bounds, sure — but the company's efforts to achieve those goals also drew some unwanted attention. Some food professionals began wondering just how healthy Naked Juice really was and whether the brand's claims were actually true. For one particular lawsuit (yes, there were others), there was a filing made against Naked Juice stating the brand's "all natural" claims were incorrect, as some of the vitamins added to the drinks are technically synthetic and man-made, meaning the juices aren't actually 100% natural (via USA Today). As a result of the lawsuit (which was filed in 2013), Naked Juice removed the phrase "all natural" from its packaging and paid $9 million as part of the settlement.
But was Naked Juice's use of the term "natural" really all that bad? It's a bit of a gray area, according to the Food and Drug Administration, which told USA Today at the time that it doesn't have a clear definition for what is or isn't a natural product.
Naked Juice has faced multiple lawsuits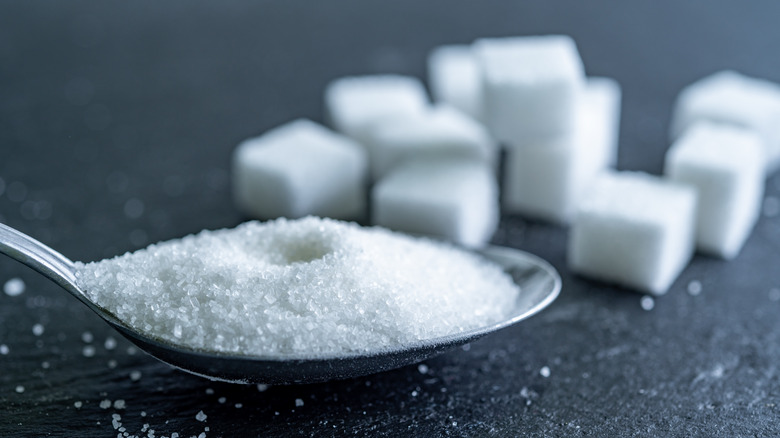 Zedspider/Shutterstock
Naked Juice's legal woes would continue in 2016. This time around, according to Business Insider, the Center for Science in the Public Interest filed a lawsuit claiming that Naked Juice's marketing tactics across the board — not just when using words or phrases like "all natural" — portrayed the drinks as healthier than they actually were. The Center noted that the company's Kale Blazer juice, for example, is packaged so that it appears to be filled with leafy greens and other healthful goodness, when, in reality, the main ingredients are orange and apple juices, which the Center described as "cheap" and "nutrient-poor."
However, the Center didn't necessarily have an issue with the juices being not-that-healthy overall; instead, it just wanted Naked Juice to be more transparent about what it's including in their products. The lawsuit was ultimately settled when PepsiCo signed off on changing some of its marketing and packaging going into 2017.
According to Beverage Daily, PepsiCo agreed to revise packaging to more clearly and accurately show and describe a product's ingredients, reduce the font size on its "no sugar added" phrasing on packaging, add a disclaimer that the drinks are not considered low-calorie, and more prominently display caloric content.
Several Naked Juice products contain more sugar than soda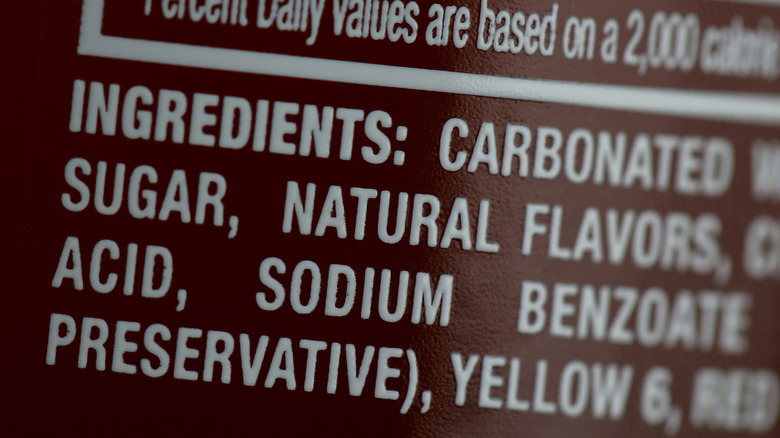 Justin Sullivan/Getty Images
One complaint from the Center for Science in the Public Interest's lawsuit was that Naked Juice's marketing and packaging gives the idea that a Naked Juice product is a healthier consumer choice than, say, a soda, when that's not the case at all (via Business Insider). The Center pointed out a 15.2-ounce bottle of the brand's Pomegranate Blueberry juice (billed as a as a no-sugar-added product) contains 61 grams of sugar, which is about 50% more sugar than what you'll find in a 12-ounce can of Pepsi.
Of course, the 2016 lawsuit didn't result in Naked Juice actually changing any of its ingredients, so you'll still find a large amount of sugar in much of the brand's products. Today, Naked's Blue Machine Boosted Smoothie, for example, contains 320 calories and 55 grams of sugar. The brand's Protein Greens juice contains 400 calories and 50 grams of sugar. Only Naked's Chocolate Protein smoothie contains more calories, at 410 calories per bottle and 47 grams of sugar. Comparatively, a 12-ounce can of original Coca-Cola only includes 140 calories and 39 grams of sugar.
There was a rumor Naked Juice contains formaldehyde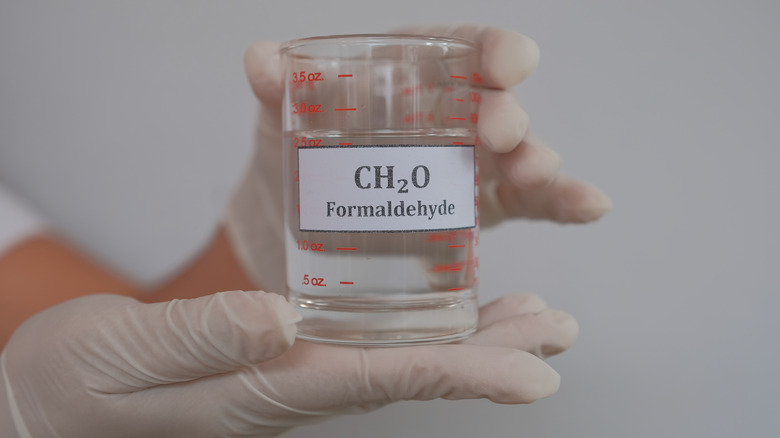 Evan Attoza/Shutterstock
Sketchy nutrition claims are one thing, but in 2017 a rumor was going around on Facebook stating that Naked Juice products contain formaldehyde, which, yes, is the same stuff morticians use to preserve dead bodies.
According to Snopes, the allegation was traced back to a Facebook user who said, "Friends don't let friends drink formaldehyde." The user went on to detail PepsiCo's 2013 lawsuit that resulted in removing the "natural" label from Naked Juice products. She noted, "They actually were found to have a bunch of nasty chemicals in them including formaldehyde (keeps your dead body preserved — no thanks), Fibersol-2 ('a soluble corn fiber that acts as a low-calorie bulking agent'), fructooligosaccharides (an alternative sweetener), other artificial ingredients, such as calcium pantothenate (synthetically produced from formaldehyde), and genetically-modified soy."
While the post was shared more than 150,000 times and definitely got some traction, Snopes was quick to debunk the claim, noting that calcium pantothenate is a synthetic calcium salt form of Vitamin B5. While the product's chemical synthesis (the process by which products are derived via chemical reactions) does require formaldehyde, it is in no way related to the final product. To be clear, there's no straight formaldehyde in Naked Juice products.
The company champions multiple charitable organizations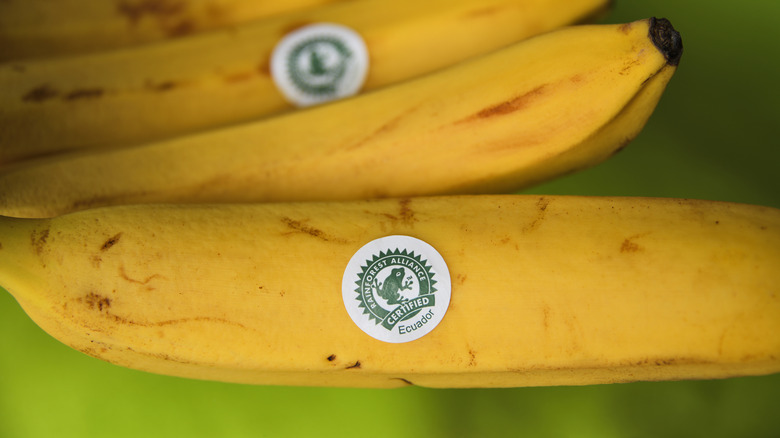 K I Photography/Shutterstock
For all the bad stuff that's popped up surrounding Naked Juice, the brand still does a lot of good. Today, Naked Juice partners with a number of sustainability programs and nonprofits and has been making a concerted effort for the last decade to reduce its carbon footprint. 
All of Naked Juice's bananas and pineapples are sourced via Rainforest Alliance-certified farms. The Rainforest Alliance works with farmers in other countries to enhance the agricultural industry while still protecting the world's biodiversity and sustainability. Naked Juice also works with Wholesome Wave, which makes fresh and local produce more accessible and affordable to those in need. Together, Naked Juice and Wholesome Wave have provided more than a million servings of produce to American families.
Over the last few years, Naked Juice has also switched from truck shipping to train shipping, a move the company says reduced its carbon footprint by more than 5,000 tons, or about the same amount of carbon that would require 3,119 football fields of forest to eradicate it from the atmosphere.
Naked Juice uses 100% rPET bottles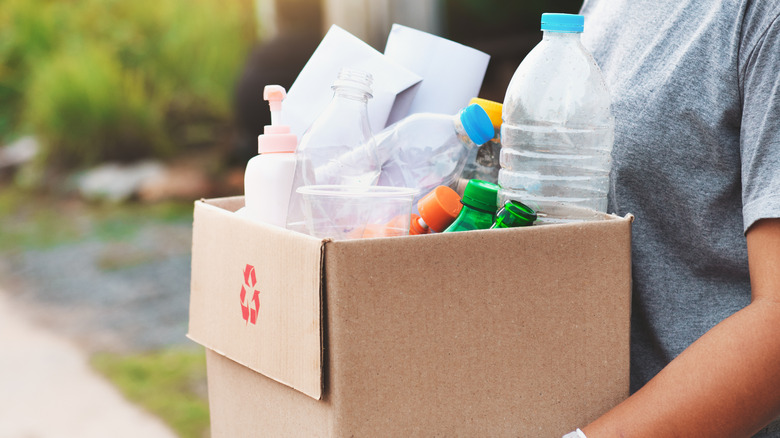 lovelyday12/Shutterstock
While various lawsuits forced Naked Juice to alter the claims on its label, in this particular instance, the company itself took the initiative to make positive changes to its packaging. In 2009, Naked Juice became the first nationally distributed juice company to use 100% rPET(recyclable polyethylene terephthalate) bottles. By 2011, the bottles, dubbed the "reNEWabottle," were rolled out across the entire Naked Juice product line.
So what exactly does this mean? The reNEWabottles are made from 100% post-consumer recycled plastic, which essentially removes more than 7 million pounds of new plastics from grocery store shelves each year, while also saving up to 12,000 cubic meters of landfill space. The decision to switch to reNEWabottles also reduced greenhouse gas emissions by 35%, a reduction equal to 500,000 gallons of gas per year. Keeping the Naked Juice bottle cycle going is as simple as consumers recycling each empty Naked Juice bottle rather than tossing them into the trash.
Naked Juice and PepsiCo are splitting up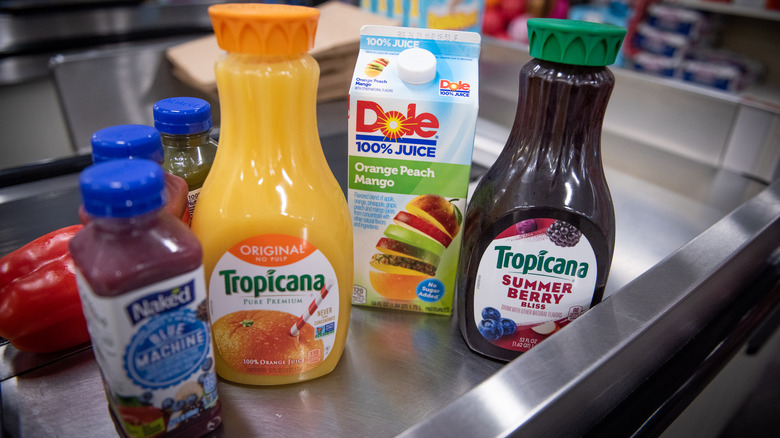 Bloomberg/Getty Images
Naked Juice will soon no longer be under the PepsiCo umbrella. As of August 2021, the mega-conglomerate agreed to sell Naked Juice and its other juice brands (including Tropicana) for $3.3 billion to private equity firm PAI Partners (via The Street). In an ironic turn of events, while PepsiCo originally purchased Naked Juice as an attempt to expand its line of healthy option products, this time, the company says it sold Naked Juice and its other juice brands to focus instead on healthy snacks and zero-calorie beverages. The sale isn't a complete transaction, as PepsiCo will still retain distribution rights for Naked Juice in the United States, meaning you'll still be able to find your favorite juices in your normal spots.
At the time of the sale, PepsiCo reported that its portfolio of juice businesses netted $3 billion in 2020 and that, overall, juice sales had slowed as consumers were interested in less-sugary drink options. Still, that didn't stop PepsiCo from buying Rockstar for $3.85 billion in 2020 (via Yahoo! News). That's despite the fact that with 270 calories and 63 grams of sugar, a 16-ounce can of the energy drink has just as many calories and grams of sugar as a bottle of Naked Juice.