Instagram Can't Get Enough Of The Pioneer Woman And Her Lookalike Sister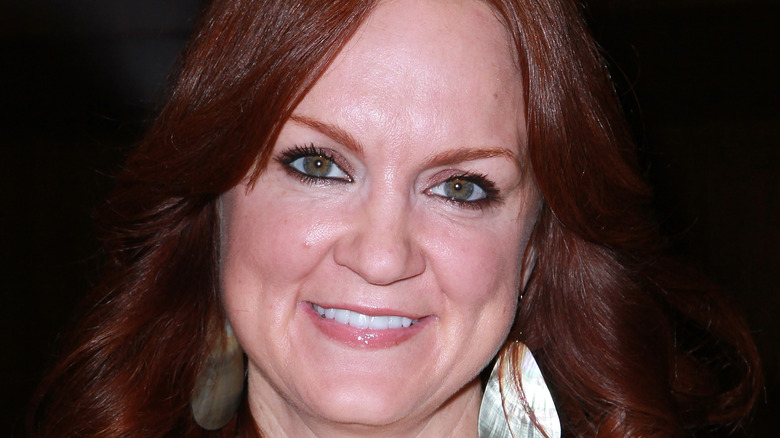 David Livingston/Getty Images
If you were at the recent Pawhuska High School football game in Pawhuska, Oklahoma (and let's be honest: who wasn't?), you might have done a double-take. That's because not only was one of the most popular girls in school, Ree Drummond (aka The Pioneer Woman) in attendance, she brought her similarly dressed, equally dimpled sister, Betsy Smith, to the game too. The ladies were matching in jeans, black tops, and bright orange earrings. And besides the different hair colors (Drummond is a redhead, while Smith has dark brown hair), the sisters could be twins, which some fans have pointed out. How do we know all this? Because, friend, it's hot gossip today in the high school cafeteria known as Instagram.
Drummond posted a photo of her and her sister smiling on the five-yard line, captioning the picture: "We're sassy. We're sweaty. We're SISTERS! We're a little weird, too. Betsy and I had a fun weekend together in Pawhuska, capped off with a big Huskie win last night, so on the plane back to Seattle she will remember big smiles and not big tears. Love you, Bets! Thanks for laughing at 96% of the things I say, no one else does that!!!" It was punctuated by a few laughing faces, the official emoji of sisters everywhere. A little digging reveals that Drummond never loves to support the team her son plays for (via The Pioneer Woman blog), and she had this special guest with her.
A rare sister sighting
Part of the sacred covenant you make when you decide to follow a food blogger, which Drummond was before Food Network scooped her up for her very own primetime show, is promising to love and cherish not only the cook but every member of her family, too. Drummond makes this easy on fans, by updating her blog regularly with stories about how her five kids, husband, parents, step-parent, etc. are doing (via The Pioneer Woman). But posts about Drummond's sister seem as rare as hen's teeth at a Pawhuska homecoming game, which is perhaps why the world of social media laps them up.
"Sisters are the BEST," one follower commented on Drummond's Instagram post. One lucky fan said, "We loved meeting you and watching Todd play. He is awesome. Thanks for taking the picture with me," which pretty much confirms everything we've ever heard about how nice Drummond is in real life. Fellow writer and social media maven Jen Hatmaker pointed out, "Sisters also keep our secrets and will bury the bodies," which unfortunately we can't confirm but is a sentiment we appreciate, nonetheless. Drummond herself replied to a few of the comments, posting a mind-blown emoji to the fan who commented that the sisters had opposing purse color schemes, and reminding a follower that the reason no one in the photo is looking at Drummond and her sister is that "I am definitely just Todd's mom on the football field."