Instagram Is Already In Love With Michael Symon's New Grandchild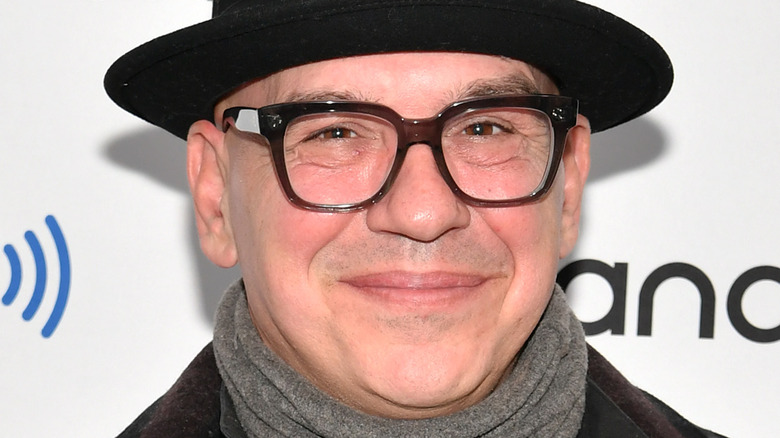 Slaven Vlasic/Getty Images
Chef Michael Symon has been sharing his love of food and cooking with us for many years. From "Lost & Found in Cleveland," "The Chew," and "Symon's Dinners Cooking Out," fans have followed his prolific tv appearances and collaborations such as those with Bobby Flay, Rachael Ray, and longtime friend Aarón Sánchez (via IMDb). While fans are familiar with Symon the chef, there is less publicly available about Symon the person. For this reason, when the celebrity chef shares a small update with fans, it grabs attention.
When that update is an absolutely adorable baby photo, we are over-the-moon excited. Announcing his happy news, Symon just shared a photograph of his newborn grandson Butch Preston via Instagram with the caption, "Meet Butch Preston!....Emmys new baby brudda." Loving the pic of the happy newborn, chefs from all over are quickly sharing their congratulations, such as Ina Garten's comment, "OMG Congratulations Grandpa! He's adorable!!" followed by three heart emojis, of course. 
Butch Preston joins the Symon family as its youngest member, but while private, we do know a little more about the family away from the cameras.
Chef Michael Symon values privacy
Michael Symon first met his now-wife Liz in 1990 when they both worked at the restaurant Players (via Live Ramp Up). Liz was married at the time and the two were just friends. Speed up to 1994 when Michael, now at a new restaurant, needed a manager. Chef Michael hired Liz, who was now a single, divorced mother to 6-year-old son Kris Sanderson. Two years later, Michael and Liz were married, and Kris was welcomed into the blended family with open arms. Said Michael in reflection, "When he was younger, my wife, Liz, and I wanted to make sure we had dinner with him every night."
Kris has since grown up to welcome family of his own, including the adorably pictured Butch Preston. Butch joins older sister Emerson Lina, born in December 2018. While Symon's family pictures aren't always frequent, these images are almost always a huge hit with fans. Be sure to check for family fun scattered throughout beautiful images of food and celeb collaborations. You also won't want to miss pictures of the chef's beloved dog Norman, born on Halloween 2019 (via WKYC).
So congratulations to the Symons and Sandersons — thank you for sharing baby Butch with us all.