Chef Ludo Lefebvre's Steak Au Poivre Recipe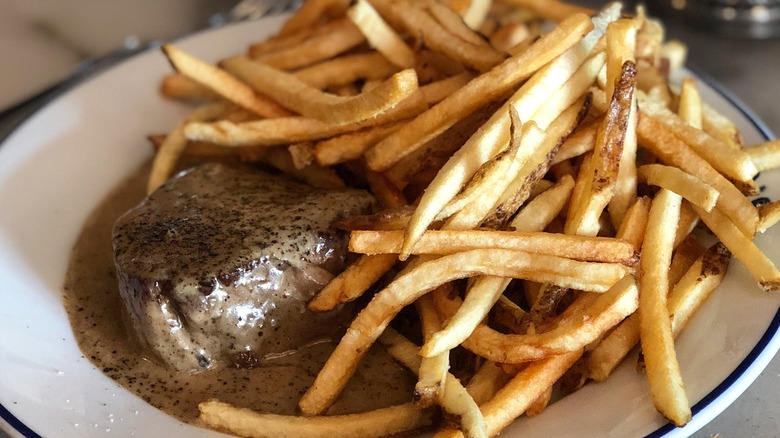 Wine Insiders
In case you were wondering whether it's possible to improve upon filet mignon ... it is. Steak au poivre, quite literally, is filet mignon upgraded with a generous heaping of the most sumptuous, buttery au poivre sauce. Want fries with that? Good, because it's typically served with steak frites! This combination of rich, savory flavors is why this dish is a favorite of Michelin star winner Chef Ludo Lefebvre, a veteran of "Top Chef Masters," PBS' "The Taste" with Anthony Bourdain and Nigella Lawson, and "Selena + Chef." 
In an exclusive interview with Mashed, Lefebvre explained why steak au poivre is tres fantastique. "Everybody loves steak au poivre — it's very French," explained the Burgundy-born chef, who is in the process of opening a new restaurant in Denver called Chez Maggy. "It's a good sauce, it goes with everything, with fries or spinach." Lefebvre recommends pairing this dish with the 2019 Urluberlu Syrah Steak from his Chef Ludo Lefebvre's Vin de Table Collection on Wine Insiders. "The Syrah is very peppery, so, very spicy! So, it matches very well [with] the steak au poivre. It needs something with a good body, like dark color, black color. And peppery ... spicy wine with the steak au poivre is great!"
Pair this meal with 2019 Urluberlu Syrah, which is included in Ludo Lefevbre's French Countryside Mixed Half-Case/Case and Reds for Grilling Half-Case/Case.
Shop Chef Ludo Lefebvre's Vin De Table wine collection. Be sure to follow his culinary adventures on Instagram.
Chef Ludo Lefebvre's Steak Au Poivre Recipe
Filet mignon is the star of the show in this classic French dish that's paired with a silky au poivre sauce and topped with fries. Bon appétit!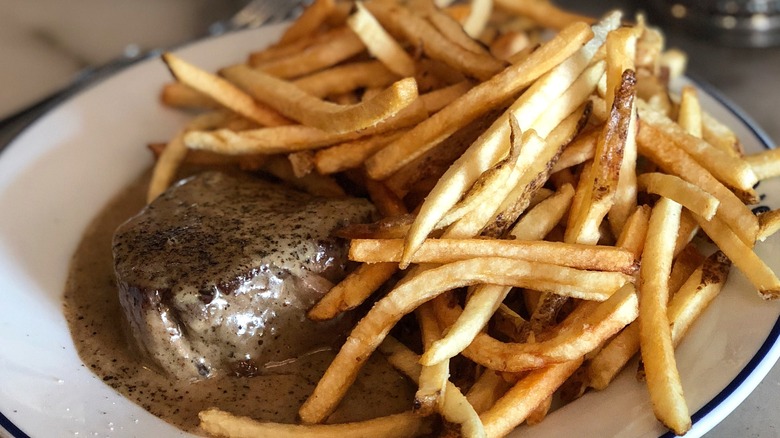 Ingredients
1 6 oz portion filet mignon
8 ounces Russet potatoes (cut with French fry press using the smallest attachment)
Clarified butter (for use in a deep fryer)
3 shallots, minced
1 pint heavy cream
¼ cup cognac
2 ½ teaspoon black peppercorns, coarsely ground
1 ½ tablespoon Madagascar green peppercorns
1 ½ teaspoon Fleur de Sel de Guerande
Directions
To cook the steak, heat a cast iron skillet. Season the filet with kosher salt. Add grapeseed oil in the skillet and sear the filet on both sides and cook to medium rare in the oven.
Let the steak rest for at least five minutes.
While the steak rests, make the fries by cutting potatoes and placing them in a large bowl or prep sink. Fill with water and run your hands though the fries and water to release the starch. Drain water and repeat the process until water runs clear.
Thoroughly drain fries in a colander.
Fry potatoes in clarified butter at 250F for 1 minute and 30 seconds, with both baskets half full.
Remove fries from fat, then place on to a tray lined with parchment spread evenly, and refrigerate until the fries are completely cold.
To make the au poivre sauce, caramelize the shallots in a pot until well browned.
Add the cognac and cream and bring it to a boil (be careful not to flambé.)
Reduce the sauce by a little less than half, and blend the sauce with the shallots.
Add the black peppercorns and green peppercorns, then simmer for 5 minutes.
With a hand blender, mix the peppercorns in the sauce just until the peppercorns are broken up but not pureed into the sauce.
Finish by sprinkling Fleur de sel on top, set aside and keep warm.
Deep-fry french fries in clarified butter at 375F. Fry until crispy (about 3 minutes).
Season in a bowl with kosher salt.
Place 1 tablespoon of butter in the skillet and baste the filet in the foamy butter to reheat it.
Place steak on a plate. Spoon about 2 tablespoons of the au poivre sauce over top of the steak, completely covering it.
Add the fries and season with cracked black pepper.