Krispy Kreme's New Halloween Doughnuts Are So Cute It's Scary
Last year, Krispy Kreme wowed fans by releasing a line of monster-themed donuts. These creations featured signature treats like the Frank Monster Donut that came in the likeness of Frankenstein and was decorated with green icing, sprinkles, and pretzel pieces that resembled neck bolts. These creative takes on spooky classics raised the bar and many might have hoped for Krispy Kreme to bring back these perfect Halloween pastries.
Luckily, the brand one-upped themself and have a slew of new holiday-centric shapes in store for fans of donuts everywhere. According to Business Wire, the donut company has temporarily rebranded itself as Krispy Skreme and have developed four new items for horror-lovers everywhere. Krispy Kreme wants to get these new donuts into your hands as quickly as possible by offering up a dozen of the spooky treats for $1 every Saturday starting on October 16, in addition to giving away free donuts on October 31. While this offer can get anyone's mouth watering, knowing the details of the new items only sweetens this deal.
A Krispy Kreme donut for Halloween fans everywhere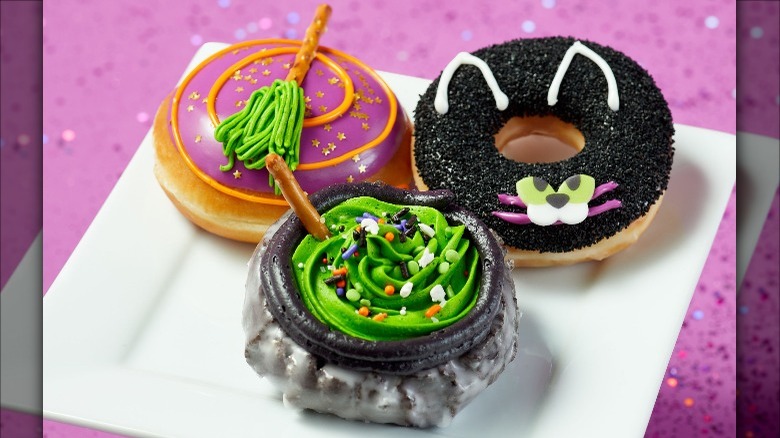 Krispy Kreme
Krispy Kreme has revamped their October menu with four new donuts that walk a fine line between cute and scary. The new offerings include the Abra Cat Dabra Donut that comes with the brand's original glaze and gets dipped in chocolate icing and decorated like a cat using sanding sugar and fondant, or the Enchanted Cauldron Donut that uses a cake donut as a base and resembles a cauldron thanks to sprinkle decorations and a broomstick made from pretzels, per Business Wire. You can also grab the Bewitched Broomstick Donut that comes with purple icing, gold stars, and a pretzel broomstick, or the Spooky Sprinkle Donut loaded with orange icing and Halloween sprinkles.
If these offerings can't get you excited to embrace the holiday spirit and indulge in some new donuts, nothing can. But make sure to grab these items soon — once Halloween comes to an end, you might not see these treats make a return until next year. Don't miss out on these too-cute-they're-scary confections and grab a dozen next time you get a sweet craving.