Here's Where Anne Burrell Started As A Chef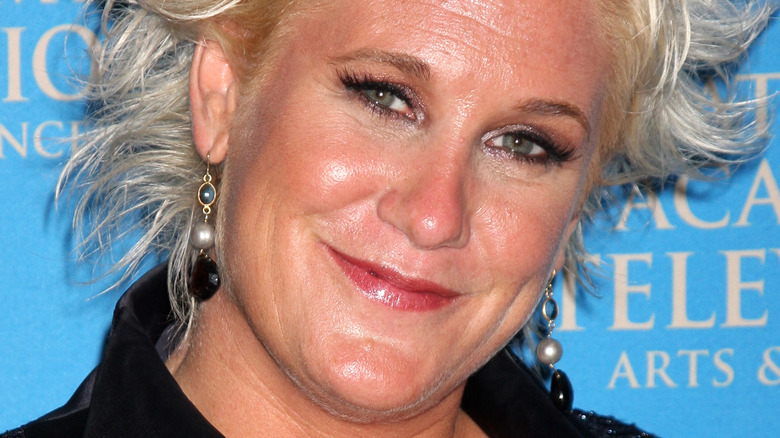 Kathy Hutchins/Shutterstock
Anne Burrell has always loved cooking. "I was part of 4H growing up — going out apple picking and learning how to make apple pies and stuff like that. My mom is crazy about cooking. My apple happily does not fall far from her tree," the celebrity chef told Total Food. That love of food continued to grow during her college studies, and after she graduated with a degree in English Communications, Burrell decided to attend the Culinary Institute of America. Her passion for cooking only deepened and placed her on a path to study in Italy, where, per Food Network, Burrell attended the Italian Culinary Institute for Foreigners. She also had some firsthand learning opportunities working in restaurants in Umbria and Tuscany, all of which helped shape her into the chef she is today.
But before she earned her stripes in the restaurant business working all those chic New York City eateries or became a host on "Worst Cooks in America," Burrell got her start like everyone else — starting at the bottom of the food chain and working her way to the top. In fact, the chef with spiky platinum blond hair actually got her first break at a popular fast-food restaurant.
Burrell cooked fries at the Golden Arches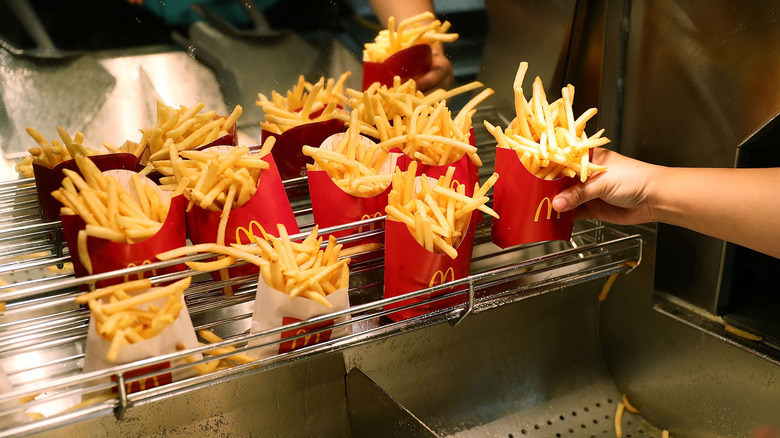 Joe Raedle/Getty Images
As the saying goes, we all have to start somewhere, and according to IMDb, Anne Burrell was just 16 years old when she landed her first job in the restaurant business. She told Bella Magazine that her first gig was actually working at McDonald's cooking up french fries. "Technically it was a fry cook at McDonald's," recalled Burrell. However, the "Secrets of a Restaurant Chef" star went on to explain that she actually considers a stint at a restaurant in Central New York as her first real job. "I like to consider my first job working in the industry (in a real kitchen), was at a restaurant called Daniel Webster's in Syracuse, New York in 1993l," Burrell said.
Sadly, McDonald's does not make the list for Burrell's favorite fast-food spots. Per the "Rachael Ray Show," Burrell joins the likes of Amanda Freitag, Alex Guarnaschelli, and Gail Simmons who all are fans of In-N-Out Burger. But Burrell told MSG Networks that she really doesn't eat fast food that often, but when "push comes to shove," she will readily chow down on burgers from this California burger chain or Wendy's spicy chicken sandwich with cheese. That said, don't expect to find her in the eatery. After winding up on the New York Post's Page Six during an In-N-Out stop, Burrell has switched to using the drive-thru.