Instagram Can't Get Enough Of Martha Stewart's Souffle-Eating Tutorial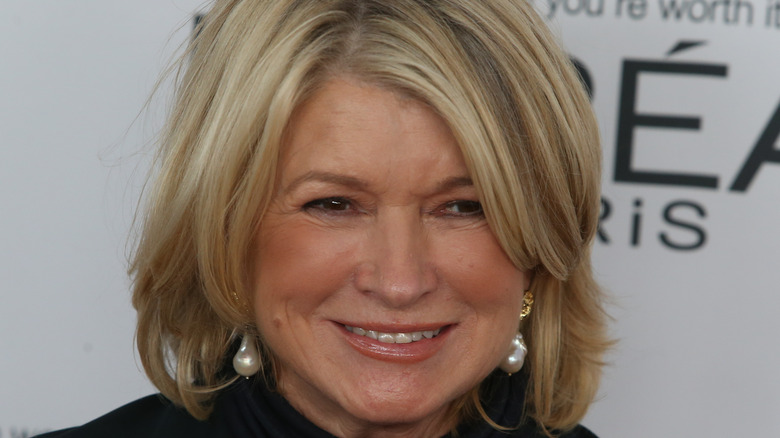 a katz/Shutterstock
Hope your backpack is ready by the door because domestic guru and culinary class act Martha Stewart is about to take you to school. And there will be no recess — and if one of you so much as thinks about putting a hot drink down on a table with no coaster, there will be hell to pay. Martha didn't come all this way and fold all those doilies and make all those tuna casseroles for you to sit there and eat a soufflé incorrectly.
Does Martha Stewart have to take time out of her busy schedule of concocting green juice, or baking Halloween treats with Snoop Dogg to teach us how to properly consume a soufflé? No. But she does it anyway because that's who she is. And she posted to Instagram about it so that her wisdom and benevolence will live in perpetuity, for soufflé-eaters and wannabe soufflé-eaters the world over. And she tagged her pal, Kevin Sharkey — the Executive Director of Design for Martha Stewart Living Omnimedia and the one who ordered the butterscotch soufflé, per Instagram — so that his ignorance may be other people's enlightenment. And she posted the video directly to her account, rather than sharing it in her stories where its life would be brief and unappreciated, for her adoring fans to behold. Because that's who Martha Stewart is.
No one soufflés like Stewart
Stewart's Instagram post may be simple, but her message is profound: There is a time and a place for a butterscotch soufflé with crème anglaise and whipped cream, and there is a right and a wrong way to eat it, too. For Stewart, that place is The Beverly Hills Hotel, in the Polo Lounge. Though it was her friend, Kevin Sharkey, who ordered the dessert, Stewart takes it upon herself to teach a grateful audience how to eat it correctly: Use your spoon to create a well in the center of the (still-risen) soufflé, pour in the crème anglaise, and then drop a perfect scoop of whipped cream into the hole you've made. In her caption, Stewart even admitted to getting so carried away with the "butterscotch pecan riff" on the soufflé that she mistakenly refers to it as a "sundae" in the video. 
"I could watch this 257 times," one user commented, while another pointed out that: "These are the hard skills that modern education is lacking!" Though it hasn't been confirmed by Stewart herself, Eater reports that everyone's favorite soufflé professor will be opening a restaurant of her own in Las Vegas early next year. Is it possible that this tutorial is a sign of things to come? Or a subtle signal to die-hard followers that there will only be one acceptable method for eating soufflés in Stewart's own restaurant? Better check the technique, take notes, and practice at home before opening day. Just in case.