The One Thing Martha Stewart Drinks Every Morning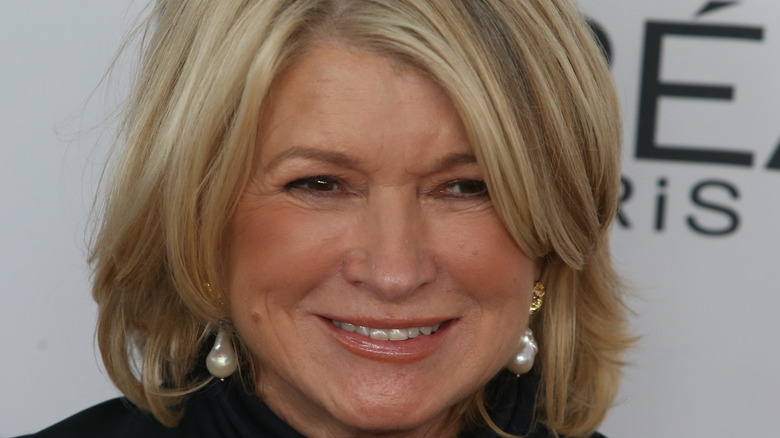 a katz/Shutterstock
Martha Stewart leaves us green with envy. When it comes to entertaining, cooking, and pretty much everything else, Stewart can do anything. And if you have been paying attention to her social media account this past year, then you know the 80-year-old looks several decades younger than those digits. She is pretty ah-mazing! Just check out the cookbook author's pool selfie. Even the likes of Reese Witherspoon could not help but call Stewart a "stunner." And Chelsea Handler also took to Instagram to post a copycat picture of herself in her own pool with the caption, "I'm here to take @marthastewart48's swimming lesson. If I look this good at 78 I better still have a pool to show myself off in." Same. 
But how does Martha Stewart do it? What's her secret? Maybe it's because she hangs with a squad of youthful, hip starlets like Taylor Swift and her BFF Snoop Dogg, and they keep her young. Or perhaps, per Cooking Light, the answer might be linked to Stewart's diet. She told Dr. Oz she sticks to lean proteins, sharing, "I eat well. I don't eat a lot of meat — more of a fish-based diet." But that's not the only food Stewart swears by. In fact, she starts her morning with the same drink every day and credits this beverage as being an important part of her overall beauty strategy, per Good Housekeeping.  
She makes a green juice every morning
In addition to an ample amount of seafood in her diet, Stewart drinks a green juice every morning. According to Today, Stewart shared her fountain of youth beauty secrets in a piece for the New York Times and they are definitely life goals. She wrote, "I also have a green juice that I drink every single morning. It's very important." What goes into this green juice? Today spilled the tea, noting Stewart uses green pear, stalks of celery, English cucumbers, parsley, ginger, and orange with the rind still intact. They tried the domestic queen's recipe and revealed it is pretty darn good. 
If you want to watch Stewart make this green goddess of a juice and hear her extol its virtues, you can check out her Instagram page. During her demonstration, Stewart notes, "It really does keep my skin looking really good. It keeps my hair nice and thick. And I really believe in drinking green juice each and every day." The recipe she uses in this video is slightly different than the one she shared with Today, but you will notice there is no kale in Stewart's green juice and there's a reason. She said, "I just don't like the taste of [kale] in a juice. I use it all the time in salads." So, if you want to look like Stewart, skip the kale ... in your juice, that is.