Guy Fieri Believes These Pantry Staples Are Better Frozen Than Canned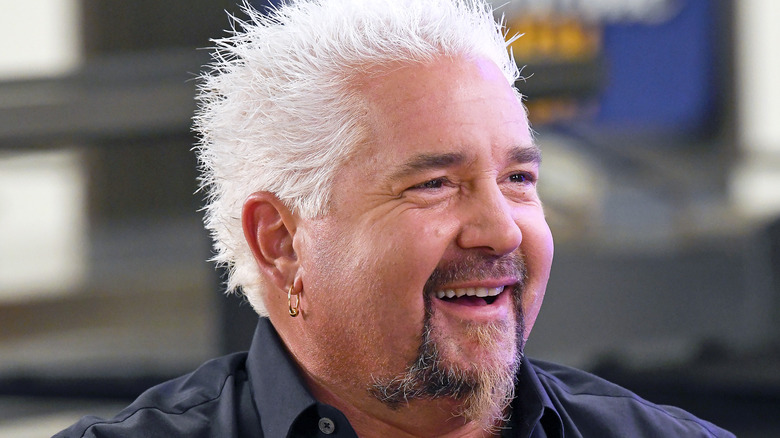 Steve Jennings/Getty Images
If you want to get elected Mayor of Flavortown, you have to know your onions. That's what put Guy Fieri in the hot seat, anyway — Variety explains that the tow-headed host of "Diners, Drive-Ins and Dives" put in his time with the basics from the beginning, when, as a ten-year-old, he ran his own pretzel business out of a box rigged to his three-wheeled bicycle. That ingenuity and can-do attitude has served Fieri well in the food industry. After winning "The Next Food Network Star" in 2006, he began a career with Food Network that has spanned nearly two decades.
You could say that Guy Fieri and food go together like peas and carrots. So when Fieri, along with a handful of other celebrity chefs, told Variety which pantry staples every home chef must have, we were all ears. As one might predict, Alton Brown fancies beans, Padma Lakshmi is all about the spice cabinet, and Alex Guarnaschelli likes lentils and chickpeas. And while Fieri agrees that beans, spices, and grains are all perfect pantry pals, and even throws pickled peppers on his list of favorite "go-tos," it turns out there is one item Fieri simply can't abide: canned vegetables.
Before you grab that canned corn -- freeze!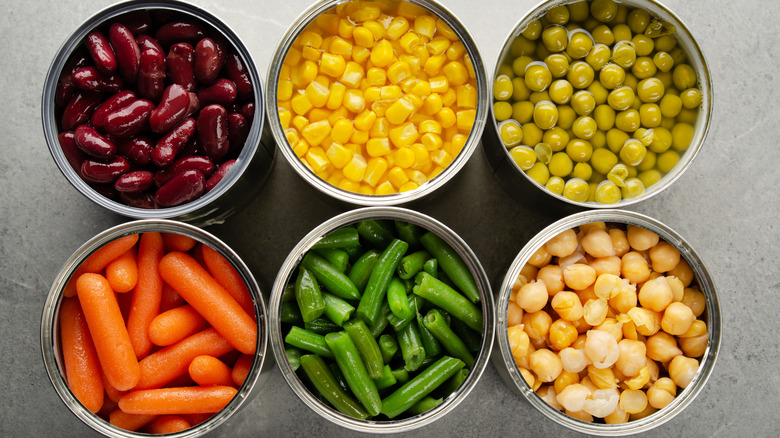 Mikhailov Studio/Shutterstock
Let's be clear: Fieri has never met a vegetable he didn't like. Despite how often he spotlights deep-fried, meat-forward dishes on "Diners, Drive-Ins and Dives," Fieri admits that he is actually no friend to the heavy stuff. "I'm not a huge fried food fan myself," he tells Variety. "Personally, I'm a big vegetable fan." So then why is there a suspicious lack of canned veggies in Fieri's pantry?
When it comes to vegetables, Fieri likes 'em fresh, frozen, or not at all, thank you very much. "Certain things like frozen corn and peas work out better than canned because [canned vegetables are] mushier when they sit in the liquid the entire time," he explains to Variety. Anyone who has ever had a canned green bean — which is all mush and no crunch — would agree. 
But as Insider points out, "not all canned goods are created equal." You might turn your nose up at canned greens, which lose a lot of nutrients (not to mention flavor) in the canning process. But would you snub canned pumpkin when you signed up to bring dessert to the neighborhood Thanksgiving potluck, and it's — sorry — crunch time? You wouldn't, and we're betting neither would Fieri. After all, as Allrecipes reminds us, one of his most popular recipes is Trash Can Nachos, which means there are some cans Fieri can do.