Smoked Chicken Alfredo Recipe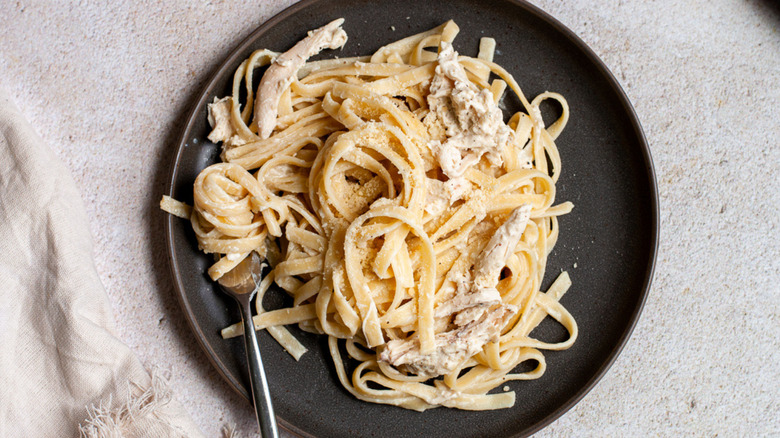 Christina Musgrave/Mashed
Fettuccine alfredo is a super-popular pasta dish in the U.S., and there's a good reason for that. Not only is it incredibly filling, but it's also incredibly tasty. When there's a debate whether to eat pasta with red sauce or pasta with alfredo sauce, we know that alfredo usually has our vote! 
Here's the thing: When most people decide that they're in the mood for fettuccine alfredo, they order takeout or head to a local Italian restaurant. But what if we told you that you could make the same thing at home? This dish only takes a few minutes to whip together, and it requires just a handful of ingredients, making it a great meal to serve on weeknights or for any family gathering.
Recipe developer Christina Musgrave of Tasting with Tina has come up with many delicious recipes in her day, and there's no doubt that this is one of her best. "I love how easy it is! It's done in only 20 minutes and tastes just like a restaurant [made it]," Musgrave shares. Trust us: If you want to impress your guests, this recipe is the perfect meal.
Keep reading to find out how to make this wonderful pasta. 
Gather the ingredients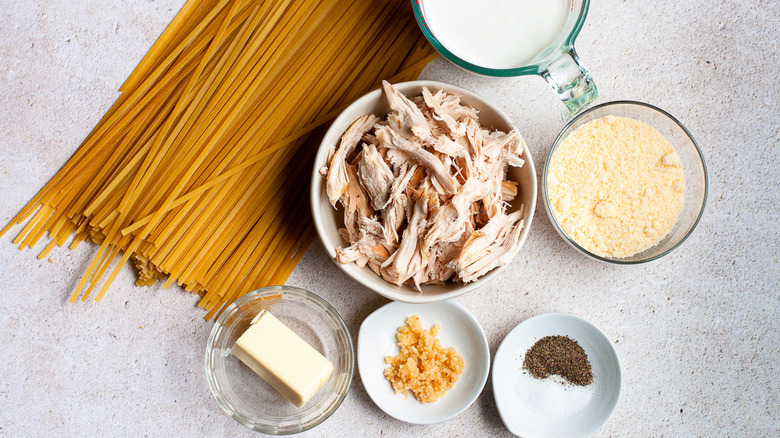 Christina Musgrave/Mashed
The first thing you need to do is make a list of items you'll need to grab at the store to fix up this tasty dish. For starters, you will need to pick up some fettuccine pasta and unsalted butter. Then, move over to the dairy aisle and grab some heavy cream, which is pretty standard in most alfredo recipes. You will also need some minced garlic, salt, and black pepper to add flavor. Be sure to check at home first, as these items are commonly used in cooking, and you may already have them.
The last two ingredients you'll need to pick up is pulled smoked chicken and grated Parmesan cheese.
Cook the pasta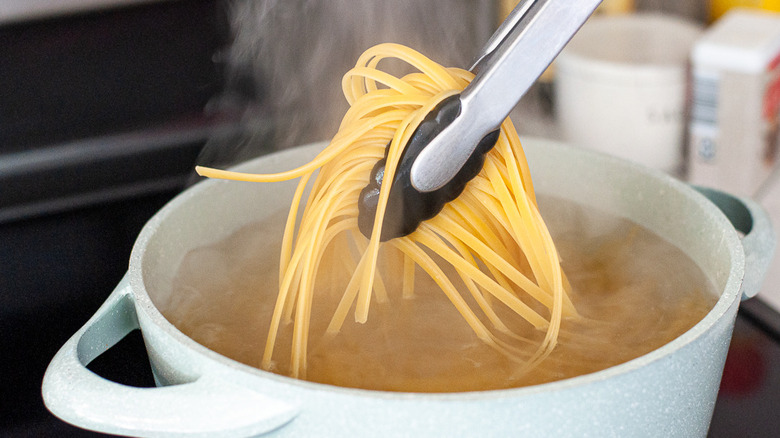 Christina Musgrave/Mashed
Now that you have all of the ingredients in front of you, it's time to get this cooking party started. First, take out your fettuccine and a pot that's large enough to cook it in. Since each pasta brand will have different instructions, read the back of the box to find out the best way to cook it. Place your pasta in the pot, let it boil away, and check frequently for doneness.
"I typically take two to three pieces out with tongs, run it under water for a second, and taste it," Musgrave says of checking the doneness of the pasta. "That's the best method, in my opinion."
Make the sauce
Christina Musgrave/Mashed
While your noodles cook, grab a saucepan and get ready to make the alfredo sauce. Put the saucepan over the heat, and place half a stick of butter into it. Then add two cups of heavy cream to the pan, and turn the heat up to medium.
In the meantime, get ready to add a few more items, including the chicken, which you should have purchased pre-cooked. "If you have a smoker at home, feel free to use that to prepare your smoked chicken," Musgrave says. "For simplicity, we opted for pre-made smoked chicken from the grocery store for this recipe."
Add the remaining ingredients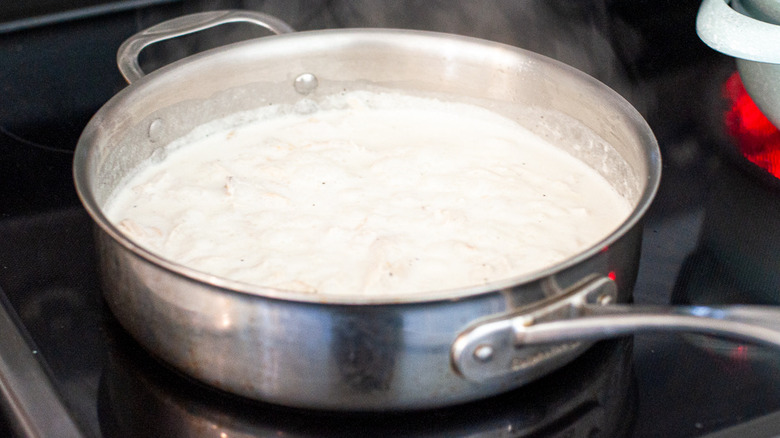 Christina Musgrave/Mashed
Once the butter has melted, toss in two cloves of garlic. Remember that you should have minced these ahead of time, which saves some time here. Next, sprinkle in the salt and the pepper. At this time, you can also add the pulled smoked chicken that we talked about before. Adding the chicken to the sauce helps it soak up all of that wonderful alfredo flavor.
Mix everything together well, and turn the heat down low and let it simmer. Keep the pan on the heat for about five minutes until the sauce starts to thicken.
Remove and serve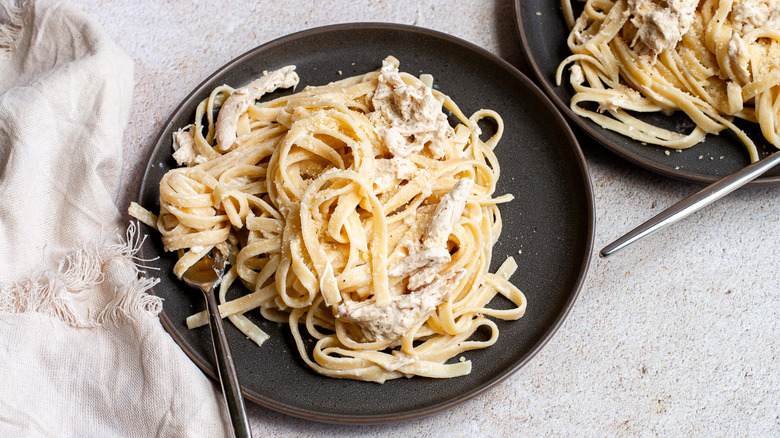 Christina Musgrave/Mashed
Once the sauce gets thick, you can remove the pan from heat. Add one cup of grated Parmesan cheese, and stir everything well. Then, add pasta to the pan and serve as you wish. This pasta is plenty filling on its own, but there are several sides that you can add to the meal. "Garlic bread would be great! This would also be great with a Caesar salad on the side," Musgrave suggests. If you're of age, you may want to pair this pasta with your favorite glass of wine. 
We don't think you will have anything left, but if you do, no worries. "Leftovers will keep for three to four days," Musgrave shares.
Smoked Chicken Alfredo Recipe
When there's a debate whether to eat pasta with red sauce or pasta with alfredo sauce, we know that alfredo usually has our vote!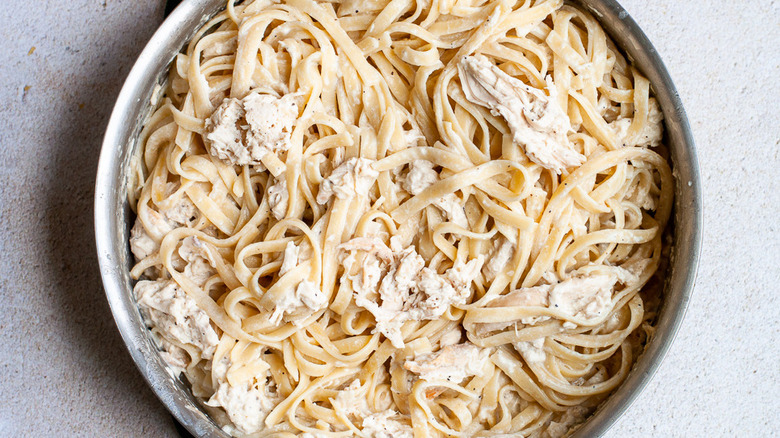 Ingredients
1 pound fettuccine pasta
½ stick unsalted butter
2 cups heavy cream
2 cloves garlic, minced
½ teaspoon salt
½ teaspoon black pepper
2 cups pulled smoked chicken
1 cup grated Parmesan cheese
Directions
Cook 1 pound fettuccine pasta according to package directions. Drain and set aside.
While pasta is cooking, add ½ stick butter and two cups of heavy cream to a large skillet over medium heat.
When the butter is melted, add in 2 cloves of minced garlic, ½ teaspoon salt, ½ teaspoon black pepper, and 2 cups pulled smoked chicken. Mix well. Let the sauce simmer on low heat for about 5 minutes until it starts to slightly thicken.
Remove pan from heat. Add in 1 cup grated Parmesan and stir well. Add pasta to the pan, toss, and serve.
Nutrition
| | |
| --- | --- |
| Calories per Serving | 821 |
| Total Fat | 51.6 g |
| Saturated Fat | 29.4 g |
| Trans Fat | 0.4 g |
| Cholesterol | 180.8 mg |
| | |
| --- | --- |
| Total Carbohydrates | 60.0 g |
| Dietary Fiber | 2.5 g |
| Total Sugars | 4.4 g |
| Sodium | 551.2 mg |
| Protein | 29.2 g |