Baked Sweet Dumpling Squash Recipe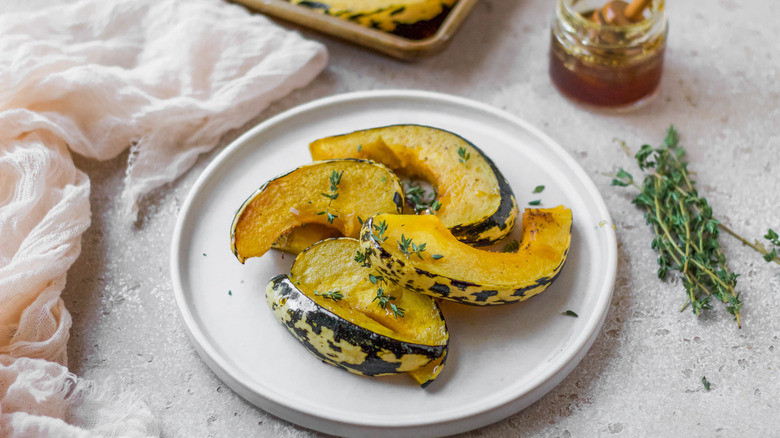 Jaime Shelbert/Mashed
If you are looking for something that is fall-inspired and healthy, but you're over the overshared recipes involving pumpkin, then this may be right up your alley. This recipe uses a sweet dumpling squash which is pretty unique, and it's also worth mentioning that it's really healthy. That's what we call a win-win, friends. According to WebMD, this wonderful veggie is full of vitamins and antioxidants, and it can also help with overall eye health and reducing the risk of cataracts. You've gotta love the sound of that. 
Recipe Developer Jaime Shelbert of Wholly Nourished came up with this tasty recipe, and trust us; you're going to want to bookmark this. "I look forward to squash in the fall. This is an easy way to prepare and enjoy this squash," Shelbert shares. "You can dress the squash in so many ways after roasting or simply enjoy it with olive oil, salt, and pepper." It's also great because it requires just a few ingredients to make, and it's easy on the wallet. 
If you're ready, keep scrolling to find out how to make this excellent side.
Gather the baked sweet dumpling squash ingredients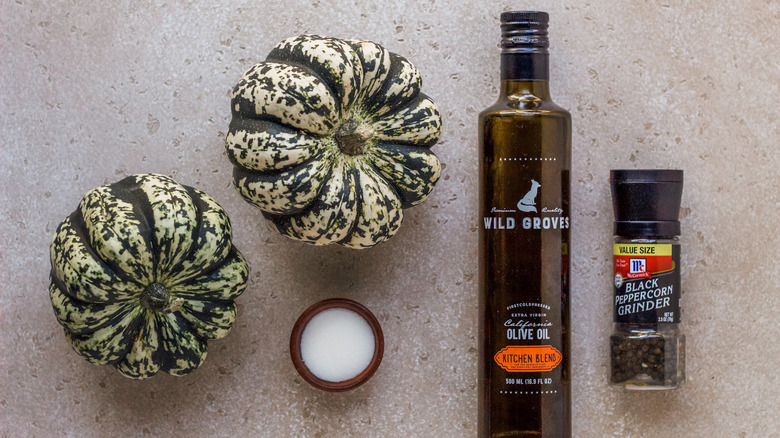 Jaime Shelbert/Mashed
The first thing you will need to do is make a list of the necessary items to throw together this healthy dish. This is on the easier side and requires just four main ingredients and a few optional ones. For starters, you will need a sweet dumpling squash. In addition, grab some extra virgin olive oil.
Last but not least, you will need a little salt and pepper to taste. The great part is that olive oil, salt, and pepper are pretty standard ingredients, and you likely have them at home. Shelbert also included a few optional toppings to add like honey and fresh thyme, if you want to go the extra mile.
Preheat the oven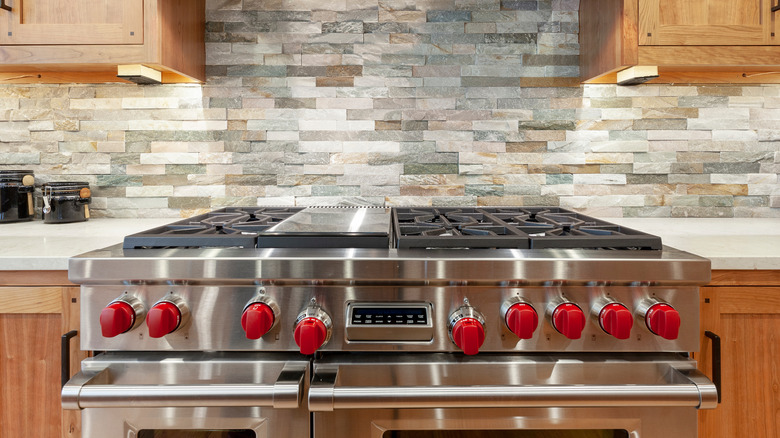 Berkay Demirkan/Shutterstock
Before you do anything else, you will need to get your oven nice and hot. Take a walk over to the other side of your kitchen and crank up the heat to 425 F. "Preheating is necessary so that the oven can reach the temperature required for baking/roasting," Shelbert explains. If you don't preheat the oven, it could ruin the whole dish you're making and it's so not worth risking that. 
Don't worry, it shouldn't take a ton of time to reach this temp, but in the meantime, you can work on the other parts of the recipe.
Prep the squash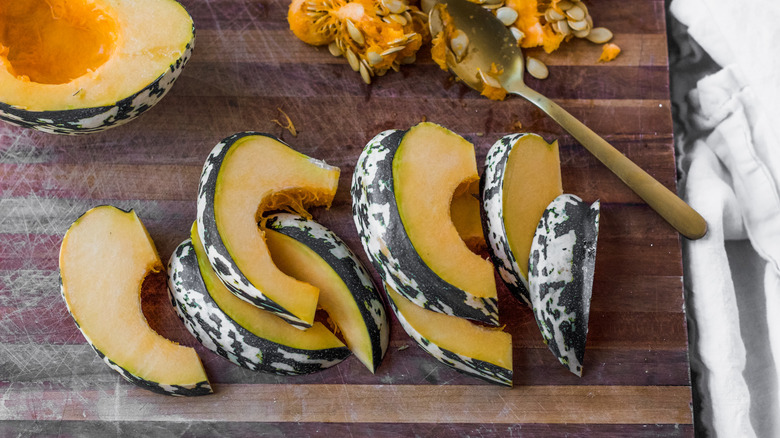 Jaime Shelbert/Mashed
Now, it's time to get down to business. Grab a cutting board and a sharp knife along with the star of the dish — the squash. Prep the squash by cutting it in half from the stem to the bottom. Then, take out a large spoon and scoop the seeds out of the center, much like you would do with a pumpkin. You can either toss out the seeds or save them later to roast. We love to roast them with a little bit of salt and pepper! 
Next, slice each half of the squash into half moons about ¼ inch thick. Repeat the process with the remainder of the squash. 
Add the squash to a baking sheet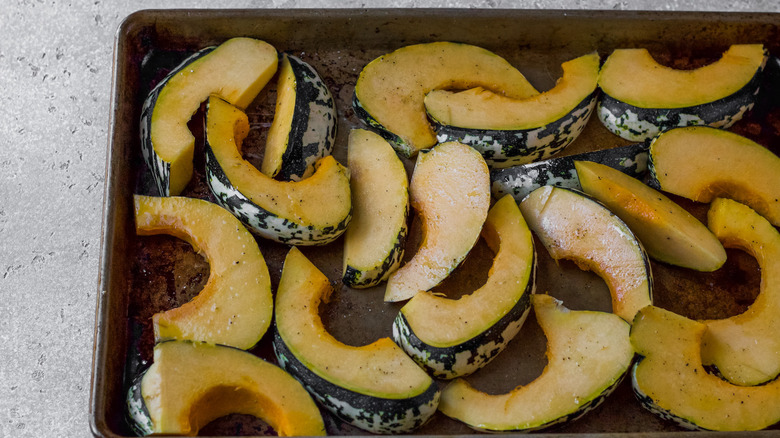 Jaime Shelbert/Mashed
Now that you have all of your squash cut to perfection it's time to move onto the next step. Take out a baking sheet and make sure it's rimmed for better cooking in this case. Then, spread the squash around the sheet in preparation for roasting. The pieces of squash can be close enough that they're touching, but just make sure that you don't stack them on top of each other. 
Now, you can drizzle over the olive oil over the top of the squash, followed by salt and pepper. Toss the squash, so they get evenly coated.
Roast the squash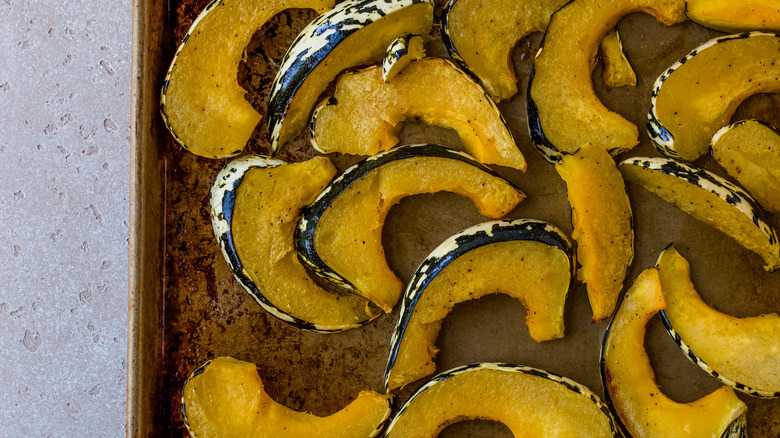 Jaime Shelbert/Mashed
Go ahead and do a quick check to make sure that your oven has fully preheated. As we mentioned earlier, it's super important that the oven hits the right temperature so that it cooks properly. If it has, pop the squash into the oven and set the timer for 25 minutes. At the halfway mark, be sure to flip the squash to cook evenly on both sides.
"Sweet dumpling squash is a type of winter squash," Shelbert shares. "It lends well to roasting and can be roasted whole, stuffed or sliced as shown here. The flavor reminds me of a cross between butternut and acorn squash." 
Serve and enjoy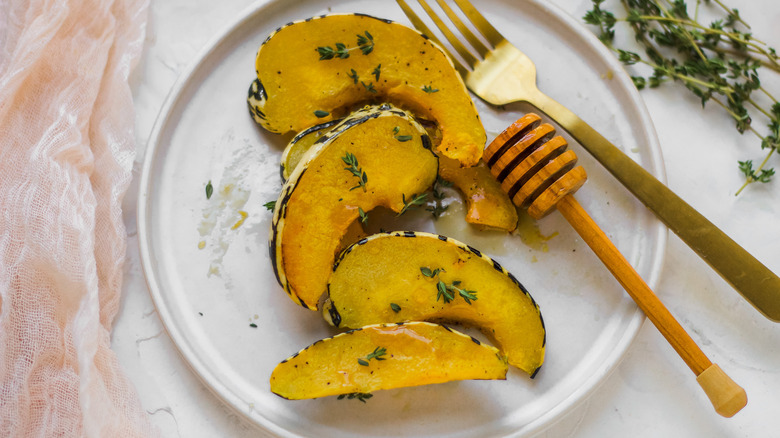 Jaime Shelbert/Mashed
Once your 25-minute timer goes off, carefully grab your pan out of the oven. You can plate and serve this tasty veggie however you would like. Shelbert recommends serving with honey and thyme drizzled over the top, but it also tastes great plain.
"This dish makes for a great side dish or can be served atop a green salad or can make a great vegan meal by topping with stewed lentils," Shelbert says. "Again, it can also be stuffed and baked as you would peppers or acorn squash. A wild rice, apple and sausage mixture would work well!" 
We hope you love this dish as much as we do! 
Baked Sweet Dumpling Squash Recipe
This baked squash recipe hits all the marks: quick, easy, healthy, and of course ... delicious! It's sure to become a family fall favorite.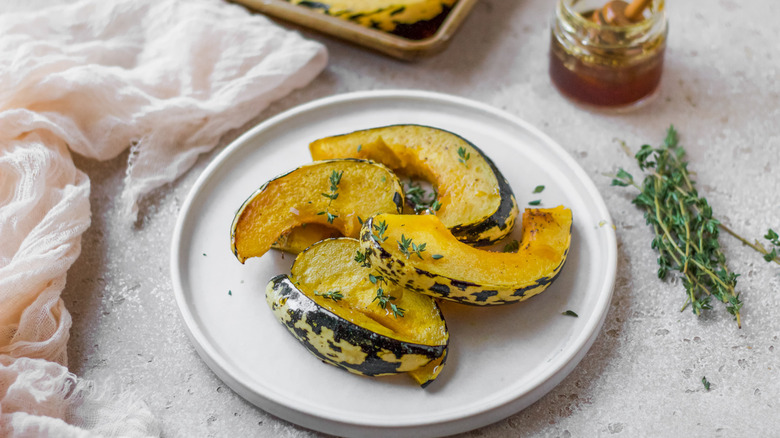 Ingredients
1 sweet dumpling squash
1 tablespoon extra virgin olive oil
salt and pepper to taste
Optional Ingredients
Directions
Preheat oven to 425 F degrees.
Prep the squash by first cutting it in half from stem to bottom. With a spoon scoop the seeds out of the center. Discard or save for later to roast. Slice each half of the squash into half-moons about ¼-inch thick.
Spread the squash onto a rimmed baking sheet. Drizzle with olive oil and season with salt and pepper. Toss so that the squash is evenly coated with olive oil.
Roast in the oven for 25 minutes flipping halfway through roasting time.
Serve topped with honey and thyme if desired.
Nutrition
| | |
| --- | --- |
| Calories per Serving | 74 |
| Total Fat | 3.5 g |
| Saturated Fat | 0.5 g |
| Trans Fat | 0.0 g |
| Cholesterol | 0.0 mg |
| | |
| --- | --- |
| Total Carbohydrates | 11.4 g |
| Dietary Fiber | 1.7 g |
| Total Sugars | 0.0 g |
| Sodium | 259.2 mg |
| Protein | 0.9 g |