Here's What Makes This $41,500 Fridge So Unique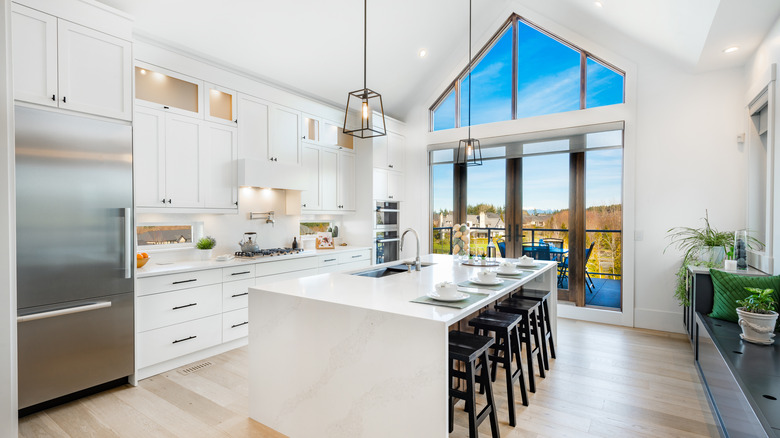 Sheila Say/Shutterstock
How much would you spend on your kitchen? HGTV reports that the average price of a kitchen remodel depends on the region of the United States you live in but can generally cost between about $66,000 for a "midrange" kitchen and almost $130,000 for a more luxurious kitchen. So imagine shelling out $41,500 just for your refrigerator. That's how much a Meneghini La Cambusa fridge hooked up with all the bells and whistles will set you back (via Robeys).
Meneghini is based out of Italy and is known for its gorgeous refrigerators designed for the most lavish kitchens. The 6x9 foot unit's wooden exterior has the look of an antique-style cabinet and comes in various colors, including ebony effect, colonial, and a stunning pomegranat. Complete with decorative brass handles, it provides up to 75 gallons of storage and is fully customizable (via Homenish).
The Meneghini La Cambusa refrigerator has us oohing and ahhing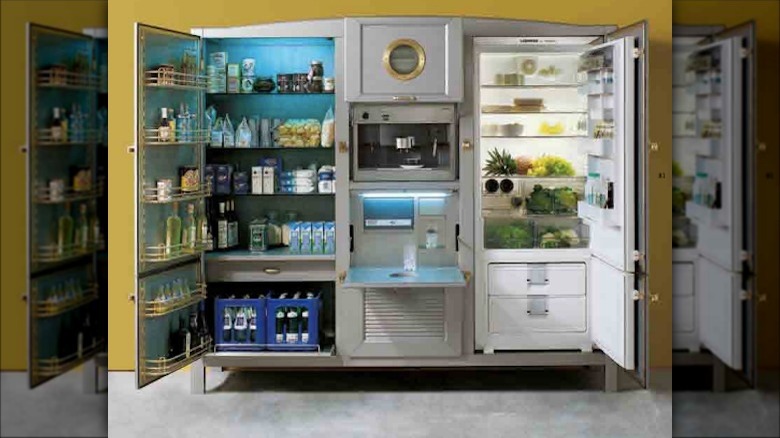 Robeys
Add-ons to the Meneghini La Cambusa fridge include a Miele coffee maker, microwave, steam oven, ice maker, flat-screen TV, and even a large temperature-controlled pantry on the left side of the unit (via Daily Mail). You also have the option of adding on an additional freezer section that will hold another 18 gallons of food (via Homenish).
By now, you're getting that this state-of-the-art fridge is no joke and an incredible design feat. Perhaps Homenish describes its appeal best, stating, "Meneghini took a bold step here. They designed the kind of statement cabinet that you would never want to hide. Its distinctive rounded edges and unapologetically Italian [design] may require you to re-decorate your entire kitchen around your new La Cambusa." Opting to keep it simple, The Market Herald calls the refrigerator "the epitome of luxury."
In all, if you have $41,500 to spend on a refrigerator, purchasing the Meneghini La Cambusa is the way to go. As for the rest of us, we'll just be over here hoping to win the lottery.