This McDonald's Secret Menu McFlurry Is Perfect For Fall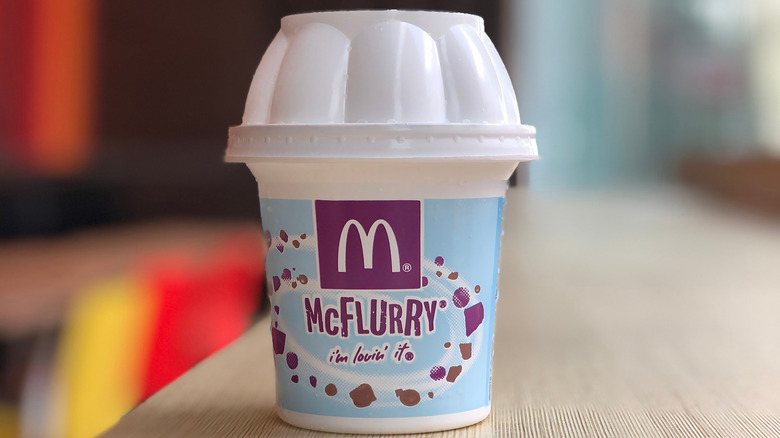 pancha.me/Shutterstock
Watch out Starbucks, McDonald's is coming for your fall flavor gig! Wrap up in your favorite scarf and bundle up against the fall chill, and then head to McDonald's to try the new secret McFlurry that has been making the rounds on social media. While the item isn't explicitly available on the fast food chain's menu, customers are considering it a secret menu hack with a flavor that is absolutely perfect for the chilly fall season.
The McFlurry has been a staple of the McDonald's menu since it was first invented by a franchisee in 1995 (via Adweek). The straightforward treat consists of a candy or topping of your choice swirled into a cup of soft serve ice cream that truly delights the taste buds. There are even some regional varieties offering different flavors you can't find anywhere else, like the matcha McFlurry in Japan and the bubblegum squash McFlurry in New Zealand, as noted by Revelist. Other twists on the classic dessert have combined baked goods with the iced cream, including the Donut Ball McFlurry, which made its 2020 debut in Australia (via Taste of Home).
With all the tantalizing options available around the world, it's no wonder people are inspired to customize their own McFlurries with this new secret menu hack that you might just want to try.
All about the Apple Pie McFlurry and how to order it
The secret menu item is, in fact, the Apple Pie McFlurry, which combines the gooey cinnamon warmth of McDonald's hot apple pies with the creamy soft serve of a classic McFlurry for a delicious mouthful of fall goodness.
But, know that if you go through the drive-thru and try to order an Apple Pie McFlurry, there's a good chance the attendant at the window will have no idea what you're talking about. That's what happened in this video uploaded by TikTok user @kateholderness, but the quest for this treat didn't stop her and her friends from continuing to pursue it. The TikToker posted the steps to make your own DIY Apple Pie McFlurry. First, order a McFlurry of your choice. Then, ask for caramel sauce to be added. Finally, order a hot Apple Pie and smash it into the McFlurry yourself, being sure to mix it up thoroughly with your spoon. (Taste of Home also recommends warming up your pies at home first.) And then dig in!
If that sounds tantalizing to you, try stopping by McDonald's on the way home from the pumpkin patch for a well-deserved autumn treat.