Twitter Can't Believe This $50,000 Bill From Salt Bae's London Restaurant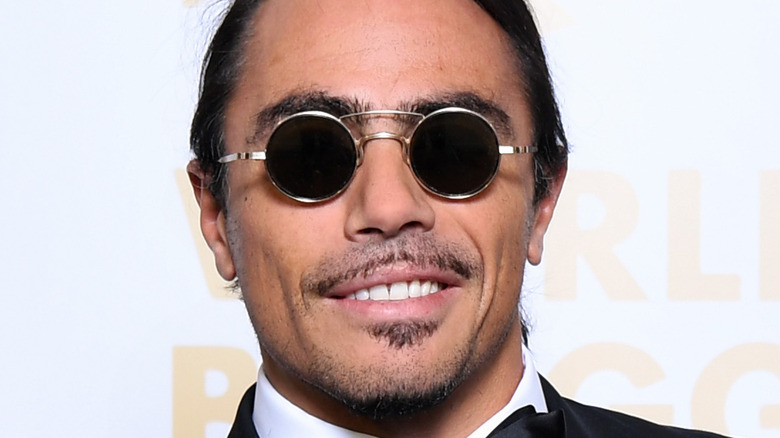 Daniele Venturelli/Getty Images
Fans of fine cuisine and internet sensations may recognize the name Salt Bae, a.k.a. Turkish chef Nusret Gökçe, whose unique and bicep-accentuating method of seasoning food made waves back in 2017 and had audiences around the world drooling (via NBC News). Salt Bae has been causing quite a commotion on the internet lately, but it's not because of any video that features his steamy tableside seasoning — it's because of an eyebrow-raising bill that came out of his London restaurant, Nusr-Et. 
The Nurse-Et steakhouse's presence stretches from Miami to Mykonos (via the Nusr-Et website). Presumably, because the restaurant has locations across the world with different currencies, the menu available on the main website doesn't feature any prices. Instead, it just lists the variety of carnivorous creations guests can expect, including filet mignon, rack of lamb, and meatballs. Of course, one might also suspect that the lack of pricing online prevents guests from getting sticker shock before even entering the premises of a Nusr-Et steakhouse. Perhaps that's how some customers who visited the London location found themselves being asked to pay a steep price. 
After a group of four dined at Nusr-Et, they received their bill and apparently couldn't believe their eyes. All their food and drinks for the evening, plus the 15% service charge, added up to £37,023.10, which is $50,895.29 USD. That's right — over $50,000 for one night on the town (via Manchester Evening News).
What the group ordered and what people are saying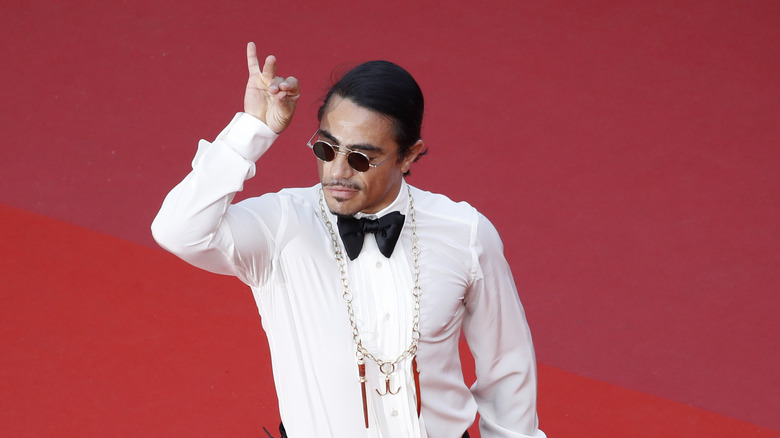 Pool/Getty Images
Apparently, the quartet dining at Salt Bae's steakhouse wasn't afraid to indulge when ordering. The group one massive Golden Tomahawk steak, which by itself clocked in at £850 (about $1,168), along with a variety of sides that weren't exactly cheap, such as an £18 (nearly $25) order of asparagus (via Manchester Evening News). The price tag got more out of control when they got to dessert, with 20 orders of various baklava costing a combined £600 (about $825). What really added some serious digits to the total, however, was their choice of beverages. Five bottles of wine and bubbly added about £30,620 (roughly $42,087) to the bill.
The guest shared a snap of the bill with a caption that ostensibly communicated their disbelief: "That's just taking the p**s." Some Twitter users also couldn't believe the prices, with one asking if the baklava was made with gold and others seeming stunned by the cost of Red Bull. But not everyone on Twitter sympathized with the diners' incredulity. User @notsotweets cheekily commented, "Breaking news: Man orders expensive stuff. It is expensive. More on this at 7." User @billjohnstone16 wrote that while the steaks were expensive, anyone ordering three bottles of vintage, 20-year-old wine had "no reason to complain." Multiple people asserted that the group knew what it was doing. One thing is for sure — anyone dining at Nusr-Et in London may want to come prepared for a pricy evening.