Twitter Is Loving Valerie Bertinelli's Post About Her Audiobook Recording Obstacle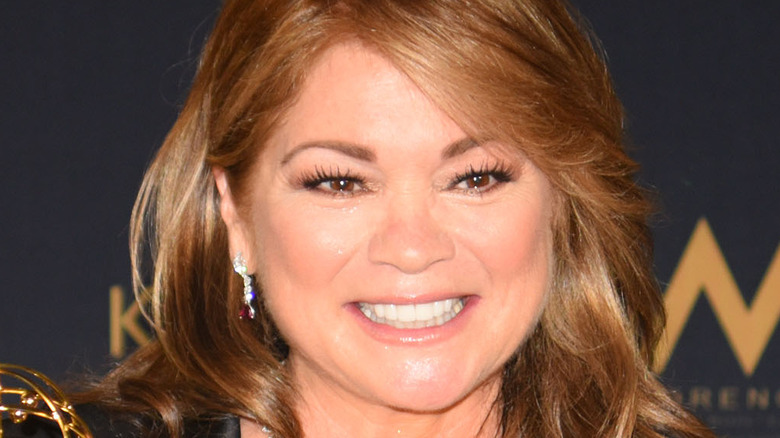 Michael Mattes/Shutterstock
Fans of television icon Valerie Bertinelli are eagerly anticipating her next book, which publisher Houghton Mifflin Harcourt promises will come out in January — that is, if Bertinelli's stomach cooperates. The writing part appears to be over, as Bertinelli is currently in a studio, recording the audiobook version of "Enough Already: Learning to Love the Way I Am Today." According to the publisher, Bertinelli, 61, tells the relatable story about how relationships with family, career, and food evolve for women in middle age.
Bertinelli's stomach had something to say about these issues in the studio on October 15. Bertinelli took to Twitter to post a 15 second video explaining the problem. "My stomach is making a lot of noise. It's gurgling," Bertinelli says. "So I have to put this pillow" — and she settles a big bed pillow over her midsection — "and hopefully, this will deaden the sound of my gurgles because it's slowing us down." Bertinelli chuckles at herself as she says this, knowing how strange this predicament must sound to her followers.
Some fans thought Valerie Bertinelli should give her stomach an audiobook cameo
Valerie Bertinelli's tweet about stomach issues during an audiobook recording session only proved to her fans that the host of Food Network's "Kids Baking Championship" and "Valerie's Home Cooking" was that much more relatable.
"Haha my stomach always gurgles at the most awkward moment!!" Twitter user @Evelina2shoes replied. "I once went to a formal church funeral on an empty stomach," @hdshovel1 added. "My stomach gurgled louder than the organist."
Some of Bertinelli's followers suggested cures for a gurgling stomach, such as a glass of water or a cup of herbal tea. Joey Stuckey, a recording engineer, wanted to tell Bertinelli she isn't alone. "Stomach cameos happen to more people than you think," Stuckey tweeted. "That's why god invented digital nondestructive editing lol."
Sounds like the producer knows of a way to erase the gurgles while keeping the original recording unchanged (via Sweetwater). Bertinelli might want to leave the fancy editing tricks in the bag, however. Her upcoming book, "Enough Already," is going to be about "the battle to believe in herself as she is," according to her publisher's website. Some of the replies to Bertinelli's tweet encouraged her to do just that. "Put the microphone on it, then you can include it as extras!" @RiddickTNT said.