Aldi's Affordable Teriyaki Stir Fry Is Turning Heads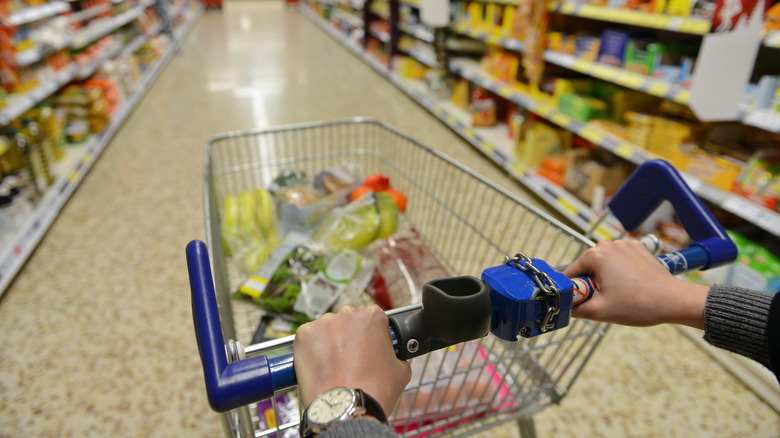 1000 Words/Shutterstock
If you need a cheap, easy, and delicious go-to for a quick supper, Aldi has you covered. At least, that was the consensus the Aldi subreddit came to recently when one member shared their love for the Fusia teriyaki vegetable stir fry that the company sells.
"Less than $3 at Aldi," the title read. "I just added chicken to it. Very good, I will buy again, my 8 year old son loved it too!" And the hype just built up from there. For example, some noted how incredible a deal it is to buy two pounds of prepped veggies for $3. One person praised the price and the place where such finds are possible: "These are delicious and you get a lot. I keep buying them and filling my freezer because they are so cheap! I keep thinking the price of is a mistake. Gotta love Aldi."
But as one commenter wondered, what about the texture? After all, frozen vegetables can get a bit squidgy when they are cooked. However, the OP answered that after some canola oil the stir fry "tasted like fresh veggies that had been cooked."  Aldi Reviewer, however, has said the vegetables lack the crispness one can expect from fresh produce. Still, they thought that Fusia stir fries were pretty good for frozen food.
A commenter's complaint and an easy fix
The response to the bag of stir fry was overwhelmingly positive on Reddit. However, it was not uniformly so. "It doesn't seem like I get enough sauce," one person commented on the post. This complaint about the otherwise beloved frozen meal might be easily addressed. Another person offered the advice to either have additional "teriyaki sauce or sesame oil on hand" to enhance the meal or dilute the sauce contained in the bag with water.
Those are the sensible, easy responses. You could, however, also whip up your own teriyaki sauce. The Food Network provides a simple, well-received recipe for homemade teriyaki. You need soy sauce, water, sweet rice wine, brown sugar, sugar, minced garlic, minced ginger, and cornstarch. Combine everything besides the cornstarch in a saucepan over heat until the sugar dissolves. Mix the cornstarch with water, then add that mixture to the other ingredients. This should take you 10 minutes. And since the stir fry is so affordable, it might be time well spent.