Jeff Mauro's Ultimate Secret Ingredient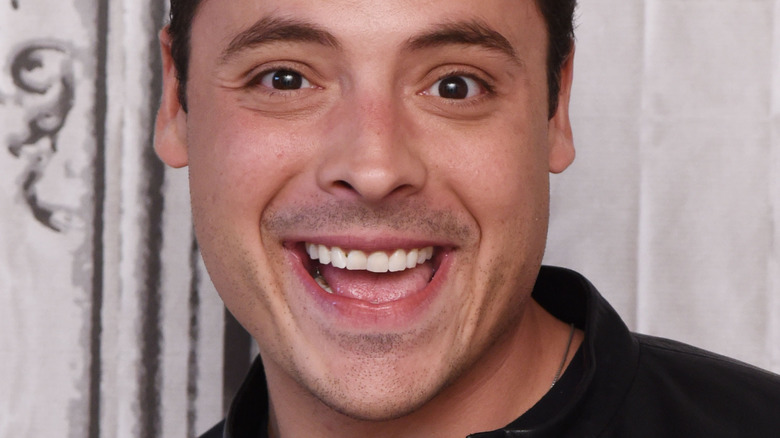 Ilya S. Savenok/Getty Images
Jeff Mauro has come a long way since he won "Food Network Star" during the show's seventh season. Most foodies know him for his show "The Sandwich King" where, per IMDb, the comedian turned celebrity cook teaches us how to make the best sandwiches we could ever sink our teeth into. Since making it big, Mauro has not been shy about sharing some of his sandwich secrets. For example he divulged his secret to making the perfect grilled cheese — salt the outside of the bread after flipping — with Mashed. The cookbook author also revealed his top low-calorie, flavor-enhancing sandwich toppings to Food Network, and it should no surprise anyone that pickled jalapeños (and the heat they bring) topped his list. Mauro also had no shame in owning his guilty pleasure: crushing kettle-cooked BBQ chips and using them as a topping on his sandwich.
And when it comes to his favorite sandwich, Mauro told Misadventures with Andi that one of his top three involves ham and cheese, but there is so much more to it. Mauro said, "I like a nice aged intense cheddar, thinly sliced black forest ham, and pickled jalapeños on a pretzel roll. That might be one of my top three all-time favorite sandwiches." But, like anyone who lives or even dabbles in the culinary-verse, the Sandwich King has an ultimate secret ingredient that can help with both your sandwiches and your sauces. 
Jeff Mauro uses this condiment when foods need 'zing'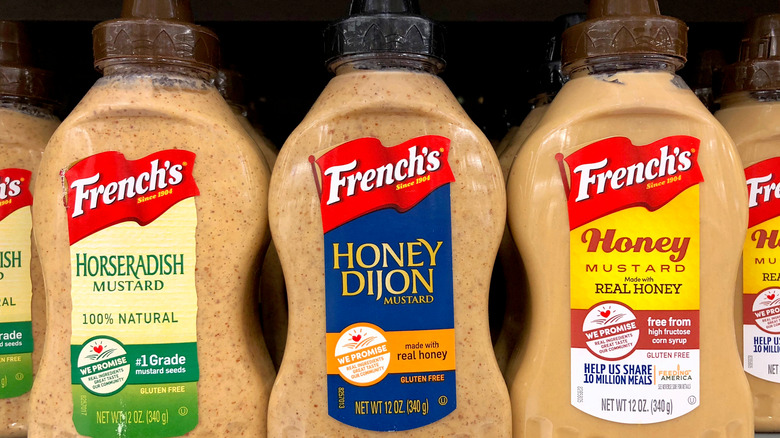 Sheila Fitzgerald/Shutterstock
Mauro told the Food Network that his secret ingredient is actually a condiment: Dijon mustard. Mauro said, "It's a tasty sandwich topping but also the best emulsifier for sauces and dressings. When something needs zing, I go for Dijon mustard." Truth. Dijon mustard does have a tangy spice to it that can really change a dish's flavor. And Mauro really does seem to use it with some frequency. Dijon mustard is the secret to his Cherry Pepper-Honey Mustard sauce that ups the taste of your favorite chicken kebabs, and it plays an important role in his Steak Nacho Boil that he made for "TODAY." Mauro also added honey Dijon mustard to his list of low-calorie sandwich toppings, noting that it's, "No fat, all flavor. Its sweetness pairs well with any type of brined vegetable, like pickled jalapeños."
The television personality isn't the only one who has a love for this acidic ingredient, either. Andrew Zimmern, the host of "Bizarre Foods," also has a fetish for mustard, sharing with Delish that he has a collection of the stuff in his refrigerator. But, if there's a hot dog on the line, Zimmern proudly admits that he is a "Gulden's guy."