Air Fryer Teriyaki Salmon Recipe
Kit Hondrum/Mashed
Air fryers have been a popular holiday gift over the past few years, and with good reason. Many of us already have the wonderful appliance in our kitchens, and while we've come to know and love air fryers, we're also aware by now that they're not miracle-workers capable of cooking every kind of food to perfection. Baking a cake in an air fryer? Not advised. Nor should you be using an air fryer to cook your Thanksgiving turkey, even if you do have a super jumbo-sized one (or a very small bird).
One thing that can be cooked in an air fryer, however, is fish — at least if you've got the right recipe. Kit Hondrum of Kit's Kitchen has created this air fryer teriyaki salmon recipe, and it's about as good (and easy!) as it gets. "I love how easy this recipe is for a quick weeknight meal," Hondrum raves. "Air fried salmon is a little more delicate in texture and I love that," she explains, in comparison to grilled or baked salmon. "It's also harder to overcook, so nice for inexperienced cooks." If you love easy yet wholesome meals, then you'll love this air fryer teriyaki salmon recipe — keep reading to learn how to make it.
Gather the ingredients to make air fryer teriyaki salmon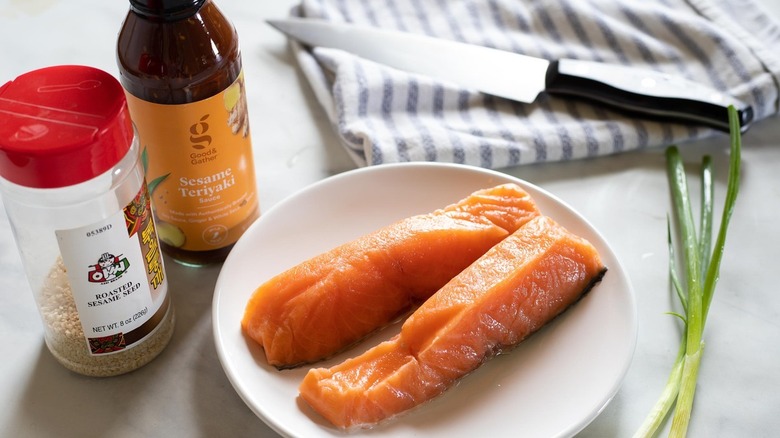 Kit Hondrum/Mashed
This recipe makes two servings, so you just need a couple of small salmon fillets. You'll be marinating the fish in teriyaki sauce, then serving it garnished with sesame seeds and sliced green onions. "Teriyaki and salmon are a classic combination that I just love," Hondrum raves of the dish. "I love Japanese food and the teriyaki glaze is just perfect with the tender salmon." If you want to embellish the dish, she notes that "you could add more ginger to the seasoning or add a drizzle of sesame oil after cooking." Additionally, you could add fresh minced garlic to the dish for an extra boost of flavor. If you want to keep it simple and classic, however, then just the four core ingredients are needed.
Start by marinating the salmon fillets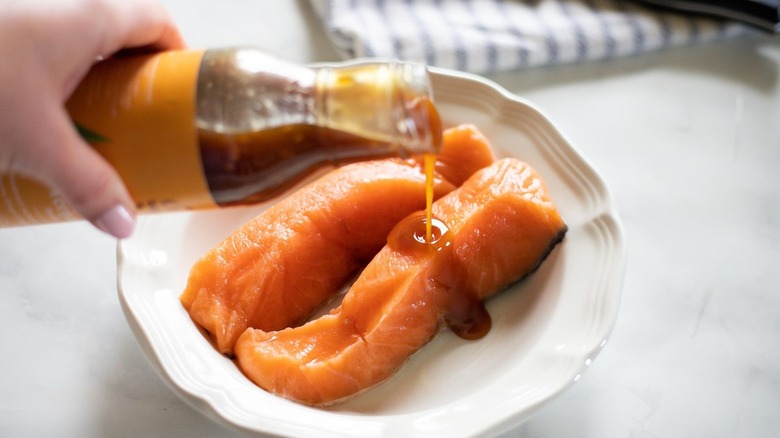 Kit Hondrum/Mashed
The most time-consuming part of this recipe involves marinating the salmon, but the amount of work you need to put in is very minimal. Just take the salmon fillets, put them in a bowl, and pour the teriyaki sauce over them. Turn them so that all sides of the fish fillets are covered in sauce, but make sure you finish with the skin side up, so that the bulk of the salmon's flesh can soak in the marinade. Hondrum estimates that dousing the salmon in sauce should take you two minutes. Once that's done, put the bowl in the fridge, then go occupy yourself for 30 minutes until the fillets ready to cook.
Cook the salmon fillets in the air fryer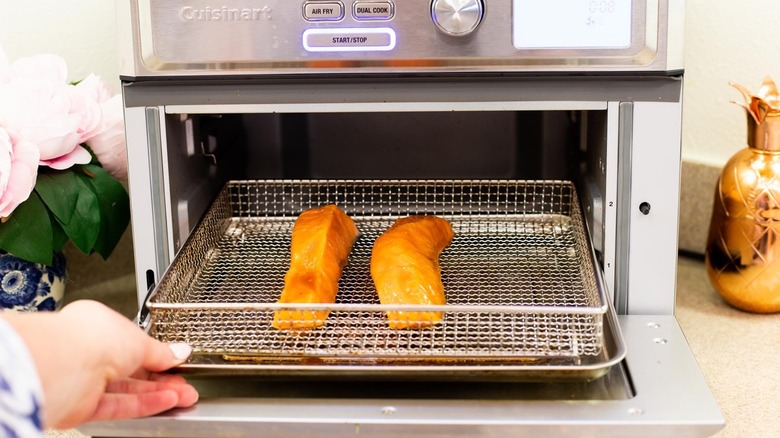 Kit Hondrum/Mashed
When the salmon is done marinating, place the fillets into the basket of the air-fryer with the skin side on the bottom. "I cook skin-side down," says Hondrum, "so that the skin sits on the rack and can crisp up some." She adds that "there shouldn't be any sticking, but if there is then you can just slide the fillet off the skin when removing from the air fryer rack and discard the skin." The skin is edible, and is also very healthy, but you can eat it or not as you choose.
Set the air fryer to 400 F and heat the salmon for 10 minutes, at which point it should be cooked all the way through. At this point, the flesh should be entirely opaque and the fish should flake easily when you prod it with a fork. "Take care not to overcook or the fish can become dry," Hondrum cautions. She does say that you can try cooking the salmon fillets for just eight minutes if you prefer your fish medium-rare.
Garnish your teriyaki salmon and enjoy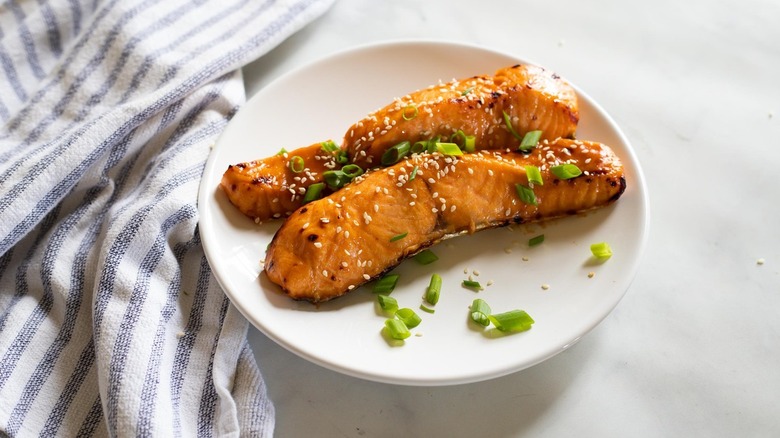 Kit Hondrum/Mashed
Once the salmon is done, garnish it with the sesame seeds and green onions, then it's ready to eat. While the salmon is nourishing on its own, you may want to serve it with a side or two to round out the dish. "I would serve this with black or brown rice and some crispy roasted broccoli," Hondrum suggests. Noodles, edamame, and/or a side of steamed dumplings would also help to turn this salmon entrée into a delicious meal.
Air Fryer Teriyaki Salmon Recipe
Kit Hondrum of Kit's Kitchen has created this air fryer teriyaki salmon recipe, and it's about as good (and easy!) as it gets.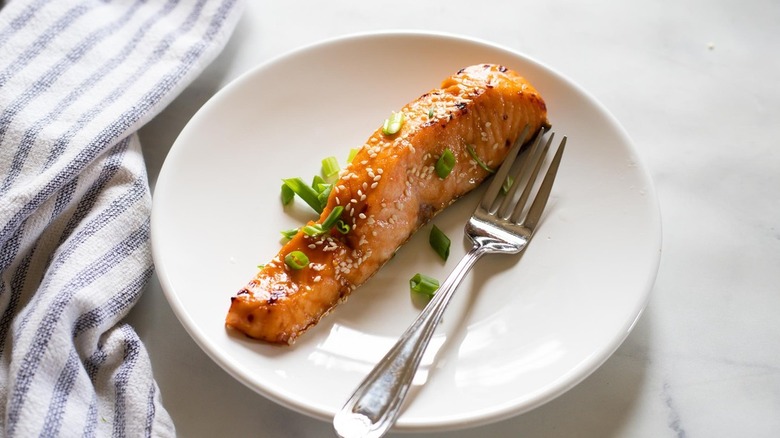 Ingredients
2 (4 ounce) salmon fillets
¾ cup teriyaki sauce
1 ½ teaspoons sesame seeds
2 green onions, sliced
Directions
Place salmon fillets in a bowl and pour teriyaki sauce over them.
Toss the salmon in the sauce, then allow it to marinate skin-side up for 30 minutes.
Place the salmon fillets in the air fryer basket skin-side down.
Cook the salmon at 400 F for 9 to 10 minutes, or until cooked through. You can also cook for 8 minutes for a medium-rare fillet.
Garnish the salmon with sesame seeds and sliced green onions before serving.
Nutrition
| | |
| --- | --- |
| Calories per Serving | 350 |
| Total Fat | 16.4 g |
| Saturated Fat | 3.6 g |
| Trans Fat | 0.0 g |
| Cholesterol | 62.4 mg |
| | |
| --- | --- |
| Total Carbohydrates | 18.4 g |
| Dietary Fiber | 0.8 g |
| Total Sugars | 15.6 g |
| Sodium | 4,209.2 mg |
| Protein | 30.2 g |