This Spooky New Vodka Rested In The Most Haunting Places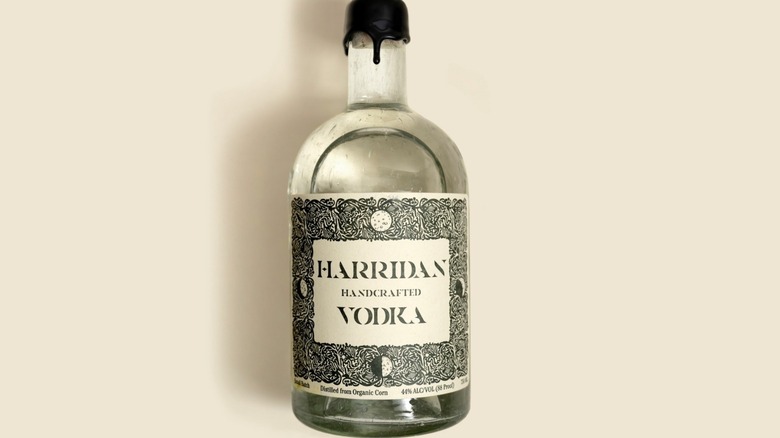 Harridan
Halloween is not just beloved for the candy and other treats. With its costumes and myriad theme party opportunities, Halloween is also a welcome opportunity for those with a desire to show off their creative side. This includes companies like Jack in the Box, which is bringing back its fan-favorite Halloween-themed "monster tacos" for the occasion, and Aldi's, which is currently celebrating the return of its Halloween-themed cheeses. And as of now, it also appears to include an ultra-premium craft vodka-maker by the name of Harridan, which debuted a haunting Victorian Spiritualism-themed bottle that received top design honors at the 2021 San Francisco World Spirits Competition. The vodka itself won the distinguished Silver Medal (via PR Newswire press release).
This self-described "feminist spirit," whose name refers to a "bossy" or "belligerent" woman (via the Harridan website), according to its founder, Bridgette Taylor, was inspired by a "growing appreciation of authenticity" among today's consumers. Taylor both graduated from Harvard Business School and created Harridan Vodka during the COVID-19 pandemic. However, no surprise here, Harridan is equally inspired by a renewed interest in "mysticism" (via the press release). So what better time than in the weeks leading up to All Hallows Eve for Harridan to release unto the material world its limited-edition "Paranormal Reserve" vodka — all 60 bottles of which spent time in repose at some of America's most haunting places? 
Harridan Vodka Premium Reserve: spirits guaranteed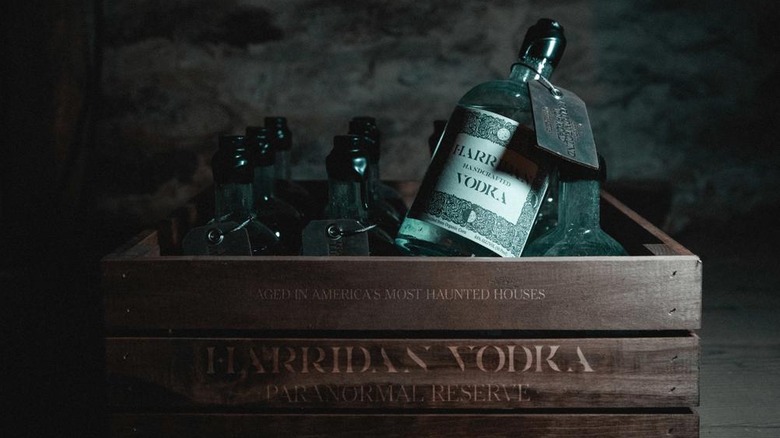 Harridan
In celebration of it being the first Halloween in Harridan history, "we created something first of its kind for our fellow paranormal and occult enthusiasts," said Taylor (via BevNet). Taylor is referring, of course, to Harridan's limited-edition "Paranormal Reserve," which comprises 60 bottles of Harridan's "award-winning 88 proof" spirit made from "organic, gluten-free" ingredients (via the Harridan website). According to the AP, each bottle was "laid to rest" for seven days in three of America's most haunted houses: Iowa's Villisca Axe Murder House, West Virginia's Trans-Allegheny Lunatic Asylum, and Rhode Island's Farm on Round Top Road, which inspired the movie "The Conjuring." 
A bottle will set you back $140. However, it does come in an engraved wooden box, with a hand-numbered leather tag identifying the haunted venue in which it spent time in repose, as well as "gloves for safe handling," and information about the particular haunted venue, including its paranormal activity. "We designed Harridan to defy what is expected of women in the [adult beverage] industry, and the Paranormal Reserve is just the beginning," according to Taylor. For now, you can purchase bottles of Harridan's Paranormal Reserve from select liquor stores in New York City. And there's no telling how that news might sit with the spirits in Iowa, West Virginia, and Rhode Island who lent this vodka their vibe, not to mention, cred.