Jack In The Box Is Bringing Back This Halloween Fan Favorite For A Limited Time
Halloween is right around the corner, and that means people around the world will soon be asking one important question: trick or treat? And one popular chain already has the answer. Jack in the Box has a great treat in store for fans of its tacos. The fast food chain has just announced that its wildly popular Monster Tacos will be returning to locations nationwide for the 2021 Halloween season. The special seasonal item is a larger version of its classic, hard-shell crunchy tacos, featuring two half slices of American cheese, shredded lettuce, and taco sauce, according to Chew Boom. The new tacos will launch on National Taco Day, October 4, at the remarkably unscary price of just $3.00 for two Monster Tacos.
"As a burger brand known best for its tacos, we wanted to give our fans what they've been asking us for ... Jack in the Box is known for its late night category ownership and with Halloween right around the corner, we wanted to bring the Monster Tacos back in a spooky way that felt authentic to the brand," Jack in the Box CMO Ryan Ostrom said of the new release, via PR Newswire.
Jack in the Box Monster Tacos are available now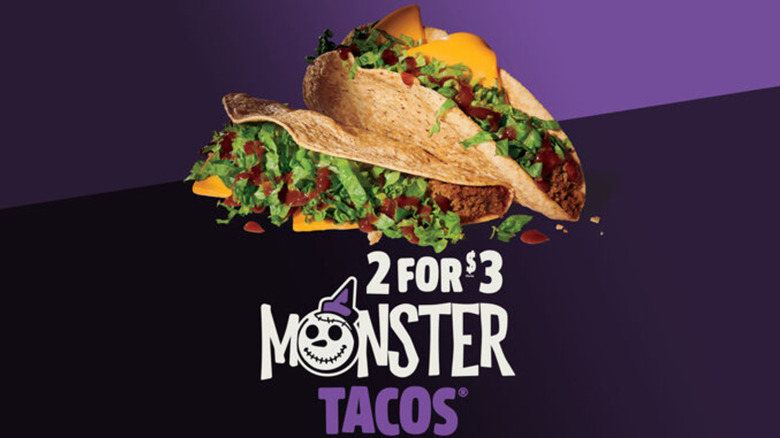 Jack in the Box
To help celebrate the relaunch, Jack in the Box hosted a Trick or Feast Halloween event at the iconic Columbia Mills textile factory in Los Angeles, California. The factory, which is said to be haunted, served as the set for the horror film "Saw," among others. Jack in the Box invited fans to partake in a creepy "game," navigating the spooky venue and solving clues, which ultimately revealed the big news of the Monster Taco's return, according to PR Newswire.
"We're excited to say the Monster Tacos are back for a limited time and we look forward to seeing our guests enjoying them at our restaurants," Ostrom said. Monster Tacos will only be available now through October 31st at participating locations nationwide, per Chew Boom. They can be purchased in store, online, or through the Jack in the Box app.