An Official Guy Fieri Costume Has Hit The Market Just In Time For Halloween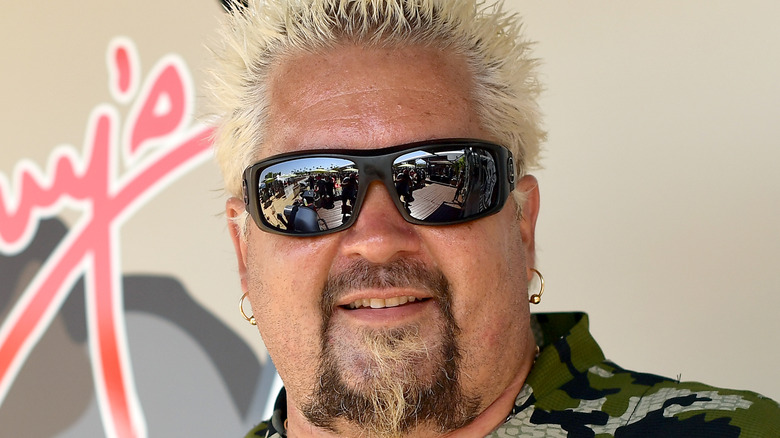 Matt Winkelmeyer/Getty Images
You know Guy Fieri's flavorful cooking and fun-loving personality from his Food Network shows, including hits like "Diners, Drive-Ins, and Dives" and "Guy's Grocery Games." You can spot the chef, also referred to as the Mayor of Flavortown, from a mile away thanks to his spiky bleached hair, signature goatee, and bowling-style shirts. And now, though Fieri's Flavortown might be a mythical land, there's still a way for you to dress up as its most esteemed resident.
The Guy Fieri Halloween outfit, dubbed the "Mayor of Flavortown Costume," has been released for sale online through the Guy Fieri Store. Yes, it's for real: Fieri retweeted a post by BroBible about the five-piece costume kit, saying, "My sources (@flavortown) are confirming that this report is true." Later, he tweeted, "My flavor-senses are tingling with all these other mayors runnin' around!!" As one Twitter user said: "Shut up and take my money."
The costume has everything, and we mean everything, you need to look like Fieri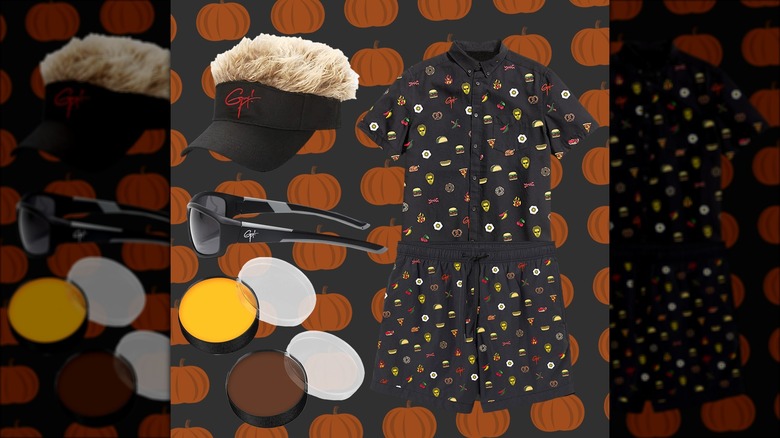 Guy Fieri Store
A purchase of the Mayor of Flavortown Costume gets you several pieces, according to the store's description. These include, of course, a matching black button-up shirt and drawstring shorts printed with burgers, flames, and other symbols that true Fieri fans will understand. The pretzel, presumably, is a nod to young Fieri's pretzel cart business, while the egg may be a joke about the fact that he hates eggs. 
Next up are a pair of hip black sunglasses with Fieri's autograph printed on each side, as well as yellow and brown face paint for over-achievers who want to replicate the chef's facial hair. Topping it all off is perhaps the most exciting item of all: a visor-slash-wig that shows Fieri's trademark blond spikes poking out through the top of the hat. The unisex costume is available in sizes small through 2XL and will set you back $70. If you're planning to dress up as the Mayor of Flavortown this Halloween, you could even have your constituents wear other Flavortown apparel featured on the Guy Fieri Store.