Instagram Is Loving Andrew Zimmern's Plaid Tracksuit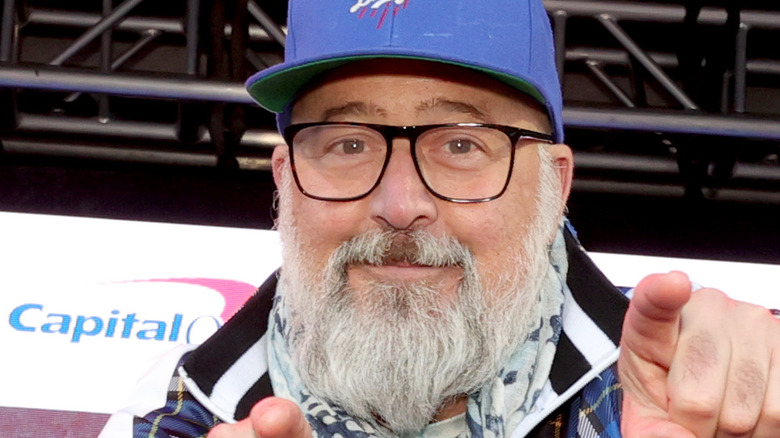 Cindy Ord/Getty Images
It would take something special to upstage a close-up video of a roasted whole hog sprawled inside a large cooler. But the hog was just the appetizer to the main course at the end of the six-second clip on Instagram: Chef Andrew Zimmern dressed form ankle to collar in a blue plaid track suit. The setting for this eye-catching video was the New York City Wine & Food Festival on its final day, October 17.
The festival's Instagram account also posted of video of Zimmern in the same striking get-up, pitching the festival's culminating event: a backyard barbecue at the Intrepid Museum on Pier 86. In this video, you can more clearly see that Zimmern's blue-plaid ensemble is topped off with a matching blue Dodgers baseball cap. Considering Zimmern identifies so strongly with New York, that hat had better represent the Brooklyn Dodgers — even if the team moved to Los Angeles after the 1957 season (via Sports Illustrated).
"As a born and bred New Yorker, one of the favorite weekends of the whole year for me is the New York City Wine & Food Festival," Zimmern says. "I've been to every single one of them." That may be true, chef, but have you ever looked so good?
Andrew Zimmern's outfit upstaged the barbecue at the New York City Wine & Food Festival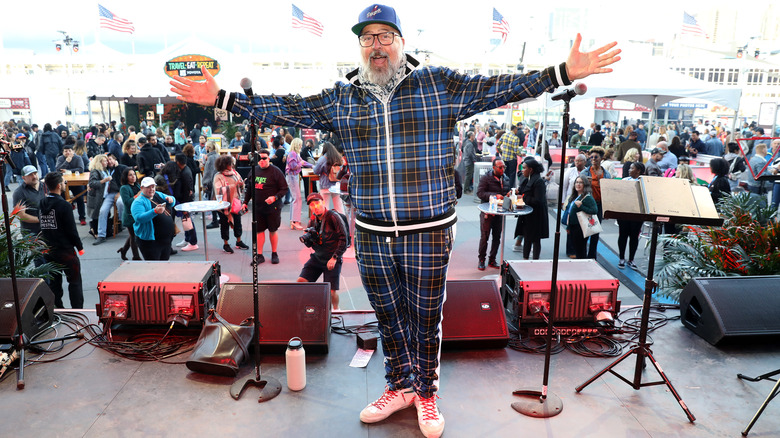 Monica Schipper/Getty Images
Commenters on the Wine & Food Festival's Instagram post looked right past Andrew Zimmern's striking blue plaid track suit and complimented the festival itself. "The hot dog at your tent was the best thing I ate there," @locony said. High praise indeed for the host of "Bizarre Foods" and"Family Dinner." Can you imagine a hot dog being your favorite dish from a food festival in New York?
But the real show stopper, in the eyes of Zimmern's own Instagram followers, had nothing to do with food. Sure, people showed appreciation for the roasted pig, which some commenters identified as Filipino lechon, or slow-roasted suckling pig (via TasteAtlas). But all eyes were on that plaid track suit.
"Now that's dedication to plaid," @rapids444 commented. Instagrammer @davidurevitch was truly impressed. "That pig looks delicious but it doesn't look as good as that outfit you're rockin," they said.
Finally, one Instagram user who refered to Zimmern by his Instagram handle couldn't tell where the cuisine ended and the chef began. "Excuse me," @ashleydevon1 said, "but when did @chefaz become a whole snack?"