Chocolate Croissant Recipe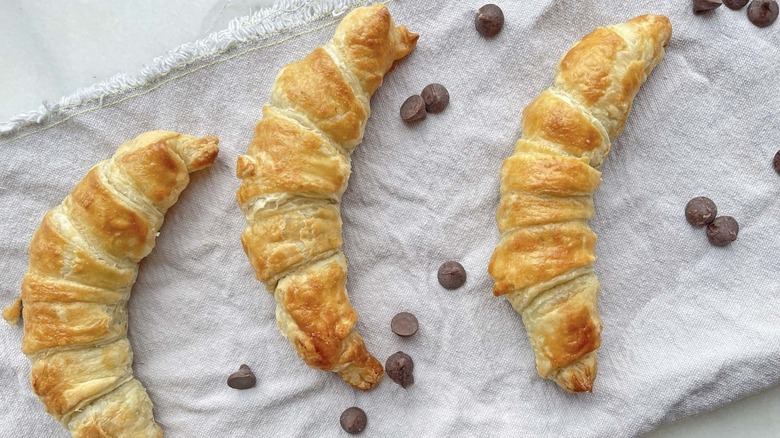 Jason Goldstein/Mashed
There's nothing better than a warm pastry for breakfast or dessert, and of all the pastries to choose from, chocolate croissants reign supreme above the rest. Something about the buttery, chocolatey, sweet treat is incredibly enticing, and paired with a latte or a black cup of coffee, a chocolate croissant is entirely irresistible. If you've ever enjoyed the rich pastry, then you've likely gotten it from your favorite coffee shop. And, while there's certainly nothing wrong with grabbing it on the go, it's super easy to make chocolate croissants right in your own kitchen.
Recipe developer Jason Goldstein has the perfect chocolate croissant recipe that seamlessly encompasses both simplicity and flavor. Goldstein describes this as a classic "treat yourself recipe," and he especially loves how easy it is to whip up these croissants. "I love that it's soooo easy," he raves about this recipe, noting that thanks to the use of store-bought puff pastry and chocolate, the ingredients are super simple as well. If you love a good pastry and you want to veer away from spending too much money at a café, give this easy chocolate croissant recipe a try!
Gather the ingredients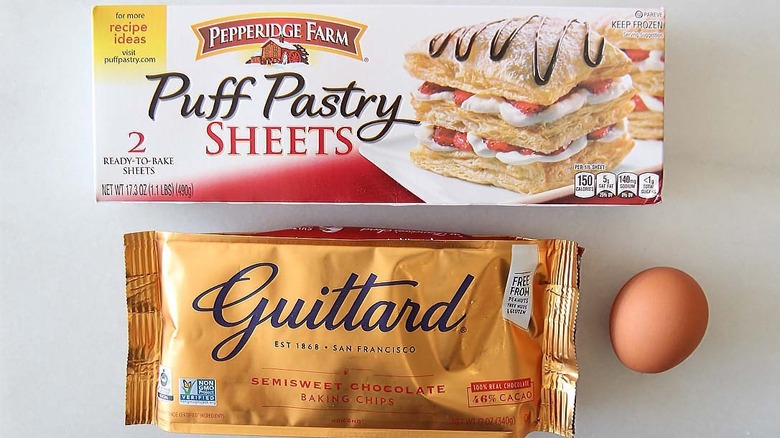 Jason Goldstein/Mashed
Before you can make these delicious chocolate croissants, you'll want to make sure that you have the right ingredients. Fortunately, you only need three simple ingredients to bring this recipe to life, so your shopping trip will be quick and painless. For starters, you'll need a sheet of puff pastry and some semi-sweet chocolate chips for the filling. "You can use any kind of chocolate or even jam," Goldstein notes of a potential ingredient swap. "I choose the dark chocolate [because] of its rich deep chocolate flavor." Finally, you'll just need a single egg to brush onto each croissant to help them get nice and brown when they bake. It doesn't get much easier than that!
Roll out the puff pastry and cut out triangles from the dough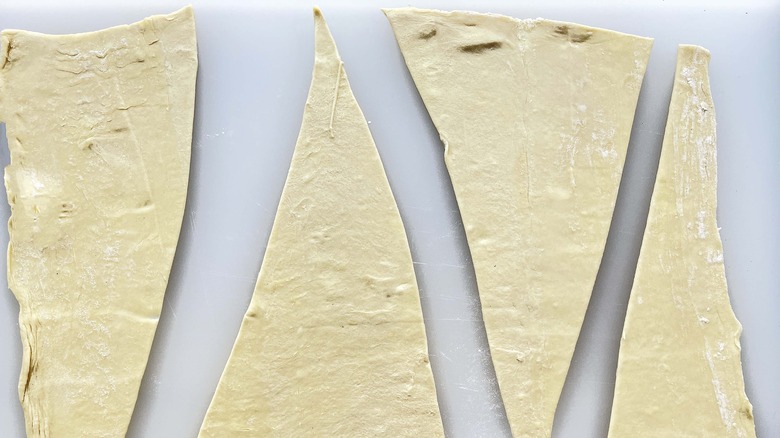 Jason Goldstein/Mashed
Once you have your ingredients, start by setting the oven to preheat at 375 F. Next, focus your attention on the puff pastry. Roll out the pastry sheet and make sure it's nice and flat with no overlapping. It should be about 1 inch wider than when you first opened the package. Then, using either a sharp knife or a pizza cutter, cut out long triangles across the entire length of the pastry sheet. Ideally, you want one end of the triangle to be much smaller than the other, as you will soon roll each one up to form a croissant shape.
You'll also want to cut a 2-inch vertical slit at the base of each triangle, which Goldstein says will help with the rolling process.
Add the chocolate chips and roll up the croissants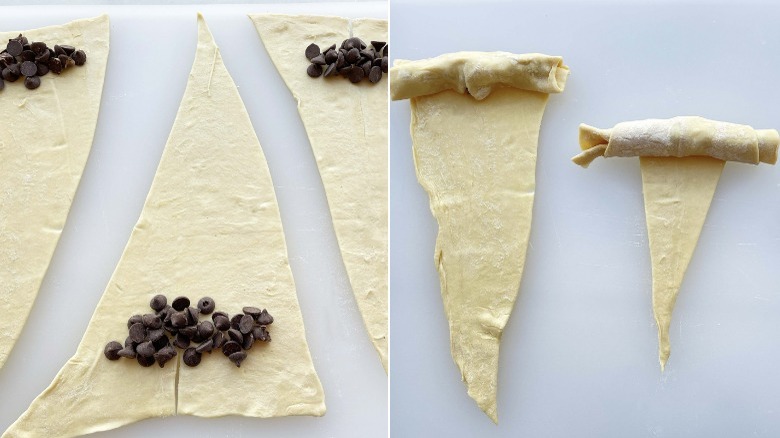 Jason Goldstein/Mashed
Now that you have the pastry triangles cut out, grab your chocolate chips. Whether you opt for semi-sweet, milk, or dark chocolate chips, this is where all of the chocolatey goodness comes into play. Have the larger, base-end of each triangle facing you, and then sprinkle on about 2 tablespoons of the chocolate chips (or, add a little more if you like your croissants loaded with chocolate). Finally, roll up each croissant, starting on the end with the chips, forming a perfect croissant shape. Repeat this process until you've rolled up each croissant. 
Bake your chocolate croissants and enjoy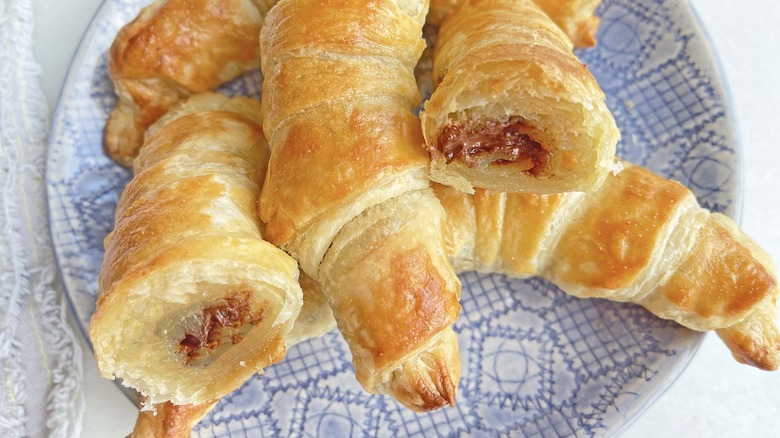 Jason Goldstein/Mashed
Line a baking sheet with parchment paper, tin foil, or a silicone mat and line your chocolate croissants up, making sure there's at least an inch of space in between them. Then, beat the egg and brush it over the top of each croissant. Pop the baking sheet into the oven and bake for 30 minutes, or until the top of each croissant is light brown and crispy. Once they're done baking, you're ready to enjoy your chocolate croissants!
Goldstein says these croissants pair well with chocolate milk or possibly even wine after a long day, but they're also perfectly delicious on their own. Best of all, you could even make these ahead of time and freeze them before baking. Simply thaw them overnight and then follow the typical baking instructions. If you make them fresh and have leftovers, Goldstein also notes that you can leave them out for two days or store them for three to four days in the fridge. We hope you love this easy but decadent chocolate croissant recipe!
Chocolate Croissant Recipe
You just need three ingredients to make these ooey, gooey, delicious chocolate-filled croissants right in your own kitchen!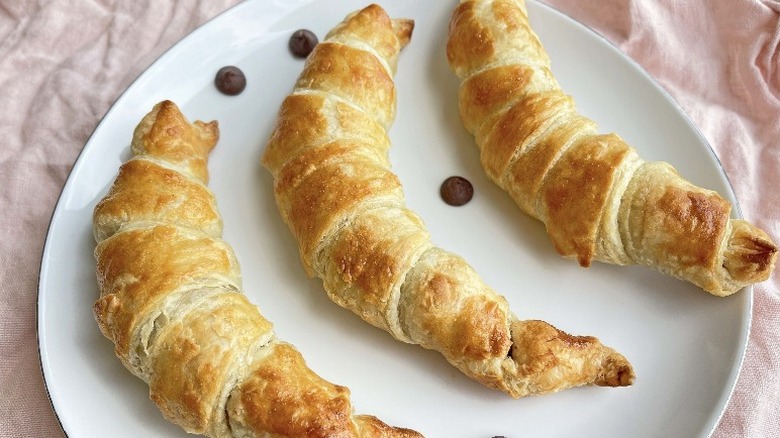 Ingredients
1 sheet store-bought puff pastry
½ cup dark chocolate chips, divided
1 egg, beaten
Directions
Preheat the oven to 375 F.
Roll out the puff pastry so that it's about 1 inch wider than when it was just opened.
Using a sharp knife or pizza cutter, cut long triangles out from each sheet.
At the wide base end of each triangle, make a 2-inch vertical slit.
Add 2 tablespoons of chocolate chips to each wide base of the triangles.
Roll the dough to form croissant shapes for each triangle.
Place the croissants at least 1 inch apart on lined baking sheet.
Brush the beaten egg on the tops of the croissants and bake on the middle rack for 30 minutes, or until the pastry is light brown.
Serve warm.
Nutrition
| | |
| --- | --- |
| Calories per Serving | 186 |
| Total Fat | 13.1 g |
| Saturated Fat | 6.5 g |
| Trans Fat | 0.0 g |
| Cholesterol | 40.7 mg |
| | |
| --- | --- |
| Total Carbohydrates | 13.3 g |
| Dietary Fiber | 2.6 g |
| Total Sugars | 5.5 g |
| Sodium | 35.4 mg |
| Protein | 3.6 g |