Guy Fieri Hides This Snack On The Set Of Guy's Grocery Games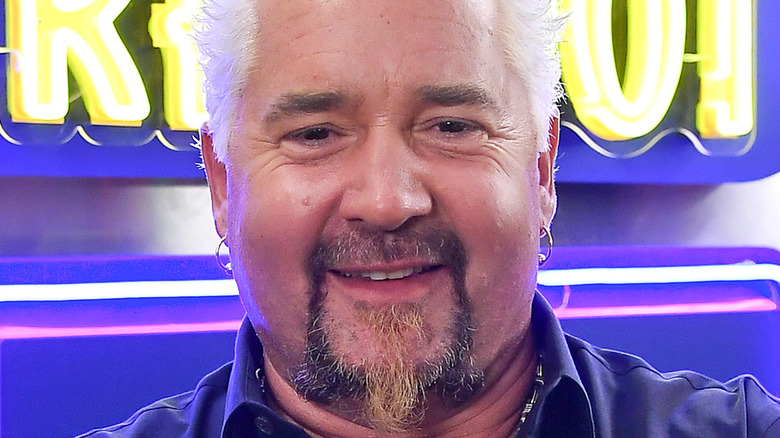 Steve Jennings/Getty Images
We may receive a commission on purchases made from links.
Guy Fieiri really made his mark with his Food Network hit series "Diners, Drive-ins, and Dives." The chef with the unconventional bleached blond, spikey hair and easy going California personality quickly made himself a fan favorite back in 2006 when this show took off (via IMDb). Today, Fieri's success is undeniable. He has his own line of barbecue sauces, has written a New York Times best selling cookbook, per Amazon, and has gone on to make guest appearances and host a variety of cooking shows over the years including, "Guy's Grocery Games."  
Back in 2014, Fieri gave the world a look his "Guy's Grocery Games" set and it's pretty incredible. It's a gigantic warehouse that been transformed into Flavortown Market. It has over 20,000 food items for contestants to choose from during the competition, and Fieri says it definitely has the greatest bacon selection you will ever find, as well as sausage from the Guy Fieri sausage line. There's an equipment row where contestants can find all kinds of cool cooking gadgets, and there's also a spot for Fieri to stash his favorite snack. Yes, even chefs on cooking shows like to have their favorite foods around to nosh on from time to time — and Fieri's is just what you would expect (via Youtube). 
Guy Fieri is a fan of this beefy snack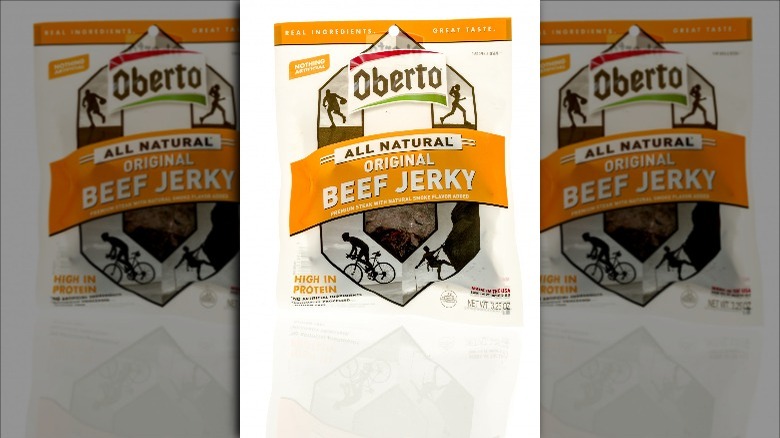 Keith Homan/Shutterstock
Fieri may have just signed a 3-year, $80 million contract with Food Network, per Forbes, but he is just like us when it comes to snacks. During his set tour of "Guy's Grocery Games," Fieri revealed that he hides a meaty snack behind bags of rice. So what is it? Oberto peppered beef jerky is the celebrity chef's go-to (via Youtube). Smart. You never know when you are going to get an attack of the munchie monsters when you have to spend hours on a set. 
Fieri's love of beef jerky is well known. According to Facebook, Fieri visited "an old-school butcher shop cranking out righteous homemade beef jerky" for an episode of "Diners, Drive-ins and Dives" in 2014. Fieri also famously reviewed and endorsed the beefy makings of an 11-year-old who created Matt-Hat Jerky (via Amazon). But his love for this snack started at a young age. Per Times-Standard when Fieri purchased an old meat building in his hometown, there was some nostalgia attached to the place. A statement was posted on his "Diners, Drive-Ins, and Dives" website which read, "(The Ferndale Meat Co.) just happens to be the very spot that Guy himself used to work after school in his early days. He recalls that he loaded the beef jerky into the famous outdoor smoker time and time again." 
If you have a hankering for some jerky after reading this, try Alton Brown's recipe and make it yourself.