The Pioneer Woman's Pork Chops With Wine And Garlic Recipe With A Twist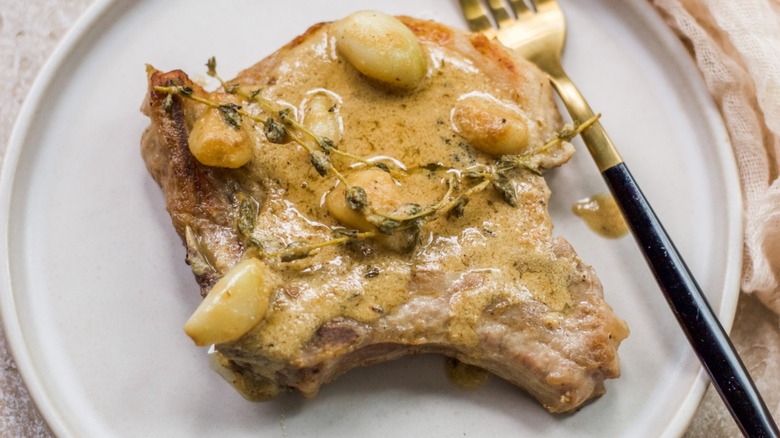 Jaime Bachtell-Shelbert/Mashed
While the Pioneer Woman (a.k.a. Ree Drummond) has made a career out of sharing her "down-home" life on the ranch and she is certainly a fan of hearty All-American cooking, her culinary repertoire is broader than you might think. One of the signature dishes at her restaurant, Mercantile, is a dish she says is a favorite of hers: crispy duck leg confit. One thing we love about the recipes she publishes on her website, however, is that she manages to make just about any dish, no matter how fancy, seem like it's the kind of thing any halfway decent home cook could attempt without undue fuss. One such dish is her pork chops with garlic and wine, which her website describes as "Pan-fried pork chops with an unbelievably delicious pan sauce and whole garlic cloves."
We're big believers that you can always improve upon perfection, however, or at least give it a tweak now and then. Recipe developer Jaime Bachtell-Shelbert took a crack at putting her own twist on the PW's pork chop recipe, and she came up with something she calls a "quick, easy one-pan meal that is suitable for a weeknight meal or a special occasion." Let's learn how to make it!
Gather your ingredients for these pork chops with wine and garlic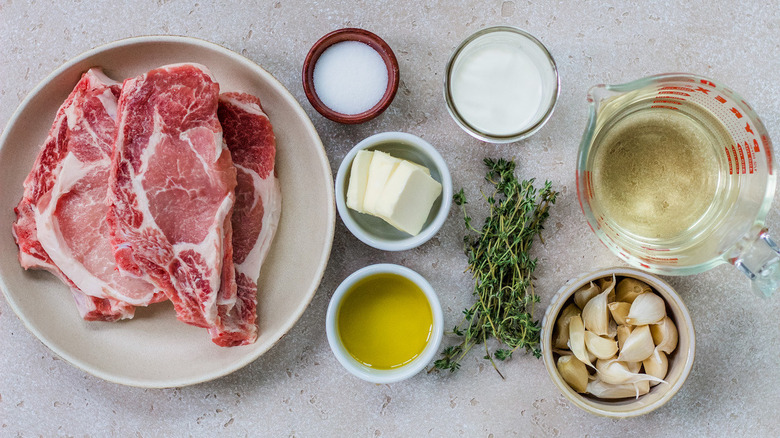 Jaime Bachtell-Shelbert/Mashed
This dish, as its title implies, starts with pork chops. Look for ones that are on the thin side, or perhaps of a medium thickness. Each chop should weigh about six ounces if that's any help. To cook the chops, you'll need olive oil and butter — you can use either salted or unsalted butter, although if you choose the latter, you may need to add a little extra salt to the dish. The sauce is made from white wine, fresh thyme, and half and half, although Bachtell-Shelbert notes that you can use heavy cream instead of the half and half if that's your preference.
If you don't already have a go-to culinary white wine, Bachtell-Shelbert tells us that her favorite cooking wines are "a dry, crisp Pinot Grigio or [a] Sauvignon Blanc," and says that in this recipe she went with a wine she calls "a neutral Pinot Grigio." She also tells us that if you like a lot of sauce with your pork chops, "You can add more cream or some chicken broth" to this dish.
These pork chops are a one-pan dish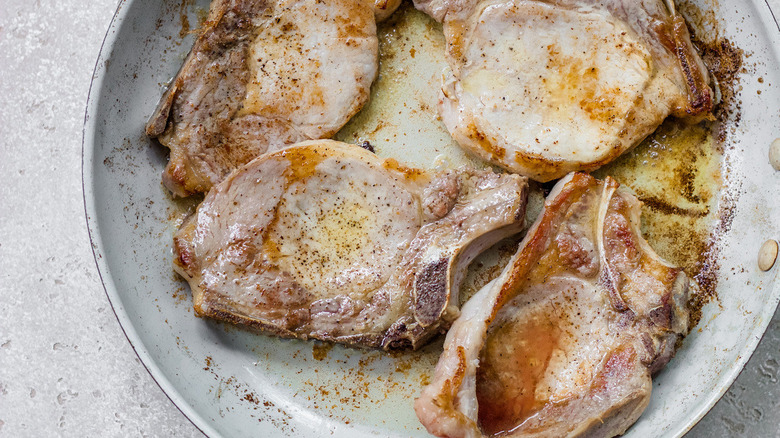 Jaime Bachtell-Shelbert/Mashed
One thing we love about this recipe is the fact that you won't need to get every pot and pan in the kitchen dirty. All you need is a skillet plus a few plates — four plates for serving plus one additional plate to let the partially cooked chops sit while you futz with the sauce.
Heat the olive oil with two tablespoons of butter in a large skillet over medium heat. Sprinkle the chops with salt and pepper. Then, when the butter is melted, sear the chops for about two minutes on each side (four minutes total cooking time). Now, put the chops on that spare plate and add the garlic cloves to the oil/butter mix. Push the garlic around the pan for four to five minutes until the cloves start turning brown. Add the wine to the pan along with the thyme, and cook it for about five minutes until it's somewhat reduced. You may need to turn the heat up just a bit to help the wine along.
Now whisk in the half and half and return the chops to the skillet. They should finish cooking in just a few minutes, but be sure to use a meat thermometer to check and see whether they've reached 145 F inside. Once the chops hit this magic number, then you can know they're done for sure.
Serve the pork chops with a tasty pan sauce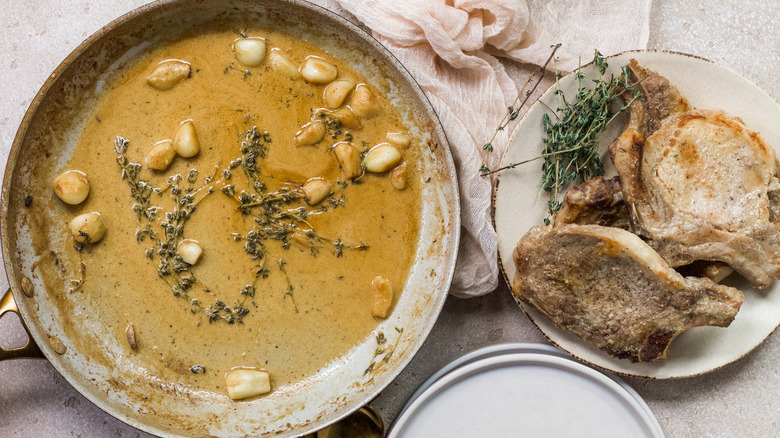 Jaime Bachtell-Shelbert/Mashed
Take the chops out of the skillet once more. This time, you can go ahead and put them on those serving plates, one chop per plate. Stir the remaining butter into the wine/cream mixture left in the skillet. Once the butter melts, stir it into the sauce and drizzle that sauce over the pork chops.
You can also divvy up the garlic cloves and thyme sprigs between the plates if you like, though at this point, they'll be there more to look pretty than to provide additional flavor since they already gave their all to the sauce. While some may still want to eat the garlic, the thyme sprigs probably won't have too many takers. If you'd like to whip up some more substantial sides, though, Bachtell-Shelbert says these pork chops are "delicious served with potatoes and a green vegetable."
What did we change?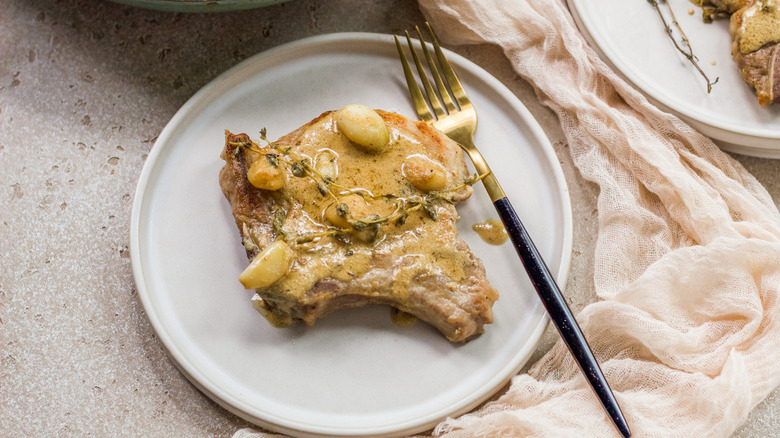 Jaime Bachtell-Shelbert/Mashed
So can you guess what we changed to make this recipe different from the Pioneer Woman's original? For starters, Bachtell-Shelbert says, "I used white [wine] instead of red wine." She also says that she swapped out the bay leaves the Pioneer Woman used for fresh thyme and replaced her beef broth with half-and-half. It also appears that Bachtell-Shelbert omitted the balsamic vinegar.
Overall, these pork chops with garlic and wine will be just as garlicky as the original, but the sauce will be somewhat heavier due to the cream. Swapping out a heartier red wine and a splash of vinegar for a more neutral-flavored white wine helps give this dish a more subtle, if richer, flavor than the Pioneer Woman's version.
The Pioneer Woman's Pork Chops With Wine And Garlic Recipe With A Twist
Recipe developer Jaime Bachtell-Shelbert took a crack at putting her own twist on the Pioneer Woman's pork chop recipe. Give it a try!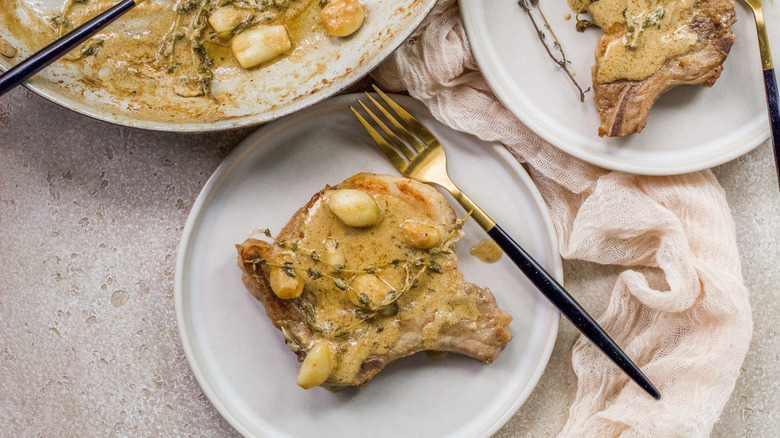 Ingredients
2 tablespoons olive oil
3 tablespoons butter, divided
4 thin to medium pork chops, about 1 ½ pounds
18 garlic cloves, peeled
1 ½ cups white wine
6 to 8 sprigs of fresh thyme
½ cup half and half
Directions
Heat the olive oil and two tablespoons of butter in a skillet over medium-high heat.
Salt and pepper the pork chops on both sides.
Sear the pork for about 2 minutes on each side.
Remove the chops from the skillet and set them aside.
Reduce the heat to medium and add the garlic cloves to the skillet. Stir them around for 4 to 5 minutes until they start to brown.
Add the wine and thyme to the skillet, raising the heat if necessary, and cook until the wine has reduced. This should take about 5 minutes.
Add the half and half to the wine and whisk to combine.
Place the chops back into the skillet to finish cooking until the internal temperature reaches 145 degrees.
Remove the pork chops from the pan.
Stir the remaining butter into the pan sauce.
Serve the pork chops drizzled with the pan sauce. Use the garlic and thyme to garnish the plates if desired.
Nutrition
| | |
| --- | --- |
| Calories per Serving | 611 |
| Total Fat | 37.0 g |
| Saturated Fat | 14.6 g |
| Trans Fat | 0.5 g |
| Cholesterol | 171.4 mg |
| | |
| --- | --- |
| Total Carbohydrates | 9.3 g |
| Dietary Fiber | 1.0 g |
| Total Sugars | 2.3 g |
| Sodium | 130.3 mg |
| Protein | 43.4 g |