Baskin-Robbins' New Flavor Is Inspired By This Gooey Cookie Dessert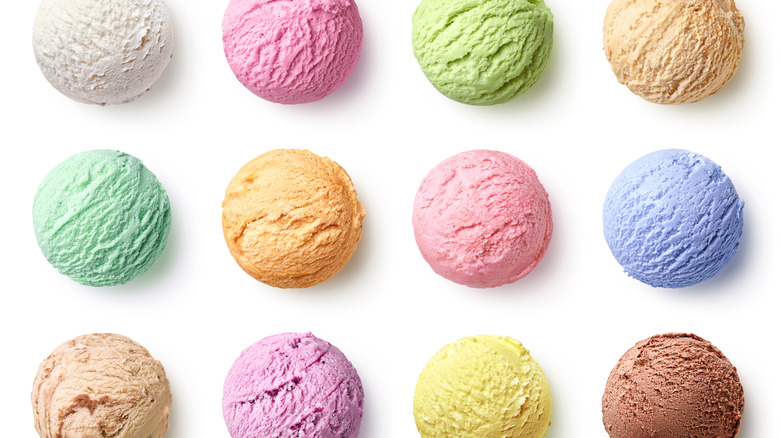 baibaz/Shutterstock
Whether or not you're a fan of the hilariously binge-worthy series, "Parks and Recreation," the show's own lavish tradition, Treat Yo' Self Day, was on October 13, sources such as Newsweek kindly reminded us. Baskin-Robbins, in fact, declared it a national holiday fit for indulging in a few big scoops, says a press release from the ice cream chain. While the official date for treating yourself has technically passed, that does not mean your opportunity to luxuriate has come and gone. It's only just begun, thanks to a new addition to the lineup of Baskin-Robbins flavors that is so very appropriate for treating yourself, it was released in honor of National Treat Yo' Self Day.
The new treat, inspired by a certain gooey dessert that you likely already know and love, would surely make it onto the Treat Yo' Self Day itinerary of '"Parks and Recreation" characters Tom Haverford and Donna Meagle, somewhere in between those massages and mimosas.
Baskin-Robbins' new flavor tastes like a skillet cookie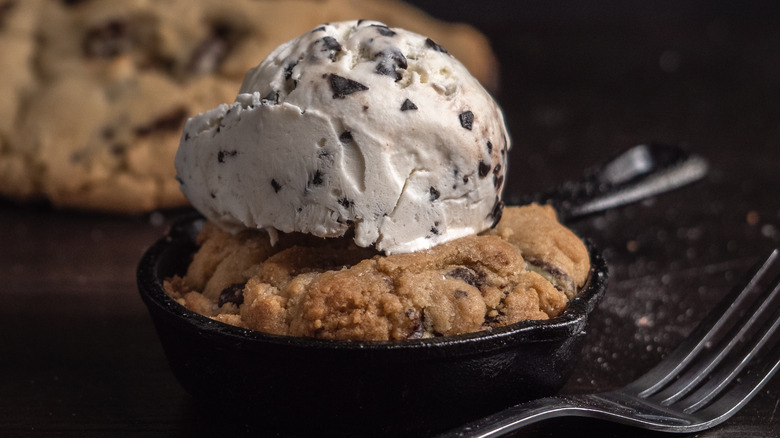 Jordan Wall/Shutterstock
"Today is National Treat Yo' Self Day!" Baskin-Robbins announced on October 13, along with a description of its brand-new Skillet Cookie Crumble flavor. As you have likely guessed, the confection was inspired by the classic decadent dessert, the skillet cookie, preferably topped with melty ice cream. In case you've never tried this shareable delight, it's basically an extra-large, chewy and crispy cookie that's baked in a cast-iron skillet for a luscious interior and a gently caramelized crust. 
Baskin-Robbins' interpretation of the treat consists of molasses-flavored ice cream swirled with sea salt cookie dough fudge "to bring to life that gooey, melt-in-your-mouth center of a skillet cookie." But that's not all. The ice cream is also studded throughout with pieces of baked chocolate chip cookies meant to mimic the crispy bits you find on the edge of a skillet cookie. If the Skillet Cookie Crumble flavor sounds like something you need immediately, no matter the day of the year, the chain says you can order it in stores or for delivery via DoorDash, Uber Eats, or Postmates.