Halloween Charcuterie Board Recipe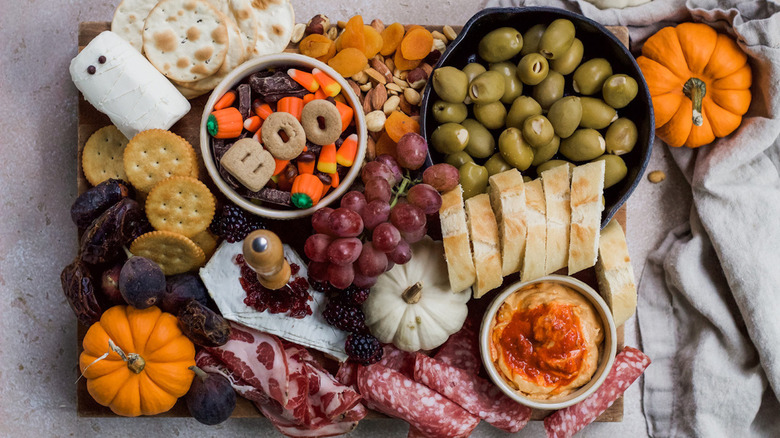 Jaime Bachtell-Shelbert/Mashed
Every year brings a new crop of food fads that seem to take over social media, and 2020 was the year of charcuterie boards, since everyone had a lot of spare time on their hands to arrange their food in pretty patterns. Charcuterie boards didn't disappear at the end of the year, though. Instead, they morphed into more elaborate versions custom-tailored for specific themes or holidays. Halloween snack boards, which have been super trendy on TikTok, often incorporate not only traditional charcuterie elements such as sliced meats and cheeses, but also sweet treats befitting one of the year's biggest candy holidays.
Recipe developer Jaime Bachtell-Shelbert says you don't need to worry too much about the actual type of board you'll need to make this spooky snack platter. "Charcuterie board[s] can be either rectangular or circular," she notes. She does say, though, that Halloween-themed cups or bowls shaped like "pumpkins, skulls, etc." would be great for holding spreads, dips, fruits, olives, and candies, and suggests, "A small cast iron pan is a nice addition if you have [one] on hand."
Gather the ingredients for this Halloween charcuterie board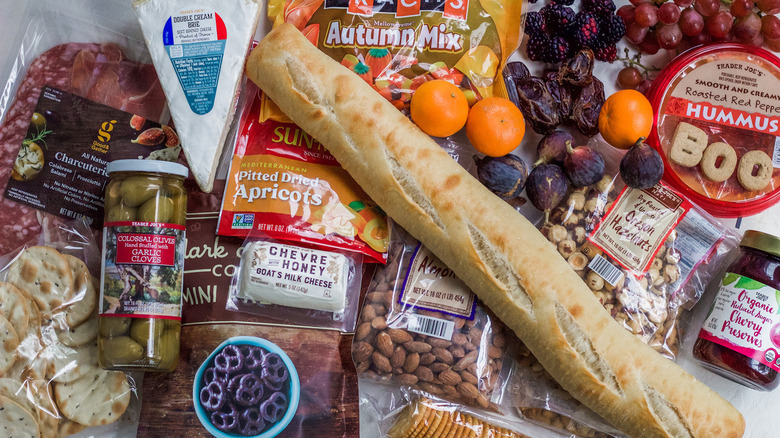 Jaime Bachtell-Shelbert/Mashed
What you choose to use for your Halloween charcuterie board is ultimately up to you. First, select your platter, as this will serve as a guide for how much food you can include on the board. If you have any Halloween-themed dishes, you'll want to get those out, too.
If you want something that looks relatively close to the one pictured here, you'll need some olives (Bachtell-Shelbert used the garlic stuffed kind.), red pepper hummus, an autumn candy mix consisting of candy corn and candy pumpkins, chocolate-covered pretzels, small alphabet-shaped cookies, a wedge of Brie, cherry (or any other red-colored) jam, a log of goat cheese, miniature chocolate chips, grapes, a baguette, mixed nuts, dried fruits such as apricots and dates, some sliced deli meat (Bachtell-Shelbert went with calabrese salami and capocollo.), and some mandarin oranges.
Not a fan of candy corn? Bachtell-Shelbert says, "Reese's Pieces can be a fun Halloween-colored alternative." If there are any other ingredients you don't care for, don't feel like you absolutely have to use any or all of these things, nor to stick to the amounts specified here. Bachtell-Shelbert advises that "Amounts are guides only," although she does suggest "hav[ing] extras on hand to replenish as items run out."
Fill small dishes with candies, dips, and olives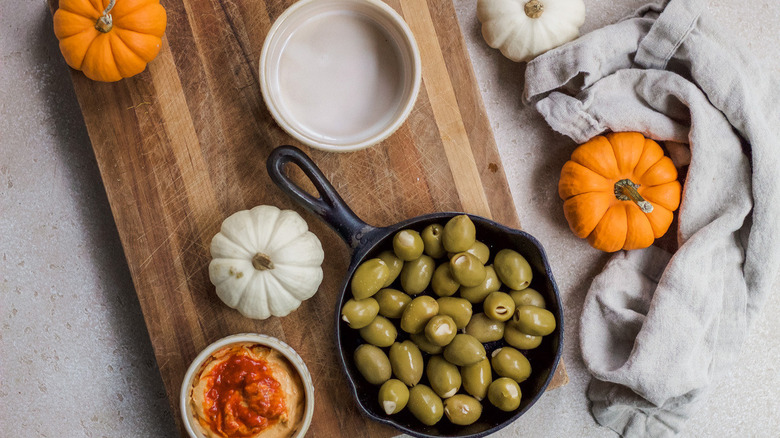 Jaime Bachtell-Shelbert/Mashed
Place any dishes you'll be using to hold stuff on the board, as these will influence how you use the space. Before you add any food, put the inedible decorations like gourds or miniature pumpkins on the board.
Fill one of the dishes with the olives — Bachtell-Shelbert chose a small cast-iron skillet for this. In another bowl, dish out some hummus with red pepper spread. (If you've purchased the right type of hummus, it should already come topped with such a spread.) In a third dish, mix the autumn candies with the chocolate pretzels. Bachtell-Shelbert used alphabet cookies to spell out the word "boo" on top of her candy mix, but advises that you can also "use alphabet cookies to make more words on the board like 'spooky' or 'Happy Halloween.'"
Turn the Brie cheese into a coffin and the goat cheese into a mummy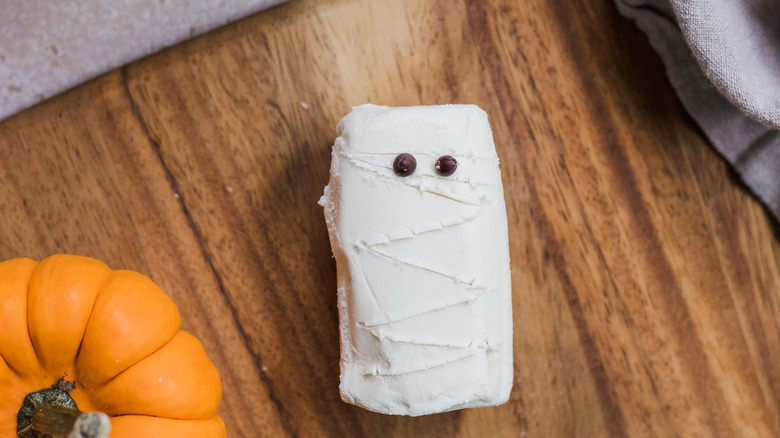 Jaime Bachtell-Shelbert/Mashed
To make a coffin out of cheese, use a knife to trace a coffin shape on the top of the Brie, then cut the shape out. Spread red jam on top, then stab a cheese knife right into the heart of the jam.
To make a cheese mummy, take your goat cheese log, and drag a knife over the top in a zig-zag pattern to represent the mummy's wrappings. Bachtell-Shelbert used mini chocolate chips to make the mummy's eyes, but you could use raisins or nuts if you prefer.
Make mini mandarin pumpkins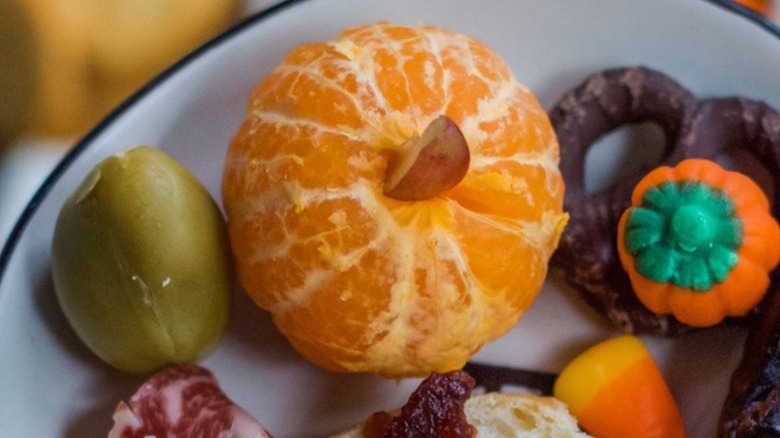 Jaime Bachtell-Shelbert/Mashed
One fun, yet healthy, addition you can make to any Halloween snack spread is mini pumpkins made from mandarins (as Bachtell-Shelbert used), clementines, or tangerines. Peel the mandarins (or similar fruit), and cut a small slit in the top. Take one grape off the platter, and slice it in half vertically, then cut each half into quarters lengthwise. Take each grape sliver, and tuck it into the slit in the top of a mandarin to make the pumpkin's stem.
Fill in the rest of the Halloween snack board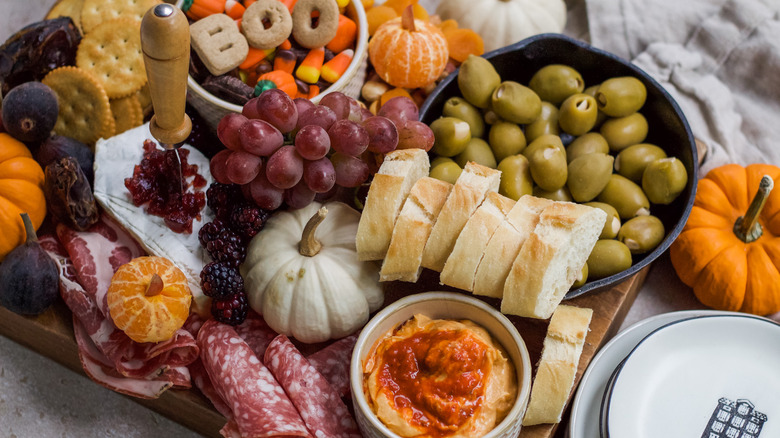 Jaime Bachtell-Shelbert/Mashed
Once you have all the filled dishes arranged on your board, along with your spooky cheese creations and fruity pumpkins, use the dried fruit, nuts, grapes, bread slices, and deli meat to fill in all of the empty spaces. You can also add some crackers, if you'd like — Bachtell-Shelbert used golden rounds and water crackers.
Speaking of fruit, Bachtell-Shelbert says, "I like to keep the fruit colors in theme with Halloween which is why I chose dark and moody-colored fruit [such as] figs, blackberries, grapes, [and] dates as well as orange[-colored fruits like] clementines and dried apricots." As she reminds us, though, "There are no rules," and says, "Have fun creating this festive snack board."
Halloween Charcuterie Board Recipe
This spooky charcuterie board that's filled with meats, cheeses, fruit, and treats deserves an invite to your Halloween bash.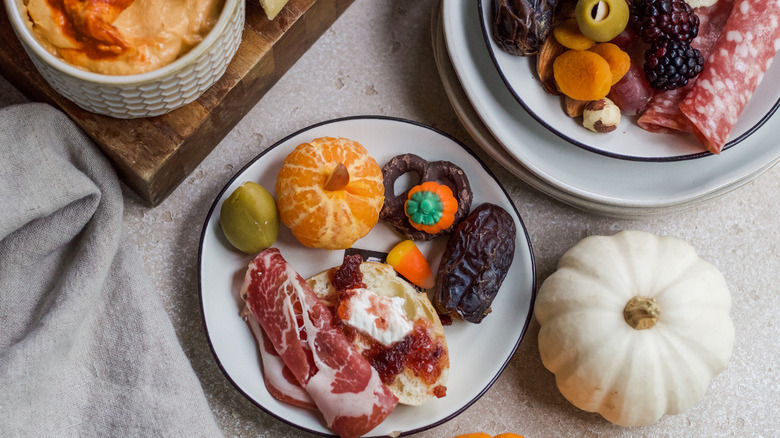 Ingredients
1 (16-ounce) jar olives
1 (10-ounce) tub roasted red pepper hummus
1 cup autumn candy mix (candy corn and pumpkins)
1 cup chocolate-covered pretzels
3 small alphabet-shaped cookies
1 (16-ounce) wedge Brie
¼ cup cherry jam
1 (5-ounce) log goat cheese
2 mini chocolate chips
3 mandarin oranges
1 pound grapes
1 ½ cups dried fruit
1 ½ cups figs
¾ cup blackberries
1 cup mixed nuts
½ of (11 ½-ounce) baguette, sliced in ¼-inch rounds
6 ounces sliced deli meat
Optional Ingredients
assorted crackers
small pumpkins, for decoration
Directions
Arrange any cups, bowls, and non-edible decorations such as gourds on the board as a guide to work around.
Fill the dishes with olives, red pepper hummus, autumn candy mix, and dark chocolate-covered pretzels.
Use alphabet cookies to spell out a word like "BOO" on top of the candy mix.
Trace a coffin shape on the top of the Brie, and cut along the lines to make the Brie "coffin."
Spread cherry jam on the top of the Brie, and stick a cheese knife in the center of the jam.
Drag the knife along the top of the goat cheese log in a zig-zag pattern to look like mummy wrappings.
Place 2 mini chocolate chips on the goat cheese log to make the mummy's eyes, and place the mummy near the coffin.
Peel the mandarins, and make a small slit on top of each one.
Slice a grape in half vertically, and then cut each half into quarters vertically.
Insert a slice of grape into the slit in each mandarin to make a "stem," and add the mandarin pumpkins to the board.
Arrange the dried and fresh fruit, nuts, baguette slices, crackers, and deli meats on the board, making sure to fill in any empty spaces.
Nutrition
| | |
| --- | --- |
| Calories per Serving | 1,041 |
| Total Fat | 54.8 g |
| Saturated Fat | 24.6 g |
| Trans Fat | 0.2 g |
| Cholesterol | 90.8 mg |
| | |
| --- | --- |
| Total Carbohydrates | 112.6 g |
| Dietary Fiber | 12.7 g |
| Total Sugars | 71.7 g |
| Sodium | 1,194.7 mg |
| Protein | 33.2 g |