Instagram Is Loving Jamie Oliver's Adorable Pumpkin Patch Pic Of Son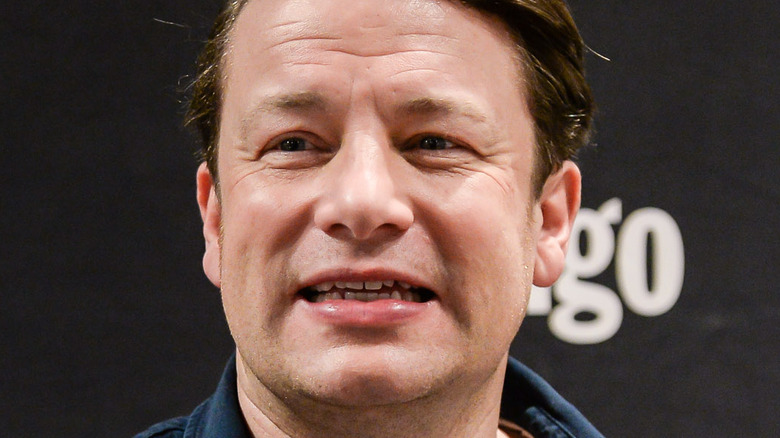 George Pimentel/Getty Images
Chef Jamie Oliver always seems to have food on his mind. So, it's not surprising that he's bringing his children in on his tradition of fixing meals with fresh ingredients.
The chef posted an endearing Instagram pic of his youngest son, River, set in a pumpkin patch amongst orange gourds, vines, and leaves, wearing a cozy knit sweater and holding a pumpkin on top of his head with a huge toothy grin. The five-year-old looks happy just to be in the pumpkin patch and trying to balance a gourd on his head, but his father had other plans for the pumpkins. "We made squash pasta!! What are your favourite pumpkin and squash recipes??" the chef captioned the post. The second photo in the Instagram slide, naturally, shows the results: a large pot of penne covered in squash-filled sauce.
Oliver is no novice when it comes to cooking with pumpkin, and he posted one of his favorite recipes, one for baked pumpkin with 'nutty, fruity rice' on his website. "Pumpkins are so versatile, the things you can do with them are endless! Their flavour goes well with chilli, nutmeg, and sage. If you've never cooked one before, you're in for a real treat," he wrote.
Instagram can't get enough of pumpkins
Instagrammers chimed in not only on how darling River looks, but with ideas for their own pumpkin-based culinary creations.
"Roast pumpkin and blue cheese salad, with toasted walnuts and pumpkin seeds," suggested @jowright691, punctuating her post with a "yum" emoji. User @and.krest was impressed, replying "I'm stealing that!" "Made pumpkin ravioli with our homegrown pumpkin the other day it was delish! Also love butternut squash soup!" shared @missmoira84. "Roasted pumpkin, bacon and sage risotto," wrote @sweetcarolinacazza, to which @nat1153 replied, "sounds delicious, might have to try it this year."
As for Oliver's squash pasta, the jury's still out on whether River was a fan. Oliver stated on "The Chris Moyles Show" that while River may be cute, he has quite the "personality" and doesn't always enjoy his dishes. "Every time I cook food, he tells me how disgusting it is. He'll say, 'I hate it, I don't like it, it's disgusting, I never said I'd have that,'" Oliver explained (via Entertainment Daily).
Regardless of River's verdict, one thing's for sure: The dishes Instagrammers describe in the comments sound like pure pumpkin gold.