Emeril Lagasse's Picturesque Sourdough Is Turning Heads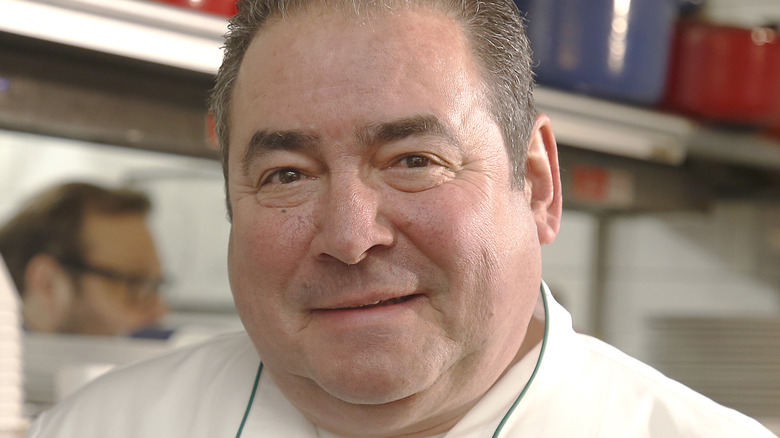 John Lamparski/Getty Images
The best part of baking bread is most definitely the moments right after you remove it from the oven. While it cools, a warm and scrumptious scent expands through the kitchen, tantalizing you with its undeniably delicious smell as you wait for it to be ready to be cut into and tasted. Emeril Lagasse just posted a picture featuring a few loaves of his sourdough bread cooling and it's making the internet hungry. 
In the picture, you can practically smell the loaves as if they were in your own kitchen. It's no doubt that Lagasse is a master baker. According to his website, he first started his journey as a chef in a Portuguese bakery as a teenager. During his time there, the famous chef began perfecting the craft of baking everything from pastry to bread. Since then he's skyrocketed to become one of the most recognizable culinary stars in the world, but the post returns to his roots and honors his bread-making craft.
Emeril Lagasse's sourdough bread
Emeril Lagasse posted an image of his freshly baked sourdough bread to his Instagram, garnering over a thousand likes and streams of comments. He posted the closeup of one loaf, with other loaves in the background, while they were cooling on the pan after being removed from the oven. He captioned the photo, "Nothing beats the smell of Fresh Baked Sourdough." He also tagged the account for his New Orleans restaurant Emeril's, so the bread was probably made in their kitchens.
The sourdough bread looks mouthwatering, and commenters agree. They responded with lots of heart eyes, bread, and celebratory hand emojis. "OMG wish we could smell it too," one fan wrote, while another few fans agreed with the caption that nothing was better than the wafting scent of fresh baked bread. Multiple comments remarked how beautiful the bread looks. If you agree that the bread looks irresistible, you could dive into baking bread with a sourdough loaf of your own using Lagasse's recipe.