This Cast Iron Skillet Is Only $18 And Will Last Longer Than Many Relationships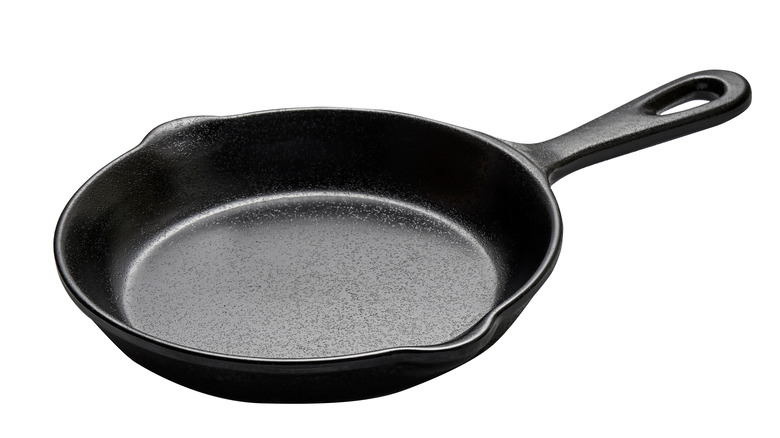 Dewin ID/Shutterstock
We may receive a commission on purchases made from links.
The cast iron skillet is a serious pan that is not meant for commitment phobes. Like a good relationship, these pans require lots of care, love, and the occasional cleaning with a high-quality oil to stay healthy and meet your high standards. If given the proper attention, the cast iron skillet can last a lifetime and be passed down through the generations, probably lasting longer than most relationships.
When searching for the perfect pan, there are a lot of options that promise to deliver everything you need. One could search for hours trying to find the right one that promises to stay that way long-term without becoming toxic throughout your time together. Unfortunately, many non-stick pans (like Teflon pans) are full of PFAS, which are various man-made chemicals that are known to be harmful to our bodies and the environment, according to Conscious Life & Style. What's worse is they don't break down easily and stick around forever, adds the source.
If you are looking for cookware that is spontaneous and down for anything, swipe right on an option like a Lodge Cast Iron that can go on the campfire, grill, or stovetop. This cast iron skillet can do just about anything like putting a mean sear on a steak, sautéing veggies, delicately frying an egg, and baking up a warm skillet bread. You can take it straight from cooking to the table as a rustic serving piece.
Why you'll fall for the Lodge Pre-Seasoned Cast Iron Skillet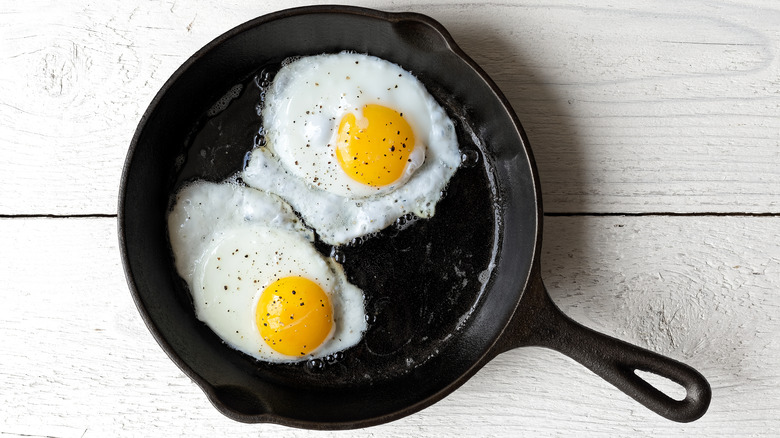 Moving Moment/Shutterstock
The 10.25" Lodge Pre-Seasoned Cast Iron Skillet is a superior pan that boasts some important features for those in search of a quality non-stick cooking utensil that can perform multiple tasks in the home kitchen or on the go. First and foremost, it is pre-seasoned with vegetable oil to guarantee a non-stick surface that easily releases anything you're cooking or baking. The best way to season a cast iron pan (ideally done a couple times a year) is a hotly debated topic, but Lodge has made it easy with a simple three-step process to season and maintain your cast-iron skillet for years to come.
Keeping the spark alive is important in any long-term relationship, and a cast iron skillet can do just that by offering amazing heat retention and distribution, which is why so many folks rely on this specialty pan to evenly fry up the best chicken every time. The quality and long life of the Lodge Cast Iron Skillet is not lost on its customers, either, as one reviewer jokingly states, "Lodge cast iron pans are the best. My only regret is that I bought it for a man who didn't deserve it. The good thing? It'll last forever, so unless he throws it out or gives it away he'll have a life-long reminder of what he lost!" And another exclaims, "It's amazing, solid, heavy and well made ... I may keep it next to my bed and use it as a weapon if necessary, or hang it on the wall as an ornament." Out of 88,325 Amazon reviews, 81% had a five-star status, so it seems that many customers agree.
Buy the 10.25" Lodge Pre-Seasoned Cast Iron Skillet on Amazon for $18.