The Origins Of Ruby Tuesday Might Surprise You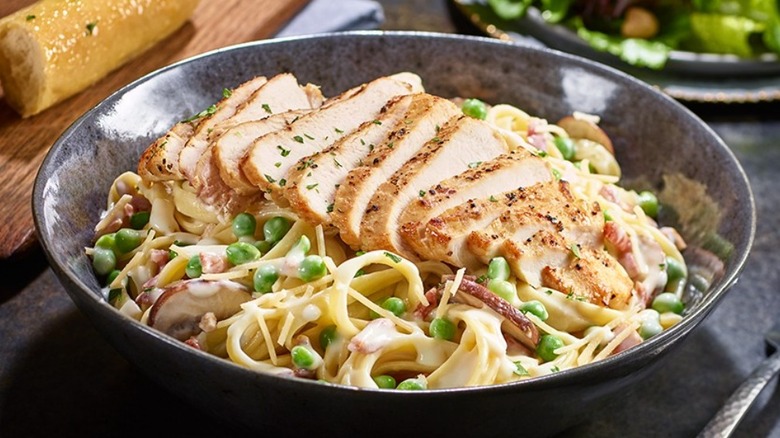 Ruby Tuesday
According to the official website, Ruby Tuesday offers a "Simple Fresh American Dining" philosophy and menu favorites including "Handcrafted Burgers" and "Create Your Own Garden Bar." The eateries are also known for their signature curb-side to-go takeout program. While Ruby Tuesday filed for bankruptcy in 2020 and closed one third of its restaurants after struggling during the COVID-19 pandemic (per Business Insider), the restaurant chain enjoyed nearly 50 years of success since its founding in 1972 by Knoxville, Tennessee college student Samuel E. (Sandy) Beall and four of his friends, as detailed by Funding Universe.
Beall started his Ruby Tuesday venture in an interesting way. When Beall was only twenty-two, his boss at Pizza Hut, William Kholmia, had a heart attack that proved fatal. Kholmia left Beall $10,000 to start his own restaurant business, and after Beall and his friends gathered another $10,000, the first Ruby Tuesday eatery, named after the Rolling Stones song of the same name, was born.
From a $20k investment to a $15 million sale
The first Ruby Tuesday restaurant proved to be a hit in the college town, perhaps due to the $1.45 hamburger or the fact that Beall was able to obtain the first liquor-by-drink license in the area (via Funding Universe). Beall dropped out of school to concentrate on operating his business and went above and beyond in his duties, his ambitions to grow the restaurant group ever-expanding.
Beall got off to a great start, opening a new Ruby Tuesday location about every nine months during his first ten years in business. This hard work paid off in 1982 when he sold the chain to Morrison Inc. for a whopping $15 million, all while maintaining his position as head of the company. To think, without a generous supervisor and $10,000, diners may have never had the chance to enjoy that Endless Garden Bar.