Michael Symon's Granddaughter Follows In His Footsteps With Game-Day Look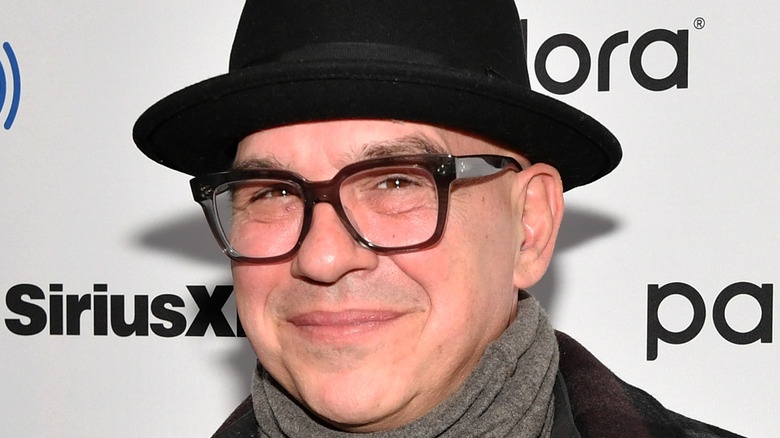 Slaven Vlasic/Getty Images
Chef Michael Symon is a family man who has been deeply influenced by his roots and his home life. According to his official website, Symon was heavily inspired by his Mediterranean and Eastern European roots when he started working as a professional chef. He also took inspiration from his hometown of Cleveland, where he was raised.
Also, Symon likes to take it easy. When he isn't busy cooking, he prefers spending time at home with his loved ones and playing golf. In fact, the chef likes ensuring that his family members make regular appearances on his social media feed too. Earlier this month, Michael Symon posted an adorable photo of his grandson on Instagram and wrote, "meet Butch Preston!....Emmys new baby brudda." And yes, his granddaughter Emmy has also been spotted on his feed recently. Well, his fans can't get enough of these adorable photos, who have been following along at home (via Instagram).
A true Cleveland fan
Chef Michael Symon is a huge fan of football and supports the Cleveland Browns. Last month, he posted a photo of his game outfit and delighted fans with his enthusiasm. A fan praised the chef and wrote, "Always good to see your love for Cleveland!" Another commenter said that they really enjoy Symon's recipes. They couldn't stop themselves from adding, "...but it's Chiefs Kingdom here!" 
Well, seems like Michael Symon isn't the only one rooting for the Browns. His granddaughter, Emmy, dressed up for one of the games and even had a tiny cast iron skillet with her. The proud Symon shared a picture of Emmy on Instagram and wrote, "Emmy knows we ride or die with 6 & the @clevelandbrowns ... let's go boys time to dig deep tonight!" Safe to say, Symon's fans loved the latest update and couldn't stop marveling at how fast Emmy is growing up. "Is she cooking in a little cast iron skillet?? So cute!" one fan said. "She's definitely ready for the game," another Symon fan pointed out. As for Emmy's game-day snack? It appears she's carrying some pasta in that tiny skillet.