A Couple Of Furry Friends Have Joined Alton Brown On Tour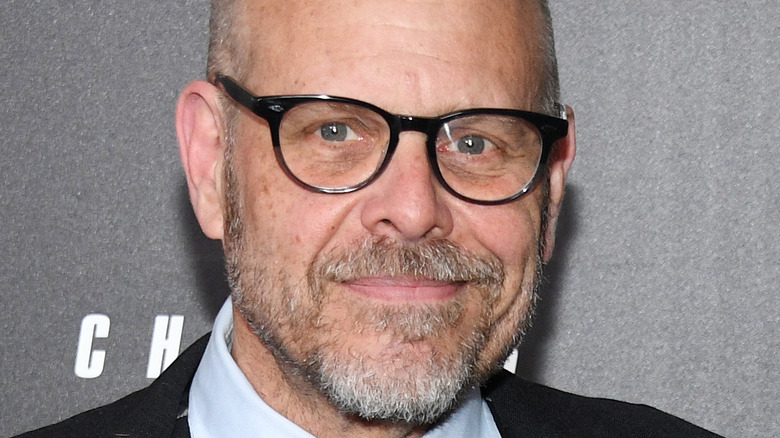 Dimitrios Kambouris/Getty Images
Food personality Alton Brown is back with a bang. As per his official website, Brown is currently visiting several parts of the U.S. with a new live show, "Beyond The Eats: Alton Brown Live!" featuring lots of food, comic moments, some music, and "potentially dangerous science stuff." A description tells fans to "prepare for an evening unlike any other," joking that if Brown does request for volunteers, it's probably a good idea to "think twice."
The 2.5 hour event is meant to cater to all types of audiences, age no bar. The live tour kicks off this month, and Brown plans to cover cities such as Boston, Philadelphia, Richmond, Knoxville, New Orleans, Portland, and more. The tour is scheduled to continue until at least April of 2022. Well, Brown seems all set for the tour to start, and is offering fans a glimpse into what's happening behind-the-scenes. Brown recently shared on Twitter that he has some furry friends to hang out with while on the road.
Alton Brown is having fun
Alton Brown posted a short video on Twitter, sharing with fans what his life on the road is really like. The clip features Brown's adorable dogs, Scabigail and Franny, who seem to be accompanying the chef on tour. While Scabigail was spotted hanging out close to the wheel, Franny took it easy in the passenger's seat. When a fan asked who's the boss in this situation, Brown promptly replied, "that would be Scabs."
According to Southern Living, Scabigail is a rescue dog who was discovered by Atlanta Humane Society. Years ago, Brown and his wife Elizabeth found the pup on Instagram and decided to adopt her. "We follow a lot of rescue organizations, so one of us just saw her [scroll past] and showed it to the other, and then we started following her, and then realized she was available for adoption. That was that," Brown told Atlanta Magazine. In 2018, the couple shared the news on Instagram that they welcomed another dog into their family, Francis Luther (aka Franny). 
Looks like the two dogs will continue to keep Brown company and entertain fans on his latest tour! One witty fan tweeted, "assuming there's a short film coming from tour footage of those two called Beyond The Treats."