McDonald's Fans Won't Want To Miss This Offer For Free Fries And A Drink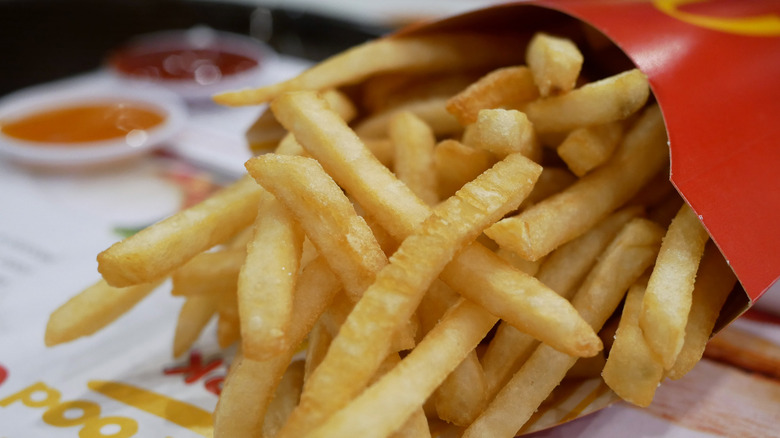 chanonnat srisura/Shutterstock
Yes, we'll have fries with that! McDonald's is offering fans free fries and a drink for a limited time (via Chew Boom). In a recurring deal that's available once per week until October 31st, app users who buy a Crispy Chicken Sandwich can tack on a free order of medium fries and a free medium soft drink. Customers simply need to download the app if they haven't already and select the deal before ordering. Just be aware that this only applies to participating locations.
In addition, new app users can double up on the freebies with their first download (via McDonald's website). Upon downloading the app, they can join MyMcDonald's Rewards, and they will receive a free large order of fries. After completing their first purchase through the app, they will get yet another freebie with a choice of a Vanilla Cone, Hash Brown, McChicken, or Cheeseburger. Savvy users can really load up on the extras with these current deals, leaving only one important decision remaining.
Different ways to enjoy that crispy chicken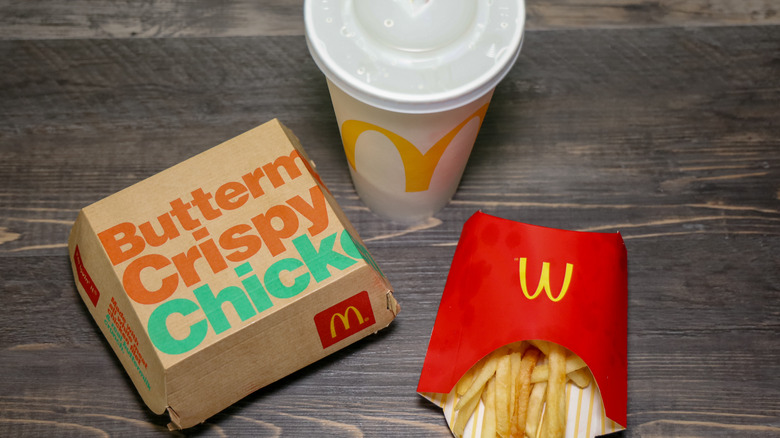 Rosamar/Shutterstock
Which chicken sandwich should people pick? The best thing about this app-based deal is that fans can choose exactly which Crispy Chicken Sandwich they want. Since the Golden Arches now offer multiple chicken sandos, this really kicks this freebie up a notch (via Chew Boom). Fans can choose from Crispy Chicken Sandwich and the Deluxe Crispy Chicken Sandwich. (McChickens are not listed as part of this deal.) Of course, since the deal is recurring, people could just try a different option each week.
You can also try the spicy versions, including the Spicy Crispy Chicken Sandwich, which is the one with pickles and spicy pepper sauce. Upgrading to the Spicy Deluxe Crispy Chicken Sandwich will get you lettuce, tomato, spicy pepper sauce, and a potato roll (via the McDonald's website). One happy customer said after buying a spicy version, "Gotta say this is a dang good chicken sandwich! It's not as soggy as CFA (which I actually@like the soggy) and has spicy sauce that I wanna bathe in! Way to go McDonalds" (via Instagram). Sauce you can bathe in plus free fries? Count us in.