Rachael Ray Gave Fans A Peek Inside Her Italian Dream Home On Instagram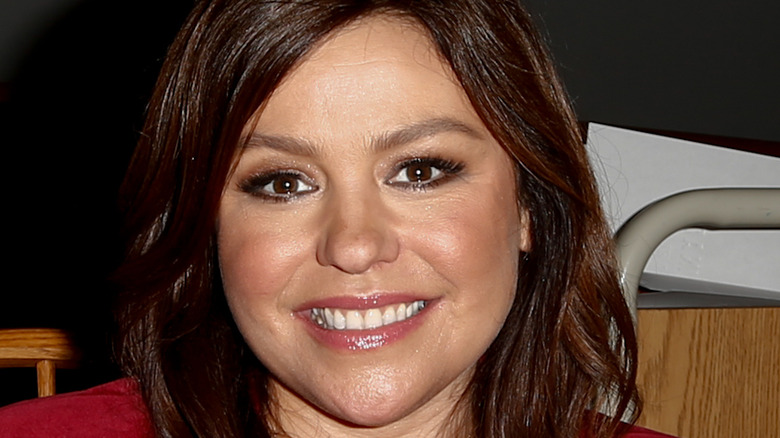 Debby Wong/Shutterstock
In 2018, Rachael Ray and her husband, John Cusimano, finally purchased what Cusimano affectionately called, a "pile of rubble" in Tuscany, Italy (via The Rachael Ray Show). The house was to become the couple's dream home, which has been Ray's dream since she was a young girl. The culinary personality shares, "All of my life, all I ever wanted was to live in Italy." 
Although the pandemic thwarted their original renovation plans, the couple was able to begin work on the home this summer and, lucky for us, in true Rachael Ray fashion, she chose to film it. The renovating and revamping of the Tuscan dream home, fittingly named, "Rachael Ray's Italian Dream Home" can be found on the A&E Facebook page.
The celebrity chef has also shared a sneak peek on Instagram giving an insider view into the Italian Villa with her 1 million Instagram followers, which has so far accumulated 560 generous comments. One person said, "Love it, cannot wait to visit," while another said, "Oh my goodness! How did you leave?" After seeing the quick tease of only one room in the gorgeous home, we also wonder, when can we visit?
A sneak peek into Rachael Ray's Tuscan dream home
The short Instagram video begins by zooming into one of the outdoor entrances with the caption, "Whats behind door #1 of the dream home?" The glass door is set in beautiful stone and brick work and leads into the living room which Rachael Ray cleverly captions the video, "Living (for this) Room" with a raise the roof emoji. We soon see it's adorned with artwork, book shelves, and a tremendous chandelier. 
As we see a bit more of the large room, there are some more items that stand out, like her pup Bella stealing the scene in one shot of a stairway, then a large colorful painting by artist Adrienne Christos, and finally a small black stuffed pig standing near small mushroom décor. 
Ray says in the Instagram post, "It's all hands on deck!! My fairy tale Italian dream home is finally underway. First up — the living room" and then she goes on to share that you can catch new episodes of "Rachael Ray's Italian Dream Home" every Tuesday at 12pm EST/9am PST only on A&E's Facebook Watch.