Giada De Laurentiis Has The Perfect Solution For Leftover Halloween Treats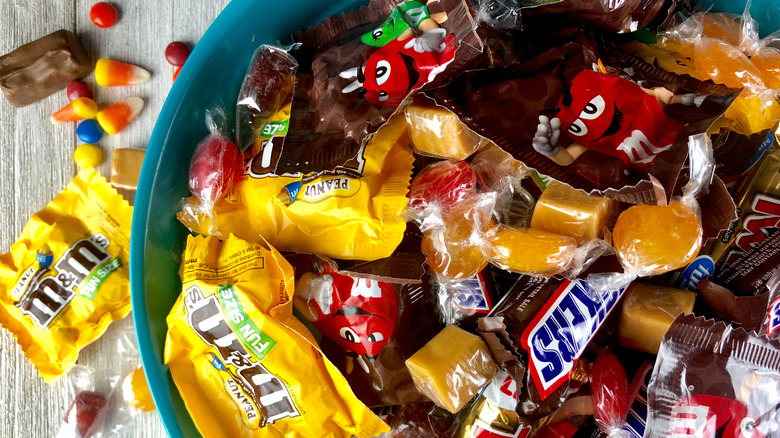 JLMcAnally/Shutterstock
With Halloween just around the corner, it's time to stock up on candy for the trick-or-treaters who will soon come knocking at your door. But after Halloween, you might be wondering how to use up all this leftover candy. Of course, just eating it is delicious and satisfies any sugar or chocolate cravings — but you can turn leftover candy into gourmet treats, too.
Giada De Laurentiis recently posted a photo on Twitter showing how she uses up her leftover Halloween candy. From the photo, one can make out what looks like clusters of popcorn and candy, like Reese's Peanut Butter Cups and M&Ms, but in the tweet, she writes that you can use "just about any chocolates that you have."
Although De Laurentiis didn't post the recipe on Twitter, you can find the recipe for Leftover Candy Halloween Popcorn Clusters on her website, Giadzy. This recipe looks straightforward; just pop your popcorn, melt some butter and marshmallows, pour the butter and melted marshmallows over the popcorn, spray popcorn with cooking oil, then add your candy, and let the mixture dry before breaking it up. This sounds like an improved Rice Krispies Treat with an extra crunch — and candy! You can also try caramel apple popcorn if you're looking for more seasonal popcorn ideas.
What else can you do with leftover Halloween candy?
Besides Giada De Laurentiis' popcorn clusters, there's plenty of other ways to repurpose your Halloween candy. Bon Appétit gives a list of ways to use up any extra candy, including one especially intriguing recipe for Spiced Chocolate Ice Cream Jam-Packed with Halloween Candy, which is a recipe from Hedy Goldsmith. The outlet also offers savory suggestions, like pairing Hershey's Kisses and licorice with goat cheese and roasted beets.
While these ideas might interest adults, we don't think kids are itching to eat their candy with roasted vegetables. The Kitchn also has a few recipe ideas that are fun for all ages, and even puts a twist on the more traditional peppermint bark with a recipe for Halloween Chocolate Boo Bark.
This Halloween candy platter is great for a Halloween party and adds fun to the spooky festivities, but you can always make a second platter with leftovers. What recipe are you most excited to try this year?