Sam's Club Shoppers Can't Wait To Get Their Hands On These DIY Cookie Kits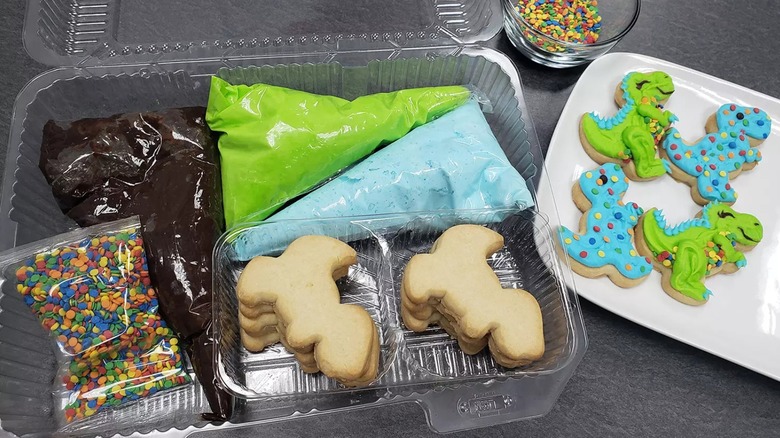 Sam's Club
If you're planning a Halloween party, dessert has to be on the menu. Cookies are sure to please a crowd. But what if you just don't have the time for carefully baking and shaping cookies and want your visitors to have fun playing with their food? Then, let your guests do it themselves and customize their perfect cookie!
If you're a Sam's Club member, you might already be familiar with Member's Mark DIY cookie kits, which come with bags of icing and toppings. Some of you may have even enjoyed munching on DIY dinosaurs and unicorns back in August (via Hip2Save). More recently, Instagram user @samsclubmembers spotted a DIY cookie kit that's perfect for Halloween, complete with pumpkin-shaped sugar cookies and festive add-ons. In the caption, @samsclubmembers said, "These kits are always a hit!!!" and it looks like many commenters agree.
Another Instagram user said, "That's my kind of cookies all ready to go and just needs decorating." They were also in the wheelhouse of a commenter who said that they've done DIY dessert kits before for Halloween, Christmas, and Easter. The original poster said in the comments section that these kits get snatched up "pretty quickly." So user 99bepoppin probably had the right idea when they wrote, "Awesome. Need to grab some before they sell out."
What's in the Sam's Club DIY cookie kits?
According to the caption of @samsclubmembers' Instagram post, each DIY cookie kit has 20 sugar cookies. The cookie decorating kits also come with orange and black icing, the perfect colors for these pumpkin-shaped treats. In this particular instance, the kit costs $6.98, but it's important to remember that prices may vary.
Because you do it yourself, the designs may vary. You can take extra time to outline the classic eyes and smiling mouth of a jack-o-lantern, or stick to an orange cookie. If you're looking to add a little extra to the cookies, there are Halloween-themed sprinkles that come in such colors as orange, green, purple, and black.
This DIY cookie kit from Sam's Club sounds like a great interactive (and delicious!) treat for any Halloween party. Unsurprisingly, an Instagram user seemed eager to stock up on that sweet party supply, writing, "I need to go get these for the Halloween party." The possibility that they'll be gone before you get there might be the scariest thing about them.