This Spicy Seafood Whopper Was Only Available At Burger King Japan
When it comes to fast-food chains, seafood isn't normally the first thing that comes to customers' minds. Unless, of course, you're thinking of the McDonald's Filet-O-Fish or the seafood menu at Long John Silvers. But even in these cases, the only type of seafood offering basically consists of deep-fried fish with tartar sauce sandwiched between two buns. 
Burger King Japan, on the other hand, decided to change things up with the Shrimp Spicy Ugly Burger, which was available for a limited time in April 2021 (via Hypebeast). Though its name makes it sound like it was made up of some sort of spicy shrimp patty, the shrimp is only one of the sandwich's many layers of flavor. The Shrimp Spicy Ugly Burger featured both garlic seasoned shrimp as well as a 100% beef patty. Like a typical burger, it was topped with cheddar cheese, pickles, lettuce, tomatoes, and mayonnaise. What made it extra special was the spicy sauce and the sandwich bread — a four-cheese bun made with gouda, egmont, mozzarella, and cheddar cheese.
Burger King Japan's customers love ugly burgers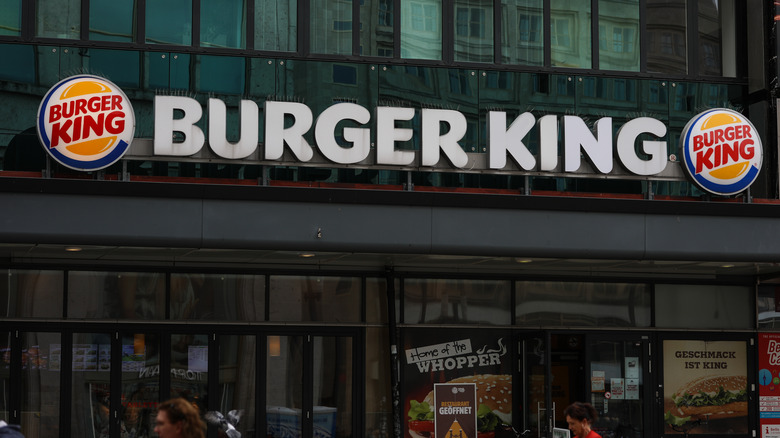 Jeremy Moeller/Getty Images
Burger King Japan defines an ugly burger as one that "cares more about taste than appearance" (via Japan Today), and the company believes so strongly in the concept that they've released multiple ugly burgers. The Shrimp Spicy Ugly Burger isn't the first, and considering how popular ugly burgers are in Japan, it's safe to say it won't be the last. 
According to Burger King Japan, the chain's first ugly burger, the Cheese Ugly Beef Burger, was so delicious that it became one of the top-selling menu items of 2020. Though it was originally introduced as a limited-edition burger, it was received so well that it has since been brought back multiple times. The Cheese Ugly Beef Burger was followed up by the Ugly Teriyaki Beef Burger, then of course the Shrimp Spicy Ugly Burger. Even though the Shrimp Spicy Ugly Burger cost a slightly pricier 890 yen (approximately $8) and is also considered ugly, the taste alone makes it all worth it.