This Limited-Edition Burger King Japan Whopper Repels Evil Spirits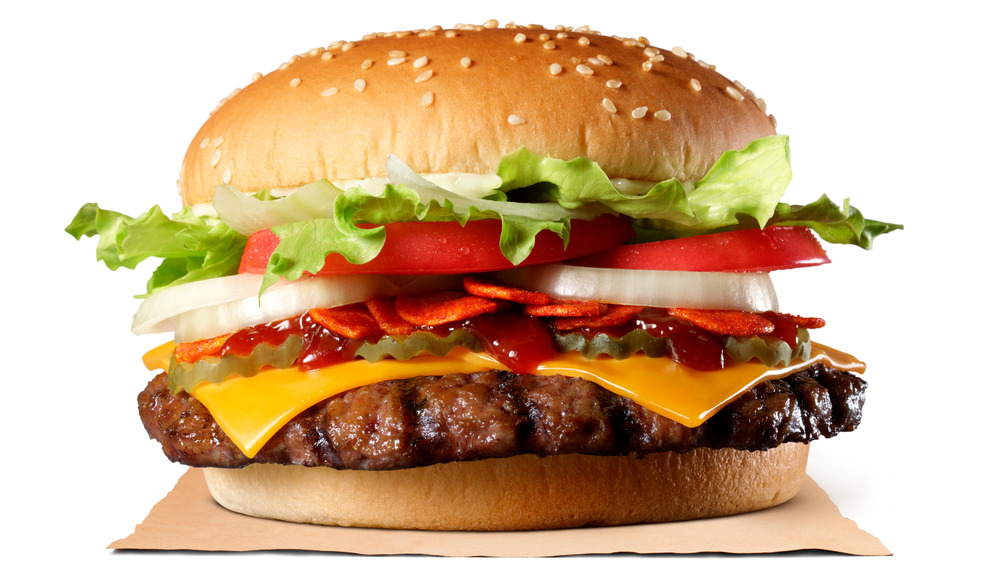 Burger King
It's a new year's tradition in Japan to visit a shrine or temple and pick up a yakuyoke amulet to ward off evil (via Savvy Tokyo). While you might have already jumped to the conclusion that next year will be better than 2020 with or without an amulet, Burger King in Japan isn't taking any chances. For a limited time, as the calendar changes to 2021, BK Japan is offering a spicy Yakuyoke Whopper. "Yakuyoke" is a Japanese word that can be translated as "ward off evil" or "protect against misfortune" (via Sora News 24).
The website Grape Japan will have you believe that the Yakuyoke Whopper has been blessed by Buddhist monks. At least a TV advertisement for the new burger, which you can watch on YouTube, shows a monk blessing a Whopper placed next to burning prayer boards. As the ad makes clear, the fire in the temple is like the flames that grill each Burger King patty.
Whether it is blessed in a sacred ritual or not, one thing you can say about the Yakuyoke Whopper is that it's hot. It comes with the spiciest sauce Burger King has ever used (via PR Times). The sauce has garlic flakes made with a spice that translates to "the spiciest golden flavoring in Japan." The Yakuyoke Whopper also includes cheddar cheese, pickles, lettuce, tomato, and onion, all on a toasted sesame seed bun. The burger will be sold at participating Burger King restaurants in Japan through January 28.
Japan's new Whopper is also part of a huge lucky meal
The Yakuyoke Whopper costs 780 yen, or 1,080 yen if you add fries and a drink. That's $7.51 or $10.40 for the meal – a small price to pay, really, for a year's worth of good luck. Burger King Japan is offering another lucky order through January 28 – a family-sized feast called the "2021 Yin Metal Ox Good Luck Set," according to Google's translation of the Japanese webpage at PR Times. For 2,800 yen ($26.97), you can get one Yakuyoke Whopper, one regular Whopper, one five-piece coconut shrimp, two five-piece chicken nuggets, one order of onion rings, three orders of apple pie, and three hash browns. This meal is supposed to cover all aspects of your life, improving your health luck, game luck, money luck, interpersonal luck, love luck, and overall luck, according to the Burger King press release.
The spicy Yakuyoke Whopper caps off a busy year of limited-time offerings at Burger King Japan. BK restaurants in Japan also offered a plant-based Whopper this year and an extreme burger that substituted burger patties for buns. The chain also offered a mystery "fake burger" in October that had french fries instead of meat (via Sora News 24).