Blue Cheese Fans Won't Want To Miss Jimmy John's Flavor-Packed New Sandwich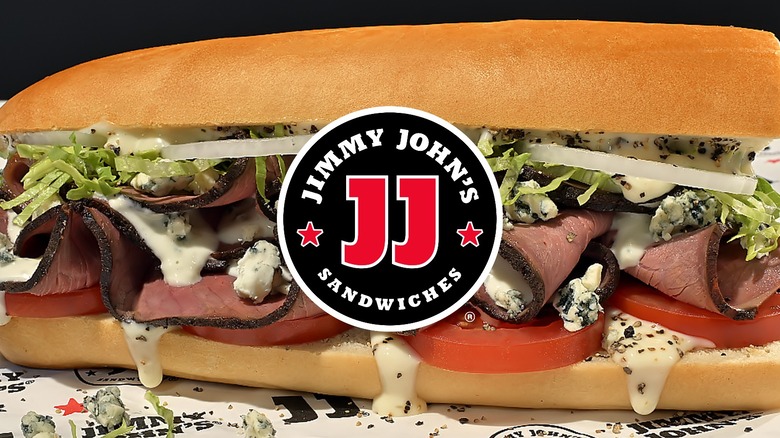 Jimmy John's
The distinctive flavor of blue cheese is the perfect complement for savory meat, with its particular tang and saltiness that melds with other flavors to bring a full blast of taste to your mouth. The slightly sweet, soft in texture, and undeniably unique cheese has been a divisive topic for foodies in the past, but it definitely has some die-hard fans. A specific blue cheese made in Oregon was even named Best Cheese in the World in 2020 (via The Independent).
If blue cheese hits your flavor sweet spot, Jimmy John's has got a new sandwich just for you. The popular chain has included blue cheese on sandwiches before, like on the Cobb sandwich they tested at several locations in 2020, but the brand's new offering puts the ingredient front and center. It's perfect for anyone who craves the taste and feel of blue cheese on a hearty, filling sandwich. Find out all about the new Jimmy John's menu item below.
The Beefy Black & Bleu at Jimmy John's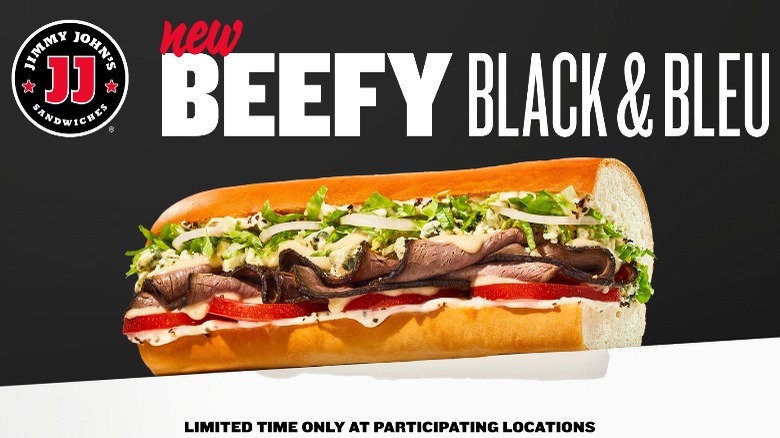 Jimmy John's
Jimmy John's is offering a new sandwich called the Beefy Black & Bleu. We tried the Beefy Black & Bleu sandwich and went into every detail, so we can assure you that it's absolutely delicious. In a press release sent directly to Mashed, the sandwich shop chain announced all the details. The Beefy Black and Bleu is made with Jimmy John's hand-sliced roast beef, bleu cheese crumbles and creamy bleu cheese dressing, cracked black pepper, lettuce, onion, tomato, and horseradish aioli. 
The bold flavors add up for the perfect savory taste in every bite, creating a distinct experience that will certainly make every bleu cheese fan's lunch dreams come true. The Beefy Black and Bleu is available for a limited time only, so head on over to your local Jimmy John's to get a taste while it's still around. It will be sold at participating restaurants from October 25 to December 12, or while supplies last. The suggested retail price is $8.50, but the actual price may vary by location.